News > Idaho
Program gives change to pass stories on
Tue., Aug. 30, 2005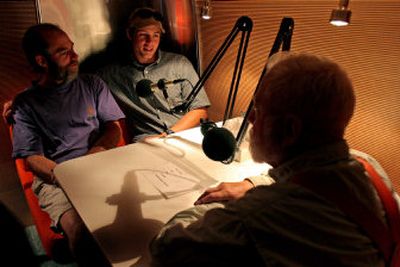 MOSCOW, Idaho – Three generations of the Townsend family sat down for a talk recently.
In itself, that wasn't so unusual. But this time, the Townsends were on the record. They walked away with a CD of the interview, which was also entered into a growing national database of oral histories.
The Townsends are among scores of Palouse residents interviewing one another for the StoryCorps project during its stop here on a nationwide tour intended to gather stories about the regular lives that make up history.
"It's a special occasion for people to be able to ask each other questions they never have before," said Sarah Kramer, one of two project facilitators traveling the West with an Airstream trailer outfitted as a recording studio.
Though the interviews are intended for two, organizers let 74-year-old Tom Townsend, a retired Marine from Moscow, bring in both his son, Mark, 49, and grandson, Dana, 26. Tom Townsend told them about seeing the Pearl Harbor attack as a 10-year-old.
"I sort of hogged the interview, in a way," he said.
The StoryCorps project arrived in Moscow last Thursday, with the sleek Airstream parked on Main Street downtown, and hundreds of people turned out for a celebration, said Mary Hawkins, program director for Northwest Public Radio, which is host for the project and may air excerpts from interviews.
StoryCorps, a nonprofit organization supported by National Public Radio and other sponsors, has been recording interviews since 2003 and has permanent booths in New York City. Excerpts from some interviews air on NPR's "Morning Edition."
Right now, there are two Airstreams touring the country; the one in Moscow will stay until Monday. The goal is to open permanent booths across the country over the next 10 years.
The project puts the emphasis on personal lives, not historical facts – and part of its mission is to encourage people to make their own oral histories. StoryCorps gives people a variety of possible questions to help drive the interviews: When did you first fall in love? Do you believe in God? How would you describe me? When was your first kiss?
"You hear over and over again how the interviews deepen the relationship," Hawkins said.
Kathy Dahmen, a Pullman native who works for Washington State University, interviewed her 83-year-old father, Rinehart Dahmen, on Friday. She said she came prepared with a long list of questions, but as soon as he started talking about his childhood, growing up during the Depression as a Minnesota farm kid, "I never really got back to my list of questions."
The experience made her determined to do more oral histories with her family.
"It was an amazing feeling to talk with him like that," she said.
Elbert and Elna Barton, a retired couple from Moscow, were at the Airstream booth Friday, preparing for their interview Sunday. Though the interview would be unlike anything they'd ever done, the couple clearly were comfortable sharing a conversation.
"I've been here since 1960," said Elbert, an 84-year-old retired Navy man.
"And I've been here since '46," said Elna, 79.
They're on their second marriage, 34 years strong, and spent a good portion of their retirement as leaders in a senior travel group.
"We traveled a lot – every state," Elna said.
"All over America and Canada," Elbert said. "We planned all the trips."
"All the reservations," she said.
"We made all the reservations and did all the planning," he said.
"We've been to every state again and again and again," Elna said.
Another Moscow couple, Sally and David Eames-Harlan, said they were drawn to the project because of their interest in storytelling and oral history. Seven years into their marriage, Sally just finished her master's program in theater; David's just starting one in playwrighting.
They planned to talk, in part, about how they met. They knew each other in college, but he only dated her friends – "Never me," she said. Thirteen years after they met, they crossed paths again in Portland. When he picked up the phone and heard her on the other end, David said, "At that moment it was like being struck by lightning. I knew why I had moved to Portland."
For the three Townsends, the stories of family members often only arise unexpectedly – passed along over dishwashing or yard chores – and can easily evaporate. But the StoryCorps project made them feel like that doesn't have to happen. Mark Townsend said people should record their own oral histories while their loved ones are still here.
"Ask questions and get a story," said Mark Townsend. "Everybody's got a story."
Local journalism is essential.
Give directly to The Spokesman-Review's Northwest Passages community forums series -- which helps to offset the costs of several reporter and editor positions at the newspaper -- by using the easy options below. Gifts processed in this system are not tax deductible, but are predominately used to help meet the local financial requirements needed to receive national matching-grant funds.
Subscribe now to get breaking news alerts in your email inbox
Get breaking news delivered to your inbox as it happens.
---