News > Idaho
Sales bright for improved LED lights
Sat., Dec. 10, 2005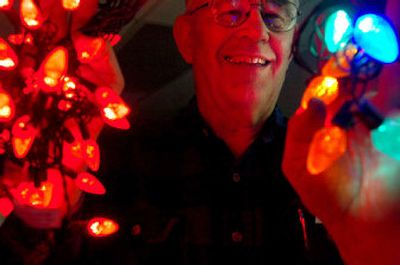 SMELTERVILLE, Idaho – Don Rumpel's house in Idaho's Silver Valley is strung with 2,500 Christmas lights. But even when he has them on 24 hours a day, Rumpel says he barely notices a twitch in his monthly power bill.
The lights don't have the usual wire filament. Their glow comes from the excited dance of millions of tiny electrons.
These light-emitting diodes are quietly throwing a wet blanket on surging electricity use during the holiday season. Their popularity is rising exponentially, said Rumpel, who owns Kellogg Plastics, which is one of the nation's largest distributorships of holiday LED lights. Some of the Idaho company's products were sold out by August.
Kellogg Plastics has imported and sold 10 shipping containers worth of LEDs from China in the past five years. Each container holds about 22,000 strings of 25 to 100 lights. "We wouldn't be surprised to bring in that many containers next year the demand is so great," Rumpel said.
The lights are now sold at many major retailers, including Costco, Lowe's and Target. Their initial cost is higher – Kellogg Plastics sells strings of 25 bulbs for $12.95 – but the lights consume up to 90 percent less power and last 200,000 hours.
"That's 21 years," Rumpel said. "They're a lifetime investment."
Early versions of the LED Christmas lights were often dull and glowed with peculiar colors, said Cindy Wills, energy specialist with Washington State University's Energy Ideas Clearing House. "They didn't look like Christmas lights. They might last forever, but they didn't have much punch."
Now, it's difficult to tell the difference, Wills said. The Christmas tree in Idaho's state Capitol building is strung with LEDs this year from Kellogg Plastics.
Electric utilities across the nation are starting to encourage customers to make the switch. A study of power demand conducted in the late 1990s by the Florida Solar Energy Center estimated the average home uses 4.4 kilowatts of electricity a day during the holiday season for decorative lighting.
This might only amount to an extra quarter spent each day on power, but added together it's a lot of electricity, Wills said. "If the utility comes up short (with electricity) and they have to buy the power on the spot market, we'll all have to pay extra."
At her own home, Wills has three strings of 100 LED lights each. Combined, they use less than 20 watts of electricity, which is less than half of a typical indoor incandescent lamp bulb. The largest traditional Christmas light bulbs – called C9 bulbs – use as much as 10 watts per bulb.
Incandescent bulbs also burn out after about 1,000 hours. The lights may be cheap, but they quickly end up in landfills, Wills said. Some of the largest commercial users of Christmas lights don't even bother trying to save them for the next season.
"The big places, as I understand, just take them down with pruning shears," Wills said.
Northern Lights, a rural electric cooperative based in Sagle, Idaho, has been promoting LED holiday lights for three years, said Elissa Glassman, director of conservation. "We love them. You can leave them on almost all the time, they're cool to the touch, they don't burn out and they cut electric use 80 to 90 percent."
When Glassman leaves her home for work during the dark months of winter, she leaves on a strand of blue LED lights.
"The blue is so bright it lights up my house. It's just so crisp and blue and defined," she said. "I don't leave any other lights on in my house in winter."
The technology has even allowed those living off the power grid to enjoy some extra brightness at their cabins, said Scott Gentleman, operator of Backwoods Solar in Sandpoint.
Normal Christmas lights are simply too frivolous for homes that rely on sunlight for electricity.
"They're attractive light strings," Gentleman said.
"There's been no complaints. Occasionally a string is defective and it gets replaced right away. Other than that it's a great product for our off-grid people where energy is a big concern."
The technology's success might actually be a bad thing in terms of overall power usage, said Charles Grist, senior analyst with the Northwest Power and Conservation Council.
LEDs are increasingly popular in retail settings and in places where lighting has been too expensive.
"We'll see lighting in places we haven't before," Grist said.
"It might actually boost consumption."
Local journalism is essential.
Give directly to The Spokesman-Review's Northwest Passages community forums series -- which helps to offset the costs of several reporter and editor positions at the newspaper -- by using the easy options below. Gifts processed in this system are not tax deductible, but are predominately used to help meet the local financial requirements needed to receive national matching-grant funds.
Subscribe now to get breaking news alerts in your email inbox
Get breaking news delivered to your inbox as it happens.
---