News > Business
Verizon-MCI deal was made years ago
Tue., Feb. 15, 2005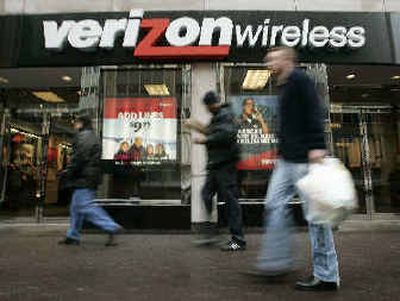 NEW YORK — Verizon Communications Inc.'s $6.75 billion takeover of long-distance provider MCI Inc. is the latest example of how regulatory changes in Washington are continuing to transform the telephone industry.
A court ruling nearly a year ago and subsequent decisions by the Federal Communications Commission were key catalysts for Monday's deal as well as last month's $16 billion takeover of AT&T Corp. by SBC Communications Inc. Those findings effectively forced long-distance providers on the auction block by boosting their operating costs, compounding a multiyear slide in customers and revenues.
While consumer advocates expressed worry, it's not clear the loss of AT&T and MCI as rivals will free their acquirers to boost prices for long-distance phone calls. That's because many consumers and businesses already are taking advantage of money-saving alternatives — especially cell phones and Internet-based phone services from cable TV companies and others.
"If you're willing to change the way you purchase services, there's a lot of competition out there" beyond the local Bells, said David Willis, an industry analyst for the Meta Group Inc. in Stamford, Conn., who noted that AT&T and MCI already had stopped competing for new residential customers.
The recent spate of telecom mergers, including December's deal by Sprint Corp. to acquire Nextel Communications Inc. for $35 billion, will reduce the industry to four dominant telephone companies: Verizon, SBC, BellSouth Corp. and Sprint Nextel. It also leaves Qwest Communications International Inc., a Denver-based Baby Bell whose higher stock-based bid was rejected by MCI, isolated in a highly competitive market.
Verizon, the country's largest regional phone company, declined to say what will become of the MCI brand. It is a storied name due in part to its role as the first major rival to AT&T's national long-distance monopoly.
MCI was acquired in 1998 by Bernard Ebbers' WorldCom Inc., which after a financial scandal and a trip through bankruptcy court reorganization, re-emerged with the MCI name in 2003.
Local journalism is essential.
Give directly to The Spokesman-Review's Northwest Passages community forums series -- which helps to offset the costs of several reporter and editor positions at the newspaper -- by using the easy options below. Gifts processed in this system are not tax deductible, but are predominately used to help meet the local financial requirements needed to receive national matching-grant funds.
Subscribe now to get breaking news alerts in your email inbox
Get breaking news delivered to your inbox as it happens.
---