News > Travel
Heard Museum founded with education in mind
Sun., Feb. 27, 2005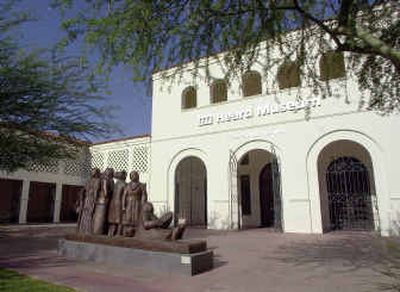 PHOENIX – Education is the focus at the Heard Museum, which boasts a world-renowned collection of American Indian art and draws hundreds of thousands of visitors each year.
"Education is everything," said Frank H. Goodyear Jr., director of the museum. "We use those objects to tell the stories of people.
"We tell the history, the traditions, the manners, the beliefs. … We make people realize that Indian culture is alive, not something in the past."
The melding of past and present is reflected in the museum's more than 32,000 works of art and ethnographic objects, including 3,600 paintings, prints, sculptures and other fine art.
Among the nine exhibits is the "We Are! Arizona's First People" interactive gallery that explores the history of Arizona's 21 federally recognized tribes. Along with the baskets and pottery unique to each tribe, the exhibit also includes photographs that give a glimpse into what life on the reservations looks like today.
Another exhibit called "Remembering Our Indian School Days: The Boarding School Experience" examines a federal policy that shipped Indian children to boarding schools beginning in 1879 to assimilate them into mainstream society.
Clarissa Kagenreama of Mesa recently took her 10-year-old sister and 9-year-old niece to the exhibit.
"Since I've brought them here, they learned a lot – things my grandmother told me before she passed away," said Kagenreama, who is Hopi and Acoma and whose uncle had attended one of the boarding schools. "It was nice of them (the museum) to do this for us."
The Heard began with the same spirit of education. Founders Dwight and Maie Heard opened the museum in 1929 next to their home to show visitors the Indian artifacts they had collected over the years.
After Maie Heard died in 1951, a board of trustees governed the museum. National figures would also help distinguish the museum, such as the late Sen. Barry Goldwater, who donated 437 katsina dolls from his own collection in 1964.
The Heard remains on the original site, though it has undergone several expansions. It draws about 225,000 visitors annually, 60 percent of them from outside Arizona.
"The Heard Museum has one of the premier collections in Southwest traditional and contemporary arts," said Nancy Parezo, a professor of American Indian Studies at the University of Arizona. "It's a good general introduction to the Native people and the arts in the Southwest."
Local journalism is essential.
Give directly to The Spokesman-Review's Northwest Passages community forums series -- which helps to offset the costs of several reporter and editor positions at the newspaper -- by using the easy options below. Gifts processed in this system are not tax deductible, but are predominately used to help meet the local financial requirements needed to receive national matching-grant funds.
Subscribe now to get breaking news alerts in your email inbox
Get breaking news delivered to your inbox as it happens.
---