Sports
Chiefs' lead vanishes
Sun., Jan. 23, 2005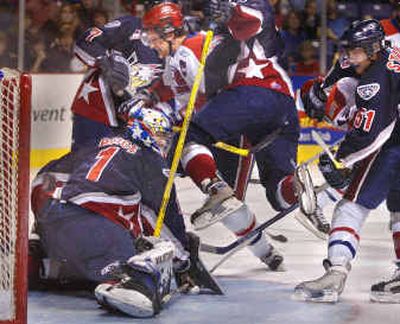 Spokane Chiefs goalie Jim Watt played with a heavy heart Saturday night.
His mother in seriously ill health in Edmonton, Alberta, Watt spent most of the week at home and missed all of the team's practices this week before arriving back for Friday's skatearound.
So, when Watt's Chiefs blew a three-goal lead in the final 12 minutes, 5 seconds of their Western Hockey League game and had to settle for a 4-4 tie with the Tri-City Americans, a hockey game just didn't seem as important. Not that he didn't care.
A crowd of 10,571, the first Arena sellout of the season, and Watt's teammates did their best to buoy their goaltender, but came up short of a full effort when Shawn Belle's blast from between the circles past Watt tied the game with just 5 seconds remaining. The goal came with Tri-City goalie Carey Price pulled for the extra skater.
The Chiefs, who just missed on numerous scoring chances all game, were given a 4-on-3 power play in the overtime period but couldn't convert and each team skated away with a point.
The result kept Spokane (16-21-8-1, 41 points) two points ahead of Tri-City (16-20-5-2, 39 points) in the race for the fourth and final playoff spot in the U.S. Division of the Western Conference.
Watt, normally engaging and talkative even after a loss, was visibly upset by the developments of the week. The tie was certainly secondary. After gathering himself, he carried himself in the dignified fashion that personifies him.
"It was a difficult one, and I thank my teammates, but it was one we needed to get out of the way. I also want to give the crowd credit for coming out tonight," said Watt. "I give them a personal thanks; that was awesome. I hope we can come out again (Tuesday versus Seattle) and get them a win."
The Chiefs got on the board first with their first power-play goal in six games, ending a drought of 0 for 25 and 2 for 51 over 12 games. The goal came when Jevon Desautels deflected a shot from the point which was stopped by Price but which rebounded to Howarth, who was waiting just off the right post. He gave the Chiefs the 1-0 lead at the 8:37 mark.
Howarth would get his second goal, fourth in two games, when he picked up a loose puck between two Tri-City defenders, weaved through traffic, and put a backhanded shot to the wide side of the net at 16:04 of the first to make it 2-0.
The second period started out physically, but after the first five minutes the teams started to get a little lackadaisical. That all ended when Spokane's Jeff Lynch delivered a wake-up call to both teams with a goal at the 7:08 mark of the second that put Spokane up 3-0. The play came after Lynch and Chad Klassen took off up ice and Lynch broke behind the defense, took a perfect feed from Klassen, then buried a wrist shot past Price.
Just 10 seconds later, Spokane put Tri-City on the power play and the Americans took advantage. Matt Schneider put in a rebound of a shot that hit off the post and bounced right back to him, giving Watt no chance. That cut Spokane's lead to 3-1 at 8:47 and that's how the period would end.
Spokane put what appeared to be the finishing touch on the win with Ned Lukacevic's 15th goal of the season at 3:46 of the third period, also on a power play.
But Tri-City then began its comeback.
The first goal came by Jason Beeman at 7:55 of the third as the Americans literally collapsed the Spokane defense on Watt. Then, on a pretty deflection play, Clayton Stoner closed the gap to one goal at the 12:40 mark. The Chiefs held on for nearly all of the remaining time.
"We had some guys going tonight, but not all of them," said Chiefs coach Al Conroy. "It wasn't like we quit or anything, we just weren't good enough. And these guys know that good isn't good enough."
Chiefs 4, Americans 4 (OT)
| | | | | | |
| --- | --- | --- | --- | --- | --- |
| Tri-City | 0 | 1 | 3 | 0 – | 4 |
| Spokane | 2 | 1 | 1 | 0 – | 4 |
First period– 1, Spo Howarth 8 (Logan, Desautels) 8:37 (pp); 2, Spo, Howarth 9 16:04. Key penalties – Thompson, TC (holding) 7:17, .
Second period– 3, Spo, Je Lynch 13 (Klassen, Hobson) 7:08 (pp); 4, TC, Schneider 11 (Thompson, Stoner) 8:47. Key penalties – Swaby, TC (interference) 6:11.
Third period– 5, Spo, Lukacevic 15 (Klassen, Logan) 3:46 (pp); 6, TC, Beeman 5 (Jonasen, McDonald) 7:55; 7, TC, Stoner 7 (Stanley, Belle) 12:40; 8, TC, Belle (Vey, Boogard) 19:55. Key penalties – Schneider, TC (ob-tripping) 2:02
Power-play Opportunities–Tri-City 1 of 5; Spokane 3 of 5. Saves–Tri-City, Price 13-9-9-4–35. Spokane, Watt 6-14-10-3–33. A–10,571.
Local journalism is essential.
Give directly to The Spokesman-Review's Northwest Passages community forums series -- which helps to offset the costs of several reporter and editor positions at the newspaper -- by using the easy options below. Gifts processed in this system are not tax deductible, but are predominately used to help meet the local financial requirements needed to receive national matching-grant funds.
Subscribe to the sports newsletter
Get the day's top sports headlines and breaking news delivered to your inbox by subscribing here.
---