News > Idaho
Preparing for the worst
Sat., Jan. 29, 2005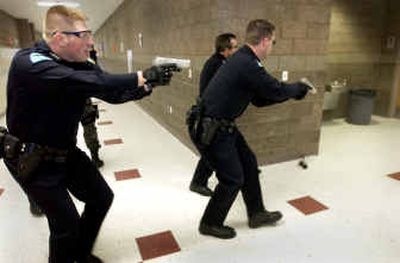 Post Falls Police Officer Tyler Smith knew ahead of time that the report of "shots fired at the high school" on Friday was just a drill.
Still, Smith said his heart was pounding as he drove his patrol car to Post Falls High for the training exercise.
Student actors came running out the front doors, screaming hysterically. A moment later, Smith and four other officers burst through the front doors, plastic guns ready. As they moved down the hall, more gunshots (blanks) echoed through the brick hallways.
The police went down the main hall, around the corner, past a phony pipe bomb and down another hall as the school fire alarms screeched. They followed the sounds of gunshots up a stairwell, past a teacher and "injured" students.
"It's pretty realistic," Smith said after the team discovered the "shooter," barricaded in an upstairs bathroom with innocent students, and took him out. "You encounter things you would in a real situation."
Police Lt. Scot Haug said the April 1999 shooting at Columbine High in Colorado changed how police respond to situations with an active shooter. It used to be that police would respond, secure the scene and wait for the SWAT team to arrive. "When you wait, innocent people can be killed," Haug said.
Post Falls Police took advantage of a no-school day to use the high school for a mock school shooting and training exercise. Officers had to deal with some of the same elements of the Columbine massacre – a young shooter, explosives, numerous victims and chaos.
Before the live training exercise at the high school, police officers attended classroom training and watched a video on how to respond to a school shooting.
"We plan a lot for Post Falls High School," Sgt. Pat Knight said, "because, in our mind, it's the place most likely something like this could take place."
The class covered some of the scenarios officers might face in a real emergency. At Columbine, for instance, injured and scared students clung to officers. Knight told his officers that they would have to be prepared to "shed victims" or pass severely wounded victims as they hunted for the shooter. They would need to watch out for booby traps and explosives.
"You may need to engage youthful offenders," Knight said. "Remember that."
Haug compared the training to an insurance policy someone would buy for their car.
"You hope you never need it," he said, "but if you need it, you want it to be in place."
Local journalism is essential.
Give directly to The Spokesman-Review's Northwest Passages community forums series -- which helps to offset the costs of several reporter and editor positions at the newspaper -- by using the easy options below. Gifts processed in this system are not tax deductible, but are predominately used to help meet the local financial requirements needed to receive national matching-grant funds.
Subscribe now to get breaking news alerts in your email inbox
Get breaking news delivered to your inbox as it happens.
---