News > Voices
Strong on experience
Sat., Jan. 29, 2005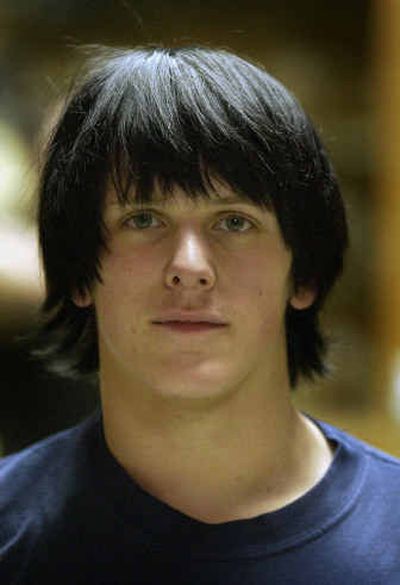 Joey Plumb figured he'd grow.
The East Valley 112-pound senior is a rarity – an upper classman in a weight class dominated by younger, less-experienced wrestlers.
"I always figured I'd grow more and get the chance to wrestle at a heavier weight," Plumb said, laughing. "But my family is all pretty small. I guess it just wasn't in my genes."
Plumb, undefeated in the Greater Spokane League this season, will lead the Knights tonight, when they wrestle against visiting University, looking for their fourth consecutive league title.
"Whenever you can keep a kid there, it's an advantage, more so than at other weights," East Valley coach Craig Hanson said. "You can go back through the years and, when you see teams with dominant 103 pounders, it's because they're older kids."
Actually, Plumb has grown.
As a freshman on the East Valley junior varsity Plumb gave up almost 20 pounds while wrestling at the sport's lightest weight.
"When he came in as a freshman, he only weighed 85 pounds, so even wrestling at 103, he was giving up a lot of weight," Hanson said.
Eighteen pounds to most people doesn't sound like a lot of weight. But to an 85-pound wrestler, it's a major obstacle.
"When you're giving up that much weight to an opponent, it wears you out twice as fast," Plumb said. "But that experience helped me get better. I couldn't really rely on my strength because they were so much bigger. I had to work on the other aspects of my game and get better."
The fact that Plumb was able to wrestle bigger opponents on an equal footing, impressed Hanson, who's coached the Plumb family of wrestlers since he arrived at East Valley.
"Even though he was giving up a lot, he was still just as strong," Hanson said. "There were even times when he'd wrestle 112 pounders."
And that's where the Plumb family genes worked in Joey's favor.
"Pound for pound, he's probably the strongest kid on our team," Hansen said. "He just has that natural, wire strength. His brothers have that same kind of thing."
The family genes help Plumb maintain his strength before a match.
Weight has never been a concern – not to the extent it is to some wrestlers. Even at 112 pounds, Plumb does not have to starve himself to make weight.
"I've been pretty lucky there," he said. "I've never had to do anything drastic. For the two or three days before a match I'll watch what I eat. I'm not hitting the spa or running or anything like that. Cutting weight hard like that takes away muscle right before a match.
"The last two years I've been, maybe, three pounds over my wrestling weight, max. Most of the time, it's right on."
Hanson said it would have been possible for Plumb to wrestle again at 103 pounds this season, although it would have been harder for him to make weight match in and match out. The emergence of sophomore Shelby Lawson at 103 means the team is stronger with Plumb at 112.
Family is a source of strength in more ways than one in the Plumb family.
Every day, after the team finishes its workout, Plumb's brother, Jimmy, comes in to work one-on-one with his younger brother.
"That really helps me," Joey said. "He works with me on specific moves that I'll need in my next match. He'll even go scout the guy I'm going to wrestle so I can fine-tune my moves."
Jimmy Plumb has worked with two younger brothers, acting as an extra coach and workout partner – something Joey credits with his progress and his success.
"We work on the things that I need to work on to get better," Joey explained. "He's always watching other schools to see how their guy wrestles and he can give me pointers.
"With (Jimmy), it's more one-on-one. We work on my specific weaknesses."
Not only do they work on technique, they add a trip to the gym together to lift weights – a nod to the family's primary mat strength.
"If I didn't have my brother right there with me, I'd be heading home after practice." Plumb said. "I wouldn't be doing anything extra because I wouldn't have anyone there motivating me."
That extra motivation has paid dividends.
"I think I'm wrestling a lot better than I have before, especially strengthwise," he said. "I have a really good shot at going to state."
And perhaps beyond.
"I'd like the chance to wrestle in college," Plumb said. "I figure that, if I'm going to have a shot at that, I'm going to have to impress someone this postseason. That means wrestling well at districts, regionals and at state."
Local journalism is essential.
Give directly to The Spokesman-Review's Northwest Passages community forums series -- which helps to offset the costs of several reporter and editor positions at the newspaper -- by using the easy options below. Gifts processed in this system are not tax deductible, but are predominately used to help meet the local financial requirements needed to receive national matching-grant funds.
Subscribe now to get breaking news alerts in your email inbox
Get breaking news delivered to your inbox as it happens.
---