Sports
Another American Beauty
Wed., July 13, 2005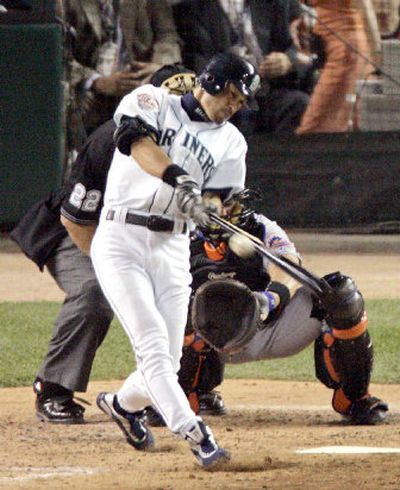 DETROIT – Old stars, young studs, it doesn't make a difference. When it comes to All-Star games these days, the American League always wins.
Miguel Tejada, Mark Teixeira and their A.L. teammates gave the same old result to a new-look All-Star game.
Tejada, the game's Most Valuable Player, homered off John Smoltz to start the scoring, Teixeira added a two-run drive off Dontrelle Willis and the A.L. overcame Kenny Rogers' bumpy inning to beat the National League 7-5 Tuesday night for its eighth straight win.
"Tejada got us off to a great start and we were able to just go with it from there," said A.L. catcher Jason Varitek, one of four players from the World Series champion Boston Red Sox in the starting lineup.
Mark Buehrle got the victory, striking out three during two scoreless innings for an A.L. staff that mostly made Comerica Park live up to its reputation as a pitcher's park in an era of hitter's havens. The A.L. had a shutout going into the seventh, when Rogers gave up a two-run homer to Andruw Jones, prompting more boos for the Texas lefty, playing while appealing a 20-game suspension.
A.L. manager Terry Francona, who led the Red Sox to their first title since 1918, had an odd turn in the ninth inning: He got to bring in Mariano Rivera of the New York Yankees, who ended the game by striking out Morgan Ensberg for his second All-Star save.
"I heard Johnny Damon say something like, 'Come on Mo,' " Francona said, referring to the Red Sox center fielder. "I looked at him and I said, 'I bet I never would have heard you say that.' It was OK. You know what? For one night, it was pretty cool."
The A.L. made it 3-0 since the change in 2003 that gave the All-Star-winning league homefield advantage in the World Series.
"We hope we make it this year," Tejada said.
Rivera would prefer the Yankees, who wasted a 3-0 lead against Boston in last year's A.L. championship series, host the Series opener on Oct. 22.
"Everything's possible," he said.
Tejada, Teixeira and Buehrle were among 13 players getting their first All-Star starts in a game nothing like the famous 1971 classic about 2 miles away at Tiger Stadium. Eighteen future Hall of Famers played in that one, and six of them homered – including Reggie Jackson, who hit the stunning shot off the light tower on top of the roof.
The most famous player in this one was Houston's Roger Clemens, who a month shy of his 43rd birthday pitched a perfect fifth inning, retiring David Ortiz, Garret Anderson and Tejada. The Rocket entered and exited to hundreds if not thousands of flashing camera bulbs aimed at him by the crowd of 41,617 in the wide, cavernous ballpark, which opened in 2000.
"To see the guys here for the first time was great," said Clemens, an 11-time All-Star first selected in 1986.
The most infamous player was the 40-year-old Rogers, who was booed loudly when introduced and tipped his cap to the crowd as he looked ahead stone-faced.
"I don't hold anything against anyone," Rogers said.
Rogers was penalized by baseball commissioner Bud Selig for an outburst last month that sent a television cameraman to the hospital and prompted a police investigation.
"I wanted to pitch," Rogers said. "I didn't pitch last year in the game, and I think at this stage in my career it's something that's not expected from me."
Francona didn't hesitate to use him.
"Kenny made a mistake," Francona said. "I'm not supposed to sit in judgment."
Exactly 50 years to the day after the funeral of Arch Ward, the Chicago Tribune editor who invented the All-Star game, the starters entered the field with Hollywood glitz, coming out from a red carpet set up behind the plate.
Smoltz dropped to 1-2 in All-Star play, tying the record for losses – he lost in '89 and got the N.L.'s last victory in '96. Overall, the N.L. leads 40-34-2.
"This was certainly a fun one that I'll remember forever – to go out there in front of friends and family, in my hometown," Smoltz said. "I wanted to have fun – I wasn't going to get caught up in results."
There were an All-Star record five double plays, including three turned by the A.L. After Bobby Abreu, the record-setting winner of Monday's Home Run Derby, opened the game with a single, Tejada made a fancy flip to second base on Carlos Beltran's grounder to shortstop that started the first double plays.
"They made the pitches, made the plays," said the N.L.'s Tony La Russa, who dropped to 3-1 as an All-Star manager. "To me, that's the difference in the game."
N.L. shortstop David Eckstein threw out the swift Damon from the outfield grass starting off the bottom half. Eckstein's father, Whitey, was hospitalized Sunday with a kidney ailment and was taken off a respirator a couple of hours before the game.
Tejada homered off Smoltz leading off the second, a 436-foot drive that landed in the middle of the seats beyond the left-field bullpens.
Ortiz's RBI single to the base of the right-field wall and Tejada's RBI grounder made it 3-0 in the third against Roy Oswalt. Seattle's Ichiro Suzuki hit a two-run single off Livan Hernandez in the fourth.
Teixeira's homer in the sixth boosted the lead to 7-0. While he leads the A.L. in home runs with 25, they all were hit off right-handers. The switch-hitter doesn't have any in 85 at-bats against lefties.
"Left-handed right now I'm getting a lot more at-bats," he said. "I feel more locked in."
Jones, tied for the major league home run lead with 27, hit his second All-Star homer following one in 2003. Miguel Cabrera added a run-scoring grounder off Joe Nathan in the eighth, and Luis Gonzalez hit an RBI double in the ninth off B.J. Ryan and scored on a grounder by Carlos Lee.
Notes
Houston's Brad Lidge struck out Melvin Mora, Mike Sweeney and Garret Anderson in order in the seventh. … The A.L.'s winning streak wraps around the 7-7, 11-inning tie at Milwaukee in 2002.
Local journalism is essential.
Give directly to The Spokesman-Review's Northwest Passages community forums series -- which helps to offset the costs of several reporter and editor positions at the newspaper -- by using the easy options below. Gifts processed in this system are not tax deductible, but are predominately used to help meet the local financial requirements needed to receive national matching-grant funds.
Subscribe to the sports newsletter
Get the day's top sports headlines and breaking news delivered to your inbox by subscribing here.
---