News > Business
Starbucks betting big on green tea Frappuccino
Wed., July 13, 2005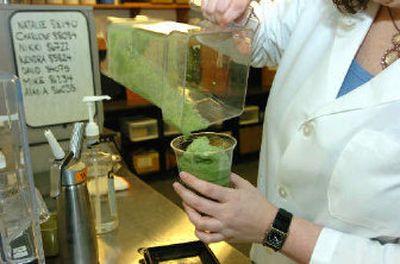 SEATTLE – Move over mint mocha chip. Here comes green tea Frappuccino.
Today, Starbucks Corp. is rolling out the latest blend of its creamy, frozen drink in U.S. and Canadian stores, plus an iced green tea and tea-lemonade mix for the more calorie conscious.
The world's largest specialty coffee maker is hoping to capitalize on the growing popularity of green tea, fueled in large part by studies suggesting it's good for the heart and might lower cancer risk.
Rich De Pencier, vice president of Starbucks' beverage unit, said green tea Frappuccino has done well in Asia, where the tea has been a staple for centuries.
The new Frappuccino debuted in Taiwan and Singapore in 2001 and has since been added in Japan, the Philippines, Thailand, Korea, Hong Kong and Malaysia. It's made with matcha tea – tea leaves that are picked young and pulverized into a powder.
Starbucks ran a market test in New York City and Vancouver, B.C., two years ago. It took some tweaking to get the recipe right.
"People who really, really love the flavor of green tea like that real edgy, sort of vegetable green tea flavor to it. … For the average consumer in the U.S., we had to smooth it out and blend it down a bit," said Norm Ouellette, Starbucks' vice president of research and development."
The shaken iced green tea and tea-lemonade will probably remind U.S. tea lovers of two similar lines Starbucks made in 2003: a shaken iced black tea and tea-lemonade, and a shaken iced passion tea and tea-lemonade made with a hibiscus-based herbal infusion.
Both the straight green tea and the lemonade mix are brewed from a green tea blend that includes hints of peppermint and lemongrass.
The new drinks will be in stores through Sept. 30.
All tea comes from the same plant, camellia sinensis. Unlike black tea, green tea leaves are steamed or baked soon after they're plucked – thus the hue.
Local journalism is essential.
Give directly to The Spokesman-Review's Northwest Passages community forums series -- which helps to offset the costs of several reporter and editor positions at the newspaper -- by using the easy options below. Gifts processed in this system are not tax deductible, but are predominately used to help meet the local financial requirements needed to receive national matching-grant funds.
Subscribe now to get breaking news alerts in your email inbox
Get breaking news delivered to your inbox as it happens.
---