News > Nation/World
Jackson case goes to jury
Sat., June 4, 2005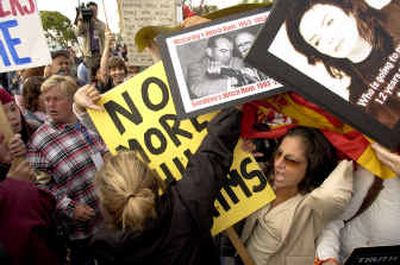 SANTA MARIA, Calif. – After sitting through 14 weeks of often-bizarre testimony, jurors in the Michael Jackson trial on Friday began their deliberations in the child-molestation case that could shatter the pop star's storied career and send him to prison for more than 20 years.
Santa Barbara Superior Court Judge Rodney S. Melville delivered final instructions before formally handing the case to the eight women and four men of the jury at 12:22 p.m. They deliberated about two hours before recessing for the weekend.
Earlier, the mood in the packed courtroom was somber as attorneys for both sides wrapped up their arguments. Jackson's mother Katherine quietly sobbed at points. The prosecutor passionately urged jurors to evaluate the case against Jackson using everyday standards of common sense. Stressing that it was Jackson himself who disclosed his sleepovers with children, prosecutor Ron Zonen told jurors that if they heard about a middle-aged man in their neighborhood sharing his bed with young boys, "You'd be on the phone with the police in a second."
Earlier on Friday, defense attorney Thomas A. Mesereau Jr. issued his own appeal to common sense, imploring jurors not to swallow a vicious story made up by "con artists, actors and liars" – a formulation he repeated four separate times to describe Jackson's young accuser and his family.
"It's all set up," Mesereau told the jurors. "They're just waiting – waiting for the biggest con of their careers. They're just waiting for you to help them."
Both attorneys appeared to agree on one thing: Some of the most powerful evidence in the trial came in the form of videos, although each closed his presentation with sharply contrasting footage.
Mesereau showed the jury outtakes from the production of a British TV documentary called "Living With Michael Jackson."
On a large screen, Jackson talked about seeing children as a reflection of God.
"I love innocence," he said. "I'm a nut for innocence."
At another point, he said he never had been "betrayed or deceived" by a child.
"It's adults who have let me down," he said.
For his part, Zonen displayed part of a tape in which Jackson's accuser, then 13, reluctantly acknowledged the alleged molestation to police investigators. In testimony, he said it was the first time he had told anyone about the alleged incidents.
On the tape, the boy slumped in his seat and answered in barely audible tones as an investigator urged him to reveal what might have happened between him and Jackson. Staring at the floor, the boy was halting and anguished as he related details of the alleged incidents.
Defense attorneys contend the boy – who had taken drama classes – was simply auditioning for the role of a lifetime as Jackson's victim.
But Zonen told jurors that they had just witnessed "the worst seven minutes of this young man's life." No acting class could have taught him to imitate pain so convincingly, he said.
Jackson is charged with 10 felonies: four counts of child molestation, four counts of plying a minor with alcohol in order to molest him, one count of attempted child molestation and one of conspiracy to hold the boy and his family captive at the Neverland ranch. If convicted of all charges, he could get more than 20 years in prison.
Local journalism is essential.
Give directly to The Spokesman-Review's Northwest Passages community forums series -- which helps to offset the costs of several reporter and editor positions at the newspaper -- by using the easy options below. Gifts processed in this system are not tax deductible, but are predominately used to help meet the local financial requirements needed to receive national matching-grant funds.
Subscribe now to get breaking news alerts in your email inbox
Get breaking news delivered to your inbox as it happens.
---