Sports
Burse's bucket beats Sting
Mon., June 13, 2005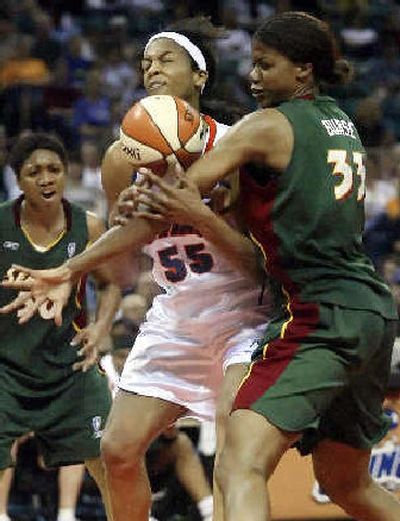 Janell Burse was afraid to look at the clock after her game-winning basket.
Burse's layup with 0.1 seconds left gave the Seattle Storm a 62-60 win over the Charlotte Sting at Charlotte, N.C., on Sunday.
Iziane Castro Marques passed to Tanisha Wright, who was too far underneath the basket. Wright then slapped the ball to Burse, who banked it in just before the buzzer.
"The play broke down, but we were patient," Burse said. "The pass came into T, and T gave me the ball and I was able to score. I thought time had ran out, actually. I looked up at the clock and said, 'Thank God.' "
The Sting tried a long tip play, but Tangela Smith failed to hit the rim as Charlotte lost its fourth straight game.
Liberty 72, Shock 69: Vickie Johnson scored 21 points and Becky Hammon made three 3-pointers to help New York defeat visiting Detroit for the first time in three meetings in this season.
Hammon finished with 13 points and her two free throws with 1:13 to play and two more from Shameka Christon with 18.7 seconds left kept the Liberty from squandering an 11-point lead.
Local journalism is essential.
Give directly to The Spokesman-Review's Northwest Passages community forums series -- which helps to offset the costs of several reporter and editor positions at the newspaper -- by using the easy options below. Gifts processed in this system are not tax deductible, but are predominately used to help meet the local financial requirements needed to receive national matching-grant funds.
Subscribe to the sports newsletter
Get the day's top sports headlines and breaking news delivered to your inbox by subscribing here.
---