News > Nation/World
Cargo ship resupplies space crew
Mon., June 20, 2005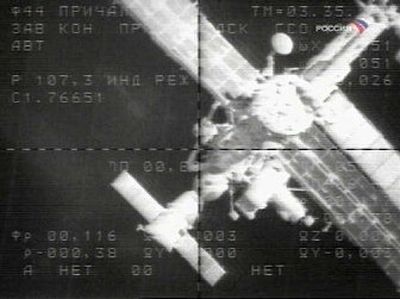 MOSCOW – A Russian cargo ship successfully docked with the international space station early Sunday in a manually controlled maneuver after a communications problem switched off the autopilot system, Russian Mission Control reported.
The unmanned Progress M-53 spacecraft, which took off from the Baikonur cosmodrome in Kazakhstan on Friday, was delivering supplies and equipment for its U.S. and Russian crew.
Russian Soyuz crew capsules and Progress cargo ships have been the only link to the space station since the U.S. shuttle fleet was grounded after the Columbia shuttle burned up as it returned to Earth in February 2003, killing all seven astronauts aboard.
NASA has said it plans to resume shuttle flights as early as next month.
Russian cosmonaut Sergei Krikalev, who is on the space station with U.S. crewmate John Phillips, manually steered the cargo ship into a smooth embrace with the station after the autopilot system failed minutes before the docking, Mission Control spokesman Valery Lyndin said.
"Shortly before the docking, the autopilot switched off because of communications problems," Lyndin said by telephone from Mission Control in Korolyov, located just outside Moscow. "Communications were quickly restored, but Mission Control decided to play it safe and asked the crew to conduct a manual docking."
Lyndin said the docking took place several minutes ahead of schedule.
Soyuz spacecraft are guided by autopilot on their approach to the station and during the docking, but the crew is trained to operate it manually in case of computer or communications failure.
The communications problem was caused by a power supply disruption at a land-based facility near Moscow, Mission Control chief Vladimir Solovyov said later on state-run Rossiya television.
"As a result we lost a channel of communication" with the station, Solovyov said.
He described the power problem as "completely unexpected" and suggested those in charge of the facility were to blame.
The ship delivered about 2.6 tons of food, water, fuel and other supplies for Krikalev and Phillips, who have been on the orbiting station since April.
The cargo includes scientific equipment and spare parts for the station's main oxygen generator, which has been broken.
Along with other cargo, the spaceship brought 60 snails intended for biological experiments. It also delivered some movies and other personal items for the crew, Lyndin said.
Local journalism is essential.
Give directly to The Spokesman-Review's Northwest Passages community forums series -- which helps to offset the costs of several reporter and editor positions at the newspaper -- by using the easy options below. Gifts processed in this system are not tax deductible, but are predominately used to help meet the local financial requirements needed to receive national matching-grant funds.
Subscribe now to get breaking news alerts in your email inbox
Get breaking news delivered to your inbox as it happens.
---