Sports
Padres make Sele pay for mistakes
Sun., June 26, 2005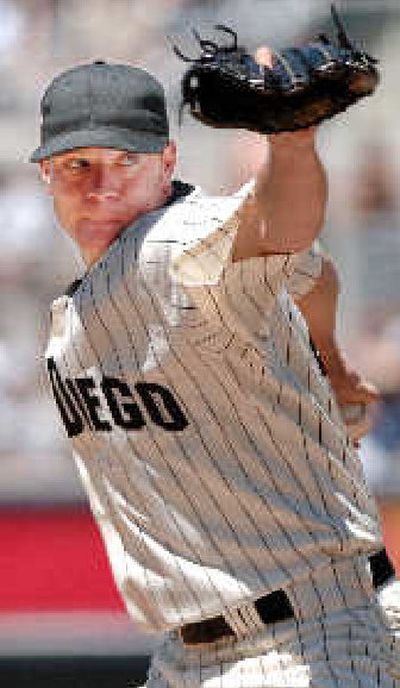 SAN DIEGO – Throw 83 pitches to major league hitters, wanting only two back isn't a bad ratio. On his 35th birthday, Aaron Sele was left wishing a pair of pitches hadn't been thrown, though he was realistic enough to know how much they'd cost him and the Seattle Mariners.
The San Diego Padres turned those two pitches into a victory, using a two-run double, then a three-run home run – both coming with two outs – into an 8-5 victory Saturday.
"We dug too deep a hole," manager Mike Hargrove said. "We were down six runs at one point and we gave ourselves a chance, but we never quite got out of that hole."
Seattle chased staff ace Jake Peavy after five innings, scoring five times off a pitcher they'd never touched before. That wasn't enough.
"He's got great stuff, and today he wasn't as sharp as we've seen him before," Bret Boone said. "But he's good enough to get by on less than his best."
And Sele?
"Aaron's last five, six starts he's been money," Boone said. "He's carried us in those games. Everybody's going to have a tough game now and then."
Sele had his in his 15th start of the season, a game that was a struggle for him from the first pitch to his last in the fourth inning.
"My fastball was up, my curveball was too low and I couldn't command the strike zone," Sele said. "I battled just to get to two outs – twice – and then made the mistakes that cost us."
The first mistake came in the first inning. Sele had two outs, two men on base and was trailing 1-0 when Sean Burroughs came to bat. Had he retired Burroughs, that deficit wouldn't have lasted long. Sele couldn't. Burroughs lined a fastball into right field for a two-run double.
Two innings later, the Mariners had cut that deficit to 3-1, and Sele struck out Brian Giles and Burroughs. In between those outs, Ryan Klesko walked and Robert Fick singled. Xavier Nady was all that stood between Sele and the end of the inning.
"I got two strikes on him and threw him a breaking pitch that was down – it wasn't a bad pitch," Sele insisted. "I looked at replays, and (catcher) Pat Borders was going down on his knees to block the ball, that's how low it was.
"But give him credit, Nady put a great swing on it, got good wood on it, and it was obvious it was gone."
Gone it was, Nady's seventh home run, and a close game was suddenly 6-1. The next Padres batter, Khalil Green, followed with a solo home run.
The Mariners tried to climb back into the game with a marvelous fifth inning, a mixture of speed and power that might have been more meaningful had they been just a bit closer on the scoreboard.
Ichiro Suzuki singled and stole second base. Jeremy Reed walked, and he and Ichiro pulled a double steal. Adrian Beltre flied out deep enough to get the second of his two RBI and make it 8-2. Richie Sexson doubled home a run. Raul Ibañez homered and it was 8-5.
The offense stopped, and both bullpens held serve. Matt Thornton, Shigetoshi Hasegawa and Jeff Nelson posted zeros for four innings, but so did Padres Chris Hammond, Rudy Seanez, Akinori Otsuka and closer Trevor Hoffman.
"From the fourth inning on, we pitched great," Hargrove said. "But after the fifth inning, we couldn't get much going."
In the clubhouse afterward, one of Seattle's hottest hitters – Beltre – was among the frustrated. He's got a nine-game hitting streak in progress, with 14 hits in those nine games. And he knows it's not enough, for him or his team.
"I'm feeling OK, not good, and I need to get to good," the third baseman said. "When I feel good, I'm driving balls to the alleys. I'm not there yet."
On June 10, Beltre was batting .237. This morning, he wakes up batting .262. Still, a man who hit 48 home runs last season has five this year – none in a month.
Local journalism is essential.
Give directly to The Spokesman-Review's Northwest Passages community forums series -- which helps to offset the costs of several reporter and editor positions at the newspaper -- by using the easy options below. Gifts processed in this system are not tax deductible, but are predominately used to help meet the local financial requirements needed to receive national matching-grant funds.
Subscribe to the sports newsletter
Get the day's top sports headlines and breaking news delivered to your inbox by subscribing here.
---