Sports
GU up next for Tech
Fri., March 18, 2005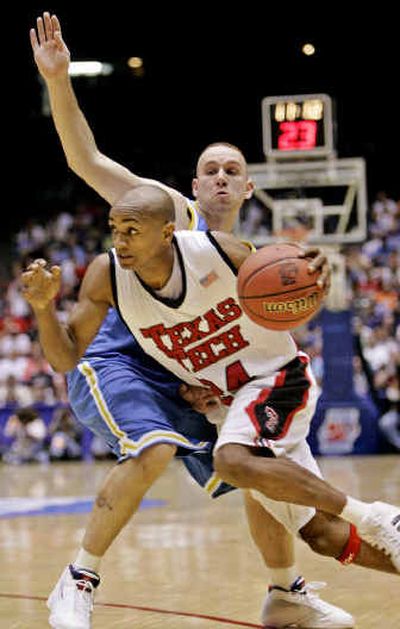 Ronald Ross lit up the first round of the NCAA Tournament the same way he did the Big 12 tourney last week.
Ross scored 28 points — after getting 28 and 22 in the last two games of the Big 12 — to lead Texas Tech to a 78-66 first-round victory over 11th-seeded UCLA on Thursday night in Tucson, Ariz. Not that 78 points in three games for the senior guard should be a surprise. Just ask his coach.
"Ronald Ross has been a good player for us for four years," Bob Knight said. "It isn't like all of a sudden he just hatched and we put him in the lineup. He hasn't broken out of an egg here recently. He has played very well and he's gotten better and better each year."
Ross' backcourt mate Jarrius Jackson scored 16 of his 19 points in the second half.
"Our guards have been the hub of our offense all year long," Knight said. "If they don't score, we're not going to have a real good offensive effort.
The Red Raiders shot a season-best 62 percent (32 for 52).
"Everybody was feeling good and just knocking down shots," Jackson said.
Texas Tech (21-10) improved to 2-2 in NCAA Tournament games since Knight came to Lubbock four seasons ago. Knight, meanwhile, is 44-23 in 27 NCAA appearances, but it was only his fourth victory in 12 tournament games since 1995.
The sixth-seeded Red Raiders play No. 3 seed Gonzaga in the second round of the Albuquerque Regional on Saturday in Tucson.
UCLA (17-12), with its lowest seed ever on the 10th anniversary of its last national championship, never led but stayed close until a 12-2 run put Texas Tech up 76-61.
Devonne Giles added 16 points on 7-for-8 shooting and grabbed nine rebounds for Texas Tech.
Dijon Thompson scored 22 for UCLA. Josh Shipp added 13 points. Jordan Farmar had an awful night, going 1 for 9 from the field, 1 for 5 from 3-point range and 0 for 2 at the line.
Texas Tech shot 57 percent in the first half (16 for 28) to UCLA's 50 percent (13 for 26), but the Bruins shot just 38 percent in the second half, compared with the Red Raiders' 67 percent (16 for 24).
Pacific 79, Pittsburgh 71: Christian Maraker came back after slamming his head to the floor in the first half and scored 17 points, including a late 3-pointer that helped clinch it for the eighth-seeded Tigers (27-3) over the Panthers (20-9) at Boise.
Wake Forest 70, Chattanooga 54: Chris Paul scored 20 points in his return from a one-game suspension and the second-seeded Demon Deacons (27-5) rallied in the second half to defeat the Mocs (20-11) at Cleveland.
West Virginia 63, Creighton 61: Tyrone Sally blocked Nate Funk's 3-point attempt, then raced downcourt for a dunk with 2.9 seconds to go, leading the Mountaineers (22-10) to the victory over the Bluejays (23-11) at Cleveland.
Local journalism is essential.
Give directly to The Spokesman-Review's Northwest Passages community forums series -- which helps to offset the costs of several reporter and editor positions at the newspaper -- by using the easy options below. Gifts processed in this system are not tax deductible, but are predominately used to help meet the local financial requirements needed to receive national matching-grant funds.
Subscribe to the sports newsletter
Get the day's top sports headlines and breaking news delivered to your inbox by subscribing here.
---