News > Business
The bucks stop here, Ford CEO declares
Fri., May 13, 2005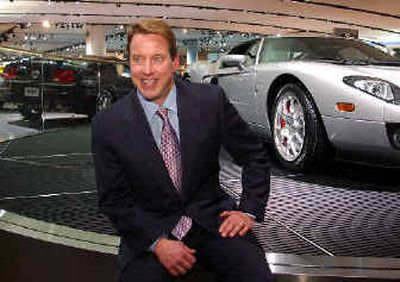 WILMINGTON, Del. — Ford Motor Co. chairman and chief executive Bill Ford said Thursday he will forgo all compensation until the company's automotive business is sustaining profitability, a move that brought applause from shareholders but little reward on Wall Street.
An hour after the company's 50th annual shareholders meeting ended, Moody's Investors Service downgraded Ford's credit rating to its lowest investment-grade level, citing lower profit expectations and sinking market share at the world's second-largest automaker. Last week, Standard & Poor's Ratings Services lowered Ford to "junk" status.
Ford told about 90 shareholders that he asked the company's compensation committee to tie his pay more directly to its automotive performance.
He didn't give a target for that performance, but said the company would have to be doing better than the break-even performance expected this year.
"That's certainly not acceptable to me, and I'm sure it's not acceptable to you either," Ford said.
"In the future I will not only continue my practice of accepting no cash compensation, but I will also forego any compensation at all until the compensation committee and I are satisfied that the company has achieved and is sustaining profitability," he said.
Ford, the great-grandson of company founder Henry Ford, has not been accepting a cash salary since taking the helm of the company in 2001, but his 2004 compensation package, which included stock options, was worth around $22 million.
Shares of the company fell 28 cents, or 3 percent, to $9.36 in afternoon trading on the New York Stock Exchange. They have traded in a 52-week range of $9.07 to $16.48.
Last month, the Dearborn, Mich.-based automaker reported it earned $1.2 billion in the first quarter, sharply below last year's results. Ford said he didn't agree with the decision by S&P to lower the automaker's rating to below investment grade. The ratings company cited declining sport utility-vehicle sales, Ford's longtime cash cow, among its reasons for the downgrade.
"We believe it discounts our very strong liquidity and access to diverse funding sources, as well as the recent success of our new products," such as the fast-selling Mustang, Ford said.
According to S&P and Moody's, Ford had $23 billion in cash and $161.3 billion in debt as of March 31.
Richard Mills, a Ford retiree from Florida, said shareholders shouldn't re-elect the company's 15-member board because of its dismal performance. He said Ford's U.S. market share — at 19.2 percent the first four months of this year — is the lowest it's been since the 1920s.
"We're not keeping up with our competitors in new model introductions," Mills said.
Local journalism is essential.
Give directly to The Spokesman-Review's Northwest Passages community forums series -- which helps to offset the costs of several reporter and editor positions at the newspaper -- by using the easy options below. Gifts processed in this system are not tax deductible, but are predominately used to help meet the local financial requirements needed to receive national matching-grant funds.
Subscribe now to get breaking news alerts in your email inbox
Get breaking news delivered to your inbox as it happens.
---