Protesters target 1872 mining law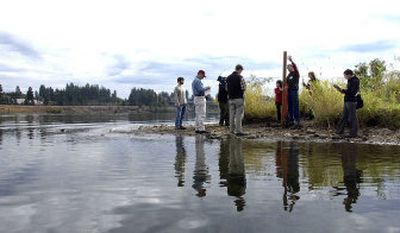 Ten of the choicest acres of Coeur d'Alene waterfront were staked with a mining claim Thursday by a Spokane conservation group.
The Lands Council hoped its actions would serve as a protest to an 1872 law that allows mining on most federal lands with no royalties paid to the government and little protection for environmentally sensitive sites or places held dear by the public, said Mike Petersen, executive director of the group.
"What a beautiful spot to put a mine," Petersen said, as he dug a hole for the claim stake on the northwest corner of Blackwell Island. "We can go boating afterwards."
The Lands Council even joined a coalition of environmental groups to form a new business, Mine All Mine Inc. The coalition staked claims at 50 sites Thursday across the West to protest the Ulysses S. Grant-era mining law, as well as prevent the sites from ever being developed. One of the mining claims was staked in the Cabinet Mountains of northwest Montana, near the site of the proposed Rock Creek mine.
But a phone call to the U.S. Bureau of Land Management office in Boise revealed a slight bump in Mine All Mine's attempts to grab a slice of Coeur d'Alene's mineral scene. The island is one of the rare pieces of federal land in the West not claimable, said Barry Rose, a BLM spokesman.
A large portion of the island was purchased by the BLM in 1994 and is now a popular boat launch. Like other tracts recently purchased by the BLM, the land is only open to mining claims if the agency specifically says so, Rose said.
"We never opened Blackwell Island."
Mine All Mine is not yet ready to relinquish its claim, Petersen said.
There could be lots of old silver, lead and cadmium in the gravel – much of the island is made up of old mine tailings washed downstream from the Silver Valley – and Petersen insisted that a BLM official in Coeur d'Alene had previously assured him the island was open for exploration.
Petersen said he did considerable research to make sure his group did not squander the $165 permit fee.
Despite the potential hitch, Petersen said Lake Coeur d'Alene remains prime mine exploration territory.
At least seven other recreation sites could be staked with a claim and dug open for minerals, he said. Plus, thousands of acres of U.S. Forest Service land on the east side of the lake could be claimed – most of it with million dollar views. If the Blackwell site proves to be closed, Mine All Mine would stake a claim somewhere else along the lake, Petersen promised.
The BLM spokesman did not dispute Petersen's core complaint – that mining trumps most other activities, even those at a boat launch or place with pretty scenery.
"If somebody discovered a big pile of gold right under Blackwell Island and they went through the proper steps … gold mining would trump recreation ultimately," Rose said.
"We can prevent unnecessary or undue degradation, but we can't stop the mine."
As environmentalists pounded in their claim stakes across the West on Thursday, Rep. Nick Rahall, D-W.Va., introduced a bill to collect federal royalties for the first time ever, boost fees for filing claims and establish rules for reclaiming mined tracts. A similar proposal failed in the mid-1990s.
According to a statement from Rahall, the government has lost out on an estimated $245 billion while paying from $32 billion to $72 billion to clean up abandoned mines, including several sites in North Idaho.
Rahall also noted that the 1872 mining law was meant to lure Americans to the West with the promise of being able to mine federal lands for $5 an acre or less.
"These bargain-basement price tags are still in effect after 133 years," Rahall said.
National Mining Association spokesman Luke Popovich said the group supports updating the 1872 mining law.
But he said the environmental groups' actions were merely a stunt that misrepresented the industry.
"We're the most heavily environmentally regulated mining industry in the world today," Popovich told the Associated Press.
---