News > Business
Misery, unrefined
Wed., Sept. 14, 2005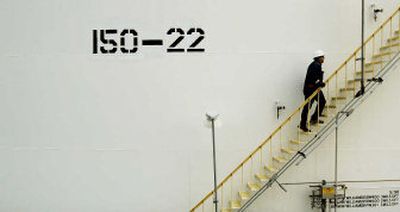 NORCO, La. — Rodney Harris jokes that there's little chance of his being late for work at Valero Energy Corp.'s refinery. Since Hurricane Katrina, his home is now the refinery itself.
"It's like I tell my kids," says the weary Harris, who along with more than 60 other Valero workers has been sleeping in cots and trailers at the site, to restart the refinery and keep the refinery going. "Situations like this show what you're made of. You're always going to have roadblocks, but you have to work around them, and move on."
Making do has become the operating strategy throughout the Gulf Coast's energy industry, which has partially recovered since Katrina ravaged the region, but still is likely months away from returning to business-as-usual. The difficulties are underscored by the pace of progress, which has slowed considerably in the past week, a sign that the relatively easy problems have already been fixed.
For consumers, that means the cost of driving, heating a home and running a business is likely to be inflated for months to come, analysts said, assuming there is no meaningful drop-off in consumption.
In two weeks, half of the refineries that were fully shut down by Katrina have almost fully restored operations, including Valero's plant just west of New Orleans. That, and the return-to-service of two pipelines that carry fuel from the Gulf Coast to the Northeast, has helped to bring average pump prices below $3 a gallon.
But there are still four other refineries accounting for roughly 5 percent of the country's total fuel-manufacturing capacity that are out of commission, potentially for months.
Likewise, more than half of the Gulf's daily oil production and more than a third of daily natural gas production remain shut, according to the federal Minerals Management Service. While the amount of oil and gas lost every day is much lower than it was immediately after Katrina, the current daily loss of about 850,000 barrels of oil and 3.7 billion cubic feet of natural gas is only slightly below week-ago levels.
Just how quickly offshore drilling returns to pre-Katrina levels depends in large part on what sort of damage the platforms, pipelines and processing plants that underpin the industry sustained — an assessment that may not be complete for several more weeks.
Some of the many challenges are evident at Valero's refinery in Norco, where roughly 10 percent of the workers were displaced from their homes. While some are staying with co-workers, dozens of others are sleeping at the plant in trailers and on cots — with families and pets in tow — creating an impromptu neighborhood that has been dubbed "Valeroville."
Valero mechanic Ronald Lewis, 32, said sleeping on an inflatable mattress inside the plant's main office building is comfortable enough for the time being, but that the situation is not ideal, for obvious reasons.
"It's lonely," said Lewis, whose wife, two daughters and about 20 other family members are scattered across Georgia and Mississippi.
Local journalism is essential.
Give directly to The Spokesman-Review's Northwest Passages community forums series -- which helps to offset the costs of several reporter and editor positions at the newspaper -- by using the easy options below. Gifts processed in this system are not tax deductible, but are predominately used to help meet the local financial requirements needed to receive national matching-grant funds.
Subscribe to the Coronavirus newsletter
Get the day's latest Coronavirus news delivered to your inbox by subscribing to our newsletter.
---