News > Nation/World
Frist's stock sale getting scrutiny
Sat., Sept. 24, 2005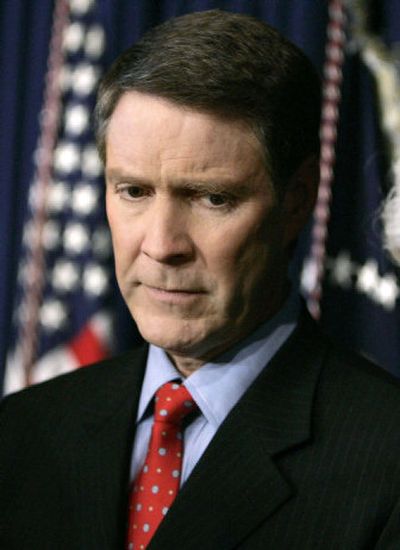 WASHINGTON – Senate Majority Leader Bill Frist is facing questions from the Justice Department and the Securities and Exchange Commission about his sale of stock in his family's hospital company one month before its price fell sharply.
The Tennessee lawmaker, who is the senate's top Republican and a likely candidate for president in 2008, ordered his portfolio managers in June to sell his family's shares in HCA Inc., the nation's largest hospital chain, which was founded by Frist's father and brother.
A month later, the stock's price dropped 9 percent in a single day because of a warning from the company about weakening earnings. Stockholders are not permitted to trade stock based on inside information; whether Frist possessed any appears to be at the heart of the probes.
A spokesman said Frist's office has been contacted by both the SEC and the U.S. attorney's office in Manhattan about his divestiture of the stock. HCA disclosed separately that it was subpoenaed by the same U.S. attorney's office for documents that were related to Frist's sale. Frist and HCA said they were cooperating.
Frist has denied any wrongdoing.
On Thursday, a Frist spokeswoman said the senator had not discussed the stock sale in advance with any HCA executives. On Friday, in a statement from Frist's office, the issue was couched a little differently. It said the senator "had no information about the company or its performance that was not available to the public when he directed the trustees to sell the HCA stock. His only objective in selling the stock was to eliminate the appearance of a conflict of interest."
According to Frist's office, the senator decided to sell all his HCA stock – held in blind trusts managed by two companies for him, his wife and his children – on June 13. Under the rules of the trusteeships, Frist had no control over the timing of the sale, Frist spokeswoman Amy Call said.
When the company disclosed that its second-quarter earnings would fall short of Wall Street expectations a month later, the stock price slid steeply. By that time, Frist's shares had been divested. The managers of one of the trusts told the senator on July 1 that his holdings had all been sold; the other trust managers said the shares were gone on July 8.
Frist's financial disclosure statement earlier this year placed the value of his blind trusts at between $7 million and $25 million.
HCA was founded in 1968 by Frist's father, Thomas Frist, his brother, Thomas Frist Jr., and Jack Massey, the former owner of Kentucky Fried Chicken. Frist's brother Thomas is a director and a former HCA chairman. The senator himself is a surgeon.
Democrats were quick to pounce on Frist's problem. Democratic National Committee Chairman Howard Dean urged the agencies involved to "fully and vigorously investigate Frist's suspicious stock trade." He added: "Republicans in Washington have made their culture of corruption the norm."
Watchdog groups also lashed the lawmaker. Melanie Sloan, executive director of Citizens for Responsibility and Ethics in Washington, said she intended to petition the Senate Select Committee on Ethics to look into Frist's actions and determine if he ran afoul of ethics rules involving blind trusts. A spokesman for the committee said the panel does not disclose whether it is investigating a senator.
Local journalism is essential.
Give directly to The Spokesman-Review's Northwest Passages community forums series -- which helps to offset the costs of several reporter and editor positions at the newspaper -- by using the easy options below. Gifts processed in this system are not tax deductible, but are predominately used to help meet the local financial requirements needed to receive national matching-grant funds.
Subscribe now to get breaking news alerts in your email inbox
Get breaking news delivered to your inbox as it happens.
---