News > Idaho
Event nourishes body, mind
Wed., Feb. 1, 2006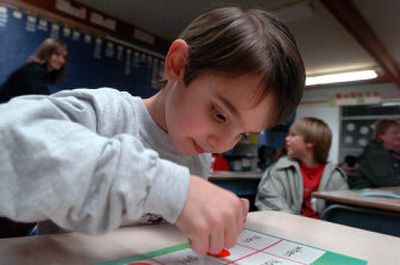 The event was a four-in-one package deal for Jeanie Digregorio.
Her kids got new books. They played with their friends. She didn't have to rush home to make dinner. And all were able to share in family time.
"All for free," Digregorio said. "This is an awesome thing."
The single mother and her family were among hundreds who showed up Tuesday night for Borah Elementary's fourth annual Dinner and a Book.
Her twin nieces, Kyra and Kyndra Pass, 7, were excited to play games – Kyndra won in bingo – and looked forward to taking chapter books home.
The event, which has grown from its initial showing of about 30 people, is funded by a grant from Gov. Dirk Kempthorne's office to improve literacy among children.
"It helps them get excited about reading," said Vicky Mills, a teacher who helps children read proficiently.
ICARE, a parenting organization, administers the grant at various schools in Kootenai County. Sally Fischer, the family support coordinator, said the event combines emphases on literacy, families eating together and parental involvement. Those three things work together in increasing students' academic success, Fischer said.
Several parents said they wanted to attend to show they care about their children's activities at school.
"It makes the kids feel like what they're doing is important," said Audra Call, who attended with her daughter Morgunn, 11, and son Branndun, 6.
As they walked the hallway to one of the activity rooms, Branndun excitedly pointed out to his mother his classroom and locker.
They later traced around Branndun on a large sheet of paper and colored the figure.
Debbie Yuas came to the event with her husband and two sons. The older, Connor, is in first grade and a good reader, Yuas said. "Anything we can do to encourage that, we're going to do."
Local journalism is essential.
Give directly to The Spokesman-Review's Northwest Passages community forums series -- which helps to offset the costs of several reporter and editor positions at the newspaper -- by using the easy options below. Gifts processed in this system are not tax deductible, but are predominately used to help meet the local financial requirements needed to receive national matching-grant funds.
Subscribe now to get breaking news alerts in your email inbox
Get breaking news delivered to your inbox as it happens.
---