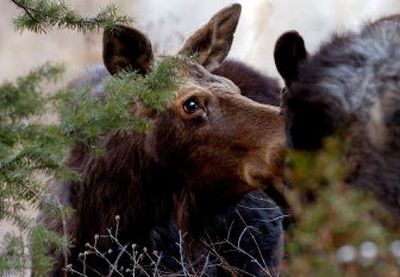 It's not only big city transplants who have discovered the charms of Coeur d'Alene living.
A growing number of deer, turkeys, moose, geese and even elk are being spotted in residential neighborhoods. They nibble on tulips, snooze on velvety carpets of bluegrass and have become major annoyances to the region's equally booming people population.
City officials are trying to figure out how to deal with the issue. Some, including Councilwoman Dixie Reid, want to ban the popular practice of backyard wildlife feeding, saying it encourages more wildlife to move to the city. Reid said upward of a dozen white-tailed deer hang out in her eastside Coeur d'Alene yard.
"We can't let our grandkids in the backyard. It's not healthy to have all those droppings," she said. "We need to have the numbers reduced. I don't think I want to eradicate them, but they need to be reduced. They destroy everything in our yard."
The Idaho Fish and Game Department plans to work with officials from cities throughout Kootenai County on the issue of urban wildlife. Mark Taylor, the agency's landowner-sportsman relations coordinator, is serving as technical adviser to the makeshift group.
"We're treading new ground here," Taylor said. "We've got a lot of critters up here, we've got lots of good security with the timber and we've got incredible human growth."
On Monday, North Idaho College announced it will ban the feeding of geese along the college's lake and river frontage in Coeur d'Alene. At least 80 geese have taken up year-round residence on the beach, and each generates upward of 2 pounds of excrement daily, according to the college. A designated feeding zone has been established in the northernmost area of NIC's beach frontage.
Although gardens and lawns are appealing enough for wildlife, one of the biggest lures has been backyard feeders, ranging from simple bird feeders to piles of corn for deer and turkeys. The feeding may be helping boost herd size. Whitetail does often produce twins when they have an abundant source of food, said Taylor, with the Idaho Fish and Game Department.
Feeding wildlife is legal in Idaho and Washington. Taylor said he's neutral on the idea of feeding, "unless it causes problems for neighbors." But he also said wildlife should not be blamed for seeking an easier existence.
"We're the problem, not the deer," Taylor said. "We're not only moving into their arena, we're encouraging them to be there. … Critters are adaptable. They need food, shelter and water. If you provide it, they'll come."
The city of Coeur d'Alene is just beginning to look at the issue but already is asking residents to voluntarily end backyard wildlife feeding, said Jon Ingalls, deputy city administrator. "At some point, we may have to take a position that is stronger, maybe an ordinance that says you can't." But Ingalls also noted that wildlife feeding laws are not easy to enforce – deer and bear also like to munch bird seed, for instance.
Wildlife feeding, except bird feeders, has been banned in Montana. But the state continues to deal with a growing number of conflicts between people and wildlife, said Chuck Bartlebaugh, director of the nonprofit Center For Wildlife Information in Missoula.
"As hunting has decreased, we're running into a population problem. The forest and open lands are just saturated with wildlife," he said.
State game wardens have killed nearly a dozen white-tailed deer, including several bucks that were considered aggressive, in Montana's capital city the past two years. A young Missoula woman was recently knocked unconscious after being trampled by a startled deer, Bartlebaugh said.
Habitat loss from urban sprawl might be the biggest long-term threat to wildlife, but Bartlebaugh said backyard feeding exposes wildlife to communicable diseases and also draws predators. The unnatural diet offered by humans can also lead to everything from tooth decay to stomach ulcers in some species, he said. "I'm totally opposed to it, simply because of the harm it does to wildlife," Bartlebaugh said.
Coeur d'Alene Councilwoman Reid said she doesn't know what to do. She opposes putting up a fence – it would need to be at least 10 feet tall to keep out deer, she said. Reid has lived in the area for 37 years, but never before have there been so many deer, she said.
"I talk to a lot of people who are just going crazy with all these deer around," she said. "I plant flowers, they eat them. We plant trees, they eat them. They'll walk up four steps onto my front porch to eat my geraniums."
Reid said her husband has even tried to scare away the deer by plinking at them with a low-powered pellet gun. "They just turn around and look at him," she said. "They're dumb as boards."
Sooner or later, cougars and wolves will figure out where they can find easy meals, Reid said. Some of her constituents have also expressed concerns about ticks and other diseases carried by deer.
The conflict, however, nips at the very heart of what makes North Idaho attractive for so many people, said Councilman Woody McEvers, who has mixed feelings about an outright ban on feeding wildlife.
"It's just ironic that we move here to be in the woods. It's just part of living here," said McEvers, who lives in a downtown neighborhood that remains untrodden by forest creatures. "I'd love to see a deer."
---