Bonner County roads patched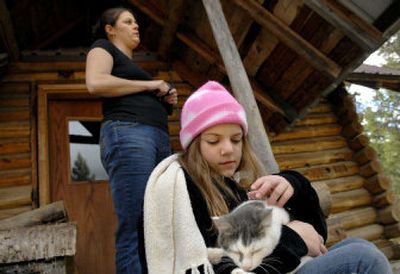 CLARK FORK, Idaho – Using massive loads of gravel and boulders the size of Volkswagen Beetles, crews patched washed-out roads in Bonner County on Wednesday afternoon.
An estimated 175 homes east of Sandpoint were left isolated by the washouts, which were caused when upward of 20 inches of rain fell over the past week, turning some creeks into roiling, debris-clogged rivers.
Although nature temporarily stranded vehicles and homeowners along East Spring Creek and Upper Pack River roads Tuesday, old fashioned neighborliness ensured everybody was OK.
"Everybody was helping each other out," said Jennifer Opland, who spent the night in Sandpoint with her young children, rather than return to the family's cabin several miles upstream from the Lightning Creek washout.
The creek was roaring Tuesday afternoon and carrying scores of large cedars and cottonwoods that fell from muddy mountainsides upstream. By midafternoon, East Spring Creek Road had been nearly chewed away.
The area is just outside the small town of Clark Fork. Its residents include actor Viggo Mortensen.
Although vehicles could not cross the washout, many people walked the narrow stretch of road and were driven home by neighbors stranded with their vehicles on the other side. An emergency medical technician even made the crossing to check on an ill, elderly resident. The narrow passage was manned all through the night, with neighbors ferrying stranded neighbors using all-terrain vehicles.
Between 125 and 150 homes were cut off on East Spring Creek Road. Another 25 or so homes were cut off when Upper Pack River Road washed out. Larry Sweaney made it back to his home near Lightning Creek after voting Tuesday afternoon and just before the road collapsed into the creek.
In his 20 years living in the valley, Sweaney had never before seen the creek run so high and mighty. Remote monitoring stations used by the National Weather Service reported 20 1/2 inches of rain had fallen in the Bear Mountain area over the past week. Bear Mountain is in the headwaters of Lightning Creek.
Sweaney, a veteran, said he wasn't fazed at the prospect of being stranded. "I've got enough groceries. I didn't care."
But Sweaney wasn't happy about how the situation unfolded. He thinks the county could have been working harder Monday to shore up the unpaved road. He cringed at the thought of a school bus driving over the road Tuesday morning, hours before the washout. "I ain't happy with this county, period," Sweaney said, standing on his porch Wednesday afternoon as a rare ray of sun poked through the low clouds.
Bonner County road and bridge supervisor Chuck Spickelmire said crews tried to protect the road Tuesday morning, but the river kept rising and washing away the extra rocks. Workers had placed enough rock Tuesday night to allow one lane to open after dark. By noon Wednesday, after the creek had dropped about 4 feet, most of the fix was in place. The Upper Pack River Road had also been repaired.
Dirt roads farther into the National Forest could remain closed until next year, however. Widespread washouts were reported. Spickelmire said Lightning Creek Road is impassable. Lightning Creek itself continued to flow the color of pea soup Wednesday. Its banks and islands were covered with a veritable forest of toppled, freshly uprooted trees.
"This was a springtime event that came in November," Spickelmire said, surveying the scene.
Scores of weather records were broken across the region by the storm. Kerry Jones, a forecaster with the National Weather Service office in Spokane, said the rainfall totals are almost beyond belief, especially the nearly two feet that fell atop Bear Mountain over the past week.
"We're kind of shaking our heads," Jones said.
More unstable weather is coming. This time, snow is likely. An inch could fall in the Spokane area today. More will fall in the mountains.
Another large storm also appears to be building for the weekend.
---