News > Home
They have the gift of gourd
Tue., Oct. 17, 2006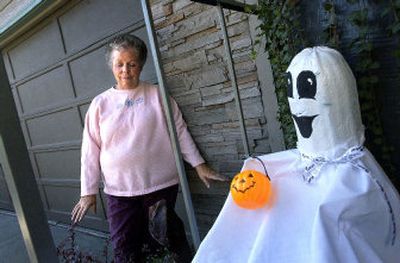 What do you do with surplus zucchini? Most folks bake bread, but a couple of Spokane Valley neighbors have found that their zucchini is the gift that keeps on giving.
When Kevin and Linda Fairhurst received a super-size squash, Kevin offered it to his neighbors, Cathy and Henry Peden. "No thanks," Cathy Peden said.
But the next day she found the zucchini resting on a bench on her deck. Cooking up a squash this size would take a lot of time, so Peden regifted it by placing it under Fairhursts' birdbath.
A few days later Peden noticed a ceramic raccoon in her backyard appeared to be hugging something. Sure enough, the giant zucchini was cradled in his arms. She thoughtfully returned it to its rightful owner by slipping it onto the Fairhursts' dividing wall in their outdoor seating area.
Not long after, Peden noticed something in her geranium pot. It was the zucchini sporting a silver coat of paint, and decorated with lots of little flowers. It didn't stay there long.
The Fairhursts have a lovely garden with Japanese-themed garden art. One day they noticed something new. A bright red pagoda perched in the midst of their Snow on the Mountain ground cover. The authentic Japanese lettering on it translated into English read, "Honorable Zucchini." Peden had done her research.
The Pedens have a Koi pond. One day Peden noticed a new fish in the pond. Closer inspection revealed that it was no fish; it was the zucchini, complete with fin and tails, and realistic orange, black and silver coloring. It floated serenely in the pond.
The Koi/zucchini then made a surprise appearance in the Fairhursts' bathtub, where Peden devoutly hoped it would stay. But the Fairhursts proved disinclined to share their tub with the squash.
In its next incarnation the zucchini appeared high in the branches of the Pedens' walnut tree. Fairhurst had transformed it into a replica of a Flying Tiger Fighter plane. Sporting wings, tail fins and the snarling teeth of a tiger, the squash swayed above them in the breeze. Unfortunately, the Pedens were without a ladder at the moment. The Flying Tiger had a lengthy stay in their tree.
What goes up must come down, and the zucchini was eventually retrieved. By now it was a little mushy in the middle but still plenty firm on the outside. Peden pondered baking a pie or two but decided with Halloween approaching the zucchini deserved a costume, too.
She painted it white, added wire arms and ghostly draperies, and gave the squash a friendly smile. Intending to make this a permanent gift, Peden encased the lower portion of the squash in a tub of cement, and left it on the Fairhursts' front porch.
"Cathy thinks she's won this thing by sticking the 'ghost' in concrete, but Kevin has other plans," said Linda Fairhurst.
In this Spokane Valley neighborhood, zucchini is indeed the gift that keeps on giving.
Local journalism is essential.
Give directly to The Spokesman-Review's Northwest Passages community forums series -- which helps to offset the costs of several reporter and editor positions at the newspaper -- by using the easy options below. Gifts processed in this system are not tax deductible, but are predominately used to help meet the local financial requirements needed to receive national matching-grant funds.
Subscribe now to get breaking news alerts in your email inbox
Get breaking news delivered to your inbox as it happens.
---