News > Business
Where did they go?
Mon., July 2, 2007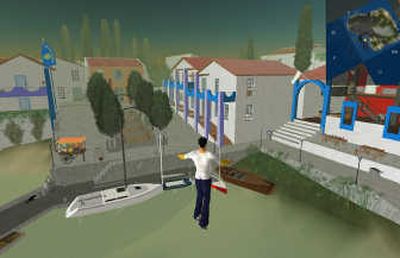 If people stop logging into a virtual world, does it still exist?
Millions of users have dipped a digital toe into emerging online realms, but they're not all sticking around. This curiosity often spawns virtual vistas full of abandoned user-created structures and keeps populations fluctuating.
As one of the buzziest recent business trends, virtual worlds have let millions of real people create fake online versions of themselves and interact with other folks inside 3-D online environments.
Many such programs also allow users to create their own personal virtual home.
Most of these artificial universes, which exist on a computer server somewhere in real life, feature traditional elements of video games, while others like Second Life and There.com are socially based.
Because not every virtual world or massively multiplayer online game – MMOG for short – is as popular as World of Warcraft, a fantasy-themed online game with over 7 million active subscribers, many simply strive to survive with a few thousand members after the initial interest goes offline.
Some worlds cease to exist altogether.
Thousands of people can be logged into a virtual world at once. Most users tend to navigate their avatars near one another to congregate and socialize, which usually leaves other parts of the world devoid of anything, well, real. Virtual miles of virtual land are often littered with virtually empty buildings.
Perhaps the biggest contributor to this sprawl is sheer boredom.
"The typical life of any player in any given MMOG is about 18 months," says Georgia Tech professor Celia Pearce, who's studied the sociology of virtual worlds and MMOGs. "This is pretty well known by designers and MMOG researchers that people just get bored after that much time."
The ultimate end for any MMOG is permanently closing its virtual doors.
Electronic Arts pushed the brakes on the car-themed Motor City Online in 2003 and grounded the space-themed Earth &Beyond in 2004 after users lost interest. And Bandai Namco recently announced it's pulling the plug on Gundam Online, a robot-themed MMOG based in Asia, later this year.
That doesn't mean this fad has passed. Over a dozen new MMOGs featuring various themes (pirates, "Star Trek" and spies abound) are slated to open within the next two years. Sony Computer Entertainment is heavily promoting its upcoming social program "Home" for PlayStation 3 console owners.
In fact, Pearce says the virtual market is overly saturated with J.R.R. Tolkien-esque fantasy worlds. World of Warcraft, EverQuest, EverQuest II, Dungeon Runners, Ultima Online and Lord of the Rings Online all feature elves and ogres of some sort.
"I think what we get is this addictive curve," says Pearce. "People are playing 40 hours or 30 hours a week, and they get burned out and wonder, 'Why am I spending all this time doing the same thing over and over again?' Then they go into another game and 18 months later find that they're doing it all over again."
Local journalism is essential.
Give directly to The Spokesman-Review's Northwest Passages community forums series -- which helps to offset the costs of several reporter and editor positions at the newspaper -- by using the easy options below. Gifts processed in this system are not tax deductible, but are predominately used to help meet the local financial requirements needed to receive national matching-grant funds.
Subscribe now to get breaking news alerts in your email inbox
Get breaking news delivered to your inbox as it happens.
---