News > Nation/World
A year later, family of Virginia Tech gunman still lives 'in darkness'
Sat., April 12, 2008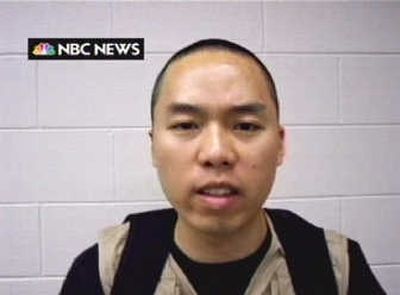 WASHINGTON – Like so many thousands of Virginia Tech parents, Sung Tae and Hyang Im Cho spent the day of April 16 calling their son's cell phone and sending him e-mails, hoping he hadn't fallen prey to the man who was shooting students and professors at Virginia Tech.
The Chos' fears were confirmed when the police, FBI agents and a chaplain showed up that night at their suburban townhouse.
But the news was worse than they imagined.
Their shy, quiet 23-year-old son was the student gunman who fatally shot 32 people before killing himself.
Nearly a year later, Seung Hui Cho's parents have virtually cut themselves off from the world. Relatives from South Korea have not heard from them. The blinds are always drawn at their home in Centreville, Va., and several windows are papered over.
The Chos, through an FBI agent who communicates with them regularly, declined a request for an interview.
"They continue to live in darkness," said Wade Smith, a North Carolina lawyer who has been assisting the family. "I think there will come a time when they are able to speak, (but) for now, they have made it clear to me they just want to be quiet and not say anything."
The family went into hiding the night of the shootings, according to the FBI agent, who has been a liaison between the family and law enforcement in the past year. She related the details of that first night on the condition of anonymity because of the sensitivity of the issue.
About 9 or 10 p.m., when about five law enforcement agents arrived at the Chos' door, "there were tears right away," the FBI agent said.
The agent said she tried to make the Chos and their daughter, Sun Kyung, comfortable by asking them to sit together on a sofa in the living room. The agent pulled up a chair to face Sun Kyung, who was translating the news into Korean for her parents. The agent sat so close that their knees were almost touching. She put her hand on the daughter's knee and told her that her brother had been shot and killed at Virginia Tech that day.
As that news was sinking in, the agent told them there was more. "It was extremely difficult," the agent said. "I had to tell a family that their son was gone and that he was also responsible for this horrific tragedy."
The story of the Cho family is a familiar one in diverse, immigrant-rich suburban northern Virginia. Sung Tae and Hyang Im rose from a dank basement apartment in Seoul, South Korea, to an upper-middle-class neighborhood in Fairfax County. They labored six days a week as dry cleaners. Their hard work was rewarded when Sun Kyung was accepted to Princeton University.
Little is known of the family's life now except that they still live in the two-story townhouse they bought in 1997, five years after they emigrated. Neighbors say they are rarely home and work long hours. Sun Kyung, 27, works for the State Department's Bureau of Democracy, Human Rights and Labor.
The night of the tragedy, the Chos packed their bags after the agent warned them that they would be the subject of intense public scrutiny. After leaving their home that night near midnight, the family moved from location to location around the Washington area, packing up every time it seemed that reporters might find them, the agent said. They turned off their cell phones to stay even more isolated from the public. In the meantime, they were answering authorities' questions about their son.
On April 18, when NBC aired the hate-filled video that Cho had mailed to the station, his parents and sister were as shocked as anyone. Two days later, the Chos made their only public comments. "We are humbled by this darkness," Sun Kyung wrote in a statement released to news organizations.
Then, silence.
Reporters who had spent days camped out at the home left, describing the townhouse as deserted and abandoned. Neighbors and others speculated the Chos had fled permanently.
But months later, neighbors said, the family quietly returned to Centreville.
Aware of the Chos' desire for solitude, several neighbors and acquaintances said they did not try to speak to the couple or offer help.
"It was very, very obvious they didn't want to be contacted by anyone," said Jeff Ahn, president of the League of Korean Americans in Virginia, who knew Cho's father through his work in the dry-cleaning business.
In early August, the Chos granted an interview – not to the media but to the panel appointed by Gov. Timothy Kaine to investigate the tragedy.
At an undisclosed private home in Northern Virginia, they poured out their hearts to Aradhana "Bela" Sood, medical director of a children's treatment center at Virginia Commonwealth University and a member of the Virginia Tech Review Panel.
In the emotional three-hour interview, Hyang Im described her struggle to socialize Seung Hui, who rarely spoke as a child in Korea and withdrew even more after the family came to the United States when he was 8.
Hyang Im, with her daughter translating, told Sood how she had tried unsuccessfully to find friends for her son. She later turned to psychiatry, despite the stigma – in Korean and American cultures – of mental illness. She and her husband worried when Seung Hui decided, against their advice, to go away to Blacksburg.
The parents told Sood of their shock to learn, after his death, of his violent writings; the red flags raised by professors and students who said they were afraid of him; and his brief hospitalization after a judge determined he was a suicide risk.
Had they known, "we would have taken him home and made him miss a semester to get this looked at," the Chos told Sood. "But we just did not know … about anything being wrong."
Sood felt a "great sense of empathy and sympathy for them," she recalled this week.
"It was, by any description, a very poignant and touching interview," she said. "It was a double whammy for them, losing a son and then not being able to grieve in a traditional sense because of his actions."
Sood said she is not surprised that the Chos have declined to speak publicly or accept offers of help from friends and family. Most parents feel responsible for the actions of their children, she said, a feeling that would be amplified in collectivist Asian families.
Moreover, she said, some kinds of grief can seem too intense for any kind of solace.
"In that circumstance, there would be a feeling of, what can people do to help you?" she said. "There is nothing that can be done."
Cho's great-aunt in Korea began to weep as she imagined Hyang Im's pain.
"My heart aches for my niece as I think about what she could have been going through, to pick up the pieces and carry on with life," Kim Yang Soon said.
On Wednesday, a shaken Virginia Tech community will gather at the university to remember the students and professors who died in Cho's rampage exactly one year before. There will be a candlelight vigil at dusk. Each of Cho's 32 victims will be honored, their names read during a ceremony on the Drillfield.
Cho's name will not be mentioned.
But the breadth of human compassion has room for such people as Cho. For a time, some family members of Cho's victims considered reaching out to his parents. "We said amongst ourselves, 'They've lost a son, too,' " said Andrew Goddard of Richmond, Va., whose son Colin was shot but survived.
An impromptu memorial, a semicircle of stones, that was assembled on the Drillfield shortly after the shootings initially had 33 stones, including one for Cho.
Over the past year, the university has received a flood of letters, Bibles, teddy bears and other condolences for the dead, including Cho.
"I remember that there were a lot of letters of forgiveness," said Tamara Kennelly, the university's archivist.
The FBI helped deliver to Cho's family hundreds of letters and other items left at Virginia Tech, the FBI agent said. Some of the letters contained threats, blaming them for what happened. But most were filled with prayers and words of comfort and sympathy, assuring them that what their son did was not their fault.
Church groups from across the country also sent prayer quilts, shawls and blankets that members had crocheted with prayers pinned into the corners. "May our prayers keep you warm," some said.
"They've been overwhelmed with the support they have received from complete strangers," the agent said. "They are a very warm, loving and giving family. Now they are trying to get their lives back on track."
Local journalism is essential.
Give directly to The Spokesman-Review's Northwest Passages community forums series -- which helps to offset the costs of several reporter and editor positions at the newspaper -- by using the easy options below. Gifts processed in this system are not tax deductible, but are predominately used to help meet the local financial requirements needed to receive national matching-grant funds.
Subscribe now to get breaking news alerts in your email inbox
Get breaking news delivered to your inbox as it happens.
---