Year of lessons
Spokane Valley family's year of eating only locally grown foods proves challenging, to say the least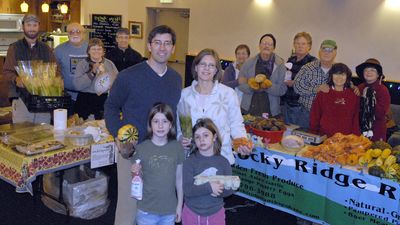 A year ago, Craig and Nancy Goodwin were burned out. Tired of the running around, tired of the Christmas commercialism. Ready for a change. So the Goodwins, both pastors at Millwood Community Presbyterian Church, launched a yearlong experiment.
In 2008, they and their two daughters pledged to eat only locally grown and produced foods. They would reduce their consumption and buy things secondhand. They would make and grow what they could.
As the family's "Year of Plenty" comes to a close, the Goodwins are quick to say it has been a valuable experiment. Not always easy, but valuable.
If they were to do it again, however, they might consider focusing on either eating locally, or reducing consumption. Still, they walk away from 2008 with some lessons learned.
"One of the big lessons has been how much of our lives are dominated by convenience. That's where the biggest tension has been, when our values of local and supporting local people have bumped up against the reality of, 'I've got 10 minutes before this birthday party and my daughters are crying,' " Craig Goodwin said.
His wife added, "One thing that I really hope to keep is to get off the reliance of the prepackaged food. You know, making clam chowder from scratch. No cans. There's still a real learning curve there, but I feel like we're not going to go back to boxed mac and cheese."
Ultimately, their year was about making connections – with the farmers and ranchers who produce their food, with the local merchants who sell their food and products and with the dirt in their own yard, much of which was dedicated to garden space.
The family pledged to meet the people who worked to put food on their table. It meant making trips across the Inland Northwest to visit farms, ranches, dairy facilities and other businesses.
"When it comes to food, our premise has been that eating is a relational act, inseparable from the people who planted it, grew it, harvested it, fed it, baked it," Craig Goodwin noted on his blog, yearofplenty.org.
His family's goal, he later wrote, was "to (value) things in ways other than dollars. To form a new economy of consumable goods in our lives anchored in caring relationships with people we know."
That quest for connections will be a lesson that stays with the family in 2009, Nancy Goodwin said.
"Our beginning goal was to visit people, and we'll continue that," she said. "That's still a goal."
For all the positive lessons, the year has not been without its challenges.
As Craig noted on his blog, the women of his household never really got into the notion of buying secondhand shoes. And from a culinary standpoint, 2008 meant reading labels, skipping the easy-to-make packaged goods and finding creative solutions to missing ingredients.
"Nancy has been the hero of our food year, because she's done the majority of the cooking," he said.
Nancy Goodwin simply made do with what she had. It was relatively easy to find local flour and breads, in-season fruits and vegetables, and meat. She relied on homemade butter for a lot of cooking, because locally sourced cooking oils were either hard to find or prohibitively expensive.
She wasn't beyond, however, bending the rules a little. Just a little.
"She bought olive oil the other day, and I found it and confiscated it," Craig Goodwin said.
Nancy admits it, too.
"Craig really has been the pure one," she said, adding that she was known to barter with neighbors for spices and other key ingredients. For her, the adventure has been in the journey, not necessarily in the purity of the outcome.
Last spring, Nancy Goodwin watched with some trepidation as her husband and daughters ripped up a swath of the backyard for a large garden plot. Over the summer, however, trepidation turned to joy.
Their garden allowed the family to eat tomatoes, peppers, lettuce and other homegrown treats. And, importantly, foods that were new to them.
"The summer was wonderful," Craig Goodwin said. "Any sense of deprivation that we sensed in the winter was gone. We had a summer of abundance when it came to food."
Garden-grown purple potatoes starred at the family's Thanksgiving feast, along with a locally raised heirloom turkey. Kohlrabi, a relative of cabbage, became a family favorite.
"I had never cooked with kohlrabi," Nancy Goodwin said. "The kids loved it. They would eat it as a snack."
One garden accident gave way to the family's joke of the summer. During planting, Craig Goodwin spilled a packet of rutabaga seeds, resulting in a large crop. What, Craig wondered, would we do with all these rutabagas?
Daughters Noel and Lily entered rutabagas in the fair, and came home with a championship ribbon. Mostly, however, the family gave the rutabagas away.
They soon learned what they were missing after they gave some of the root vegetables to a woman from their church, who served them at a church function.
"She mashed them up with butter and salt and they were delicious," Craig said.
He took the Master Food Preservers Class this summer, which he called a fun way to make the most of the garden. The family put up pints of salsa and pickles from their yard, and trips to Green Bluff yielded fresh berries turned into jams.
One big lesson they learned is that, given the uncertainty of today's economy, they could lead a more simple, frugal life.
And while Nancy became adept at cooking seasonally and eating locally, she came to see how limited the Spokane area is when it comes to locally produced food.
"I do wish there were more options locally," she said. "I wish there was more demand."
Even so, the lack of options didn't put a damper on the family's culinary adventure.
"We've eaten really healthy," Craig said.
Hearty Lentil Stew
Nancy Goodwin says: "The recipe is one of our favorites. It's from 'Simply in Season' by Mary Beth Lind and Cathleen Hockman-Wert. The recipe is so simple, and requires no fat. It's great as is, but you can also include browned ground beef. I add a cup or two of chopped squash and substitute a cup of the carrots for parsnips."
4 cups water
1 cup dried lentils
1 cup tomatoes
4 large carrots
2 onions
1 teaspoon dried thyme
1/2 teaspoon dried marjoram
2 tablespoons dry sherry (see note)
1/4 cup parsley
1 to 2 teaspoon salt
In a medium to large pot, combine all ingredients except the parsley and salt. Cook together over medium heat until the carrots are soft, 35 to 40 minutes.
Stir in parsley and salt to taste. Heat another minute and serve, garnished with grated cheese if you like.
Note: Goodwin used 1 tablespoon red wine vinegar and 1 tablespoon balsamic vinegar instead of the sherry.
Easy, Yummy Roast
Goodwin notes: "This roast is amazing. I got the recipe from the Internet and don't know where it came from."
3 to 4 pounds chuck roast, preferably locally raised
Salt, pepper and cumin to taste
1 onion, chopped
Smashed garlic cloves, to your taste
1 cup red wine
1 cup tomato juice or sauce
1/3 cup balsamic vinegar
1/3 cup raisins
Rub the chuck with salt, pepper and cumin. Sear on all sides over high heat in an ovenproof pan.
Reduce heat to medium. Add onions and garlic to pan and brown/sweat until the onions soften. Add the wine, tomato juice or sauce, balsamic and raisins. Cook until the liquid is reduced by half. Remove and cool in the fridge overnight.
The next day, skim the fat and put the pan back in a 225-degree oven for 4 hours. Fantastically rich!
Mustard-Roasted Chicken with Vegetables
This is adapted from the January 2008 Real Simple magazine. "Use whatever veggies you have on hand," Goodwin said. "I like to throw in sliced squash and whatever root vegetables I have on hand."
1 (4-pound) chicken (preferably local), cut into 8 pieces
3 tablespoons whole-grain mustard
2 tablespoons low-sodium soy sauce
Kosher salt and pepper
4 small carrots, cut in half crosswise
1 medium fennel bulb, cut into wedges
1 red onion, cut into wedges
8 sprigs thyme
2 tablespoons olive oil
Heat the oven to 400 degrees
Pat the chicken dry with paper towels. Combine the mustard, soy sauce, and 1/4 teaspoon pepper in a large bowl. Add the chicken and stir to coat.
Combine the carrots, fennel, onion, thyme, oil, 1/2 teaspoon salt, and 1/4 teaspoon pepper in a roasting pan. Add the chicken and roast until the chicken is cooked through and the vegetables are tender, 45 to 50 minutes.
Divide the chicken and vegetables among individual places and serve.
---