Sports
Call him 'Psycho T'
Wed., March 26, 2008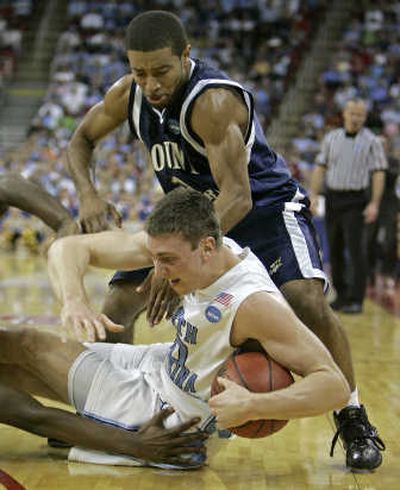 RALEIGH, N.C. – Tyler Hansbrough's face-contorting ferocity on the court and his nickname, "Psycho T," conjure an indelible image, one that presumably would resemble the North Carolina star's persona away from basketball.
As if he's an ogre who breaks plates in half … just because, said housemate and team manager Preston Puckett.
"Like he's got a two-by-four with nails in it, and he's hitting himself in the head with it," said Tar Heels trainer Jonas Sahratian, who stamped Hansbrough with his nickname after hearing his primal scream during a workout. "Or that he's banging his head against the lockers before he comes out on the court."
But such abandon in crashing the glass doesn't mean Hansbrough eats glass when he's not playing for the Tar Heels, the top seed in the NCAA tournament East Regional.
In fact, he's inclined toward sushi and shops at Whole Foods. He has overcome a partiality for scented candles, though he still has a penchant for pedicures and evidently has taken up baking cakes, brownies and cookies with his girlfriend.
"I'll leave that open, but I will tell you this: I have been known to put a cookie or two in the oven while she's gone and bring them home," said Hansbrough, the junior from Poplar Bluff, Mo., who resumes NCAA tournament play Thursday against fourth-seeded Washington State. "The guys give me trouble about it, but at the end of the day they've got their cookies and they're happy and I'm happy."
If none of this quite makes Hansbrough the "delicate flower" that teammate and housemate Bobby Frasor has called him, it's still indicative of a dichotomy in Hansbrough's personality.
"We call him bipolar," said Frasor, who has lived with Hansbrough for three years.
"He kind of is like a little bit of Jekyll and Hyde," Sahratian said.
Or a bit like Heckle and Jeckle, the cartoon magpies with identical appearances but decidedly different personalities.
"On the court, he has this tenacious, warrior-type mentality," Sahratian said. "Off the court, he's a 6-foot-8 goofy kid from Poplar Bluff, Missouri."
Goofy is the word Hansbrough chooses, too. It's in some ways apt.
Consider his offerings for a survey in North Carolina's media guide. Favorite video game? "Dance, Dance, Revolution." Talent he has outside basketball? "Rapping."
At Halloween, he was Jason from Friday the 13th, wearing the facemask he was forced to put on after being hit in the nose against Duke last season. His sterile room, Frasor said, consists of nothing but a lamp, a bed, a TV, a dresser and a photo of his mother.
"It shows his dry personality – or that he doesn't really care," Frasor said.
But his mother's picture isn't the only presence from home he took to Chapel Hill. He constantly expounds on the town, calling it either "The Bluff" or saying it in full for emphasis: "Poplar Bluff, Missouri."
His hometown's version of Ping-Pong now is favored among Tar Heels players and features losers pulling their shirts over their faces to get smacked in the stomach by a serve from the winner.
"You have to laugh, because he's so dull and serious at one point," Frasor said. "So then you don't expect it at all, but Tyler is a really funny person."
While his passion always is evident in his countenance and movement, he nearly never betrays a negative emotion or shows frustration despite being the most fouled player in the nation — not counting the ones that aren't called. As much as he's perceived as a berserk player, Hansbrough is incredibly disciplined.
"For the abuse he takes, if it was me, my switch would be flipped on a daily basis," Sahratian said. "He's like the Iceman. He can shut it down. I don't know if there are many people who can do that. I don't even know if there are any others besides him who can."
Local journalism is essential.
Give directly to The Spokesman-Review's Northwest Passages community forums series -- which helps to offset the costs of several reporter and editor positions at the newspaper -- by using the easy options below. Gifts processed in this system are not tax deductible, but are predominately used to help meet the local financial requirements needed to receive national matching-grant funds.
Subscribe to the sports newsletter
Get the day's top sports headlines and breaking news delivered to your inbox by subscribing here.
---