A&E > Food
Bumble Bars hit it big as Rachael's 'Snack of the Day'
Wed., May 14, 2008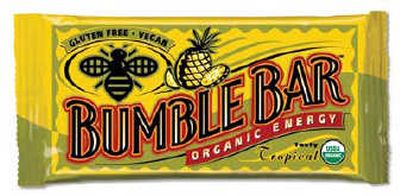 Rachael Ray has been snacking in Spokane, again.
Well, not personally, but the daytime television food maven has featured another Spokane-based treat on her show. Monday's "Snack of the Day" was none other than the Tropical Bumble Bar, which is produced in the Spokane Valley.
Ray previously introduced peanut butter Bruttles from the Bruttles Candy Shoppe to her television audience.
Bumble Bar makers moved the production of its organic, gluten-free, vegan snack bars to Spokane in 2004.
Creator Liz Ward says the tropical bar is one of four new fruit flavors introduced last year, which are sweetened with agave nectar.
"They are a little different from our other bars because they have organic dried fruit in them," Ward says.
The tropical flavor includes pineapple, coconut, sesame seeds, almonds and flaxseed. The other new fruit bars are cherry, apricot and cherry chocolate, "which are my favorite," Ward says. "I have one for breakfast almost every day."
The original Bumble Bars, created by Ward, are made from peanuts and sesame, with hints of vanilla and cinnamon. They are sweetened with brown rice syrup and evaporated cane juice.
Bumble Bar also sells its original flavor, spiked with almonds, cashews, hazelnuts or mixed nuts, along with Lushus Lemon, Chocolate Crisp and Chai flavors.
"Thanks in no small part to our move to Spokane, we've just been growing and growing," says Ward, who owns the business with her partner Glenn Ward. A hightened awareness of gluten intolerance and a national movement toward organic foods has helped fuel the demand for the bars, she says.
Bumble Bar doubled its production space in the Spokane Business and Industrial Park last year, and is growing again.
The snack bars were also featured in Vogue and Vanity Fair magazines this year.
Bumble Bars can be found at 20 area locations including Fred Meyer, Huckleberry's Natural Market, Super 1 Foods on 29th Avenue and Rocket Market. Pilgrim's Natural Market in Coeur d'Alene also carries the bars.
For more information, ingredient lists for the bars, or to order online go to www.bumblebar.com.
A complete list of retail locations is posted on the Fresh Sheet blog at www.spokesmanreview.com/blogs/ freshsheet.
Local journalism is essential.
Give directly to The Spokesman-Review's Northwest Passages community forums series -- which helps to offset the costs of several reporter and editor positions at the newspaper -- by using the easy options below. Gifts processed in this system are not tax deductible, but are predominately used to help meet the local financial requirements needed to receive national matching-grant funds.
Subscribe to the Spokane7 email newsletter
Get the day's top entertainment headlines delivered to your inbox every morning.
---