Sports > Gonzaga basketball
John Blanchette: USD reflects on hard times
Sun., Feb. 1, 2009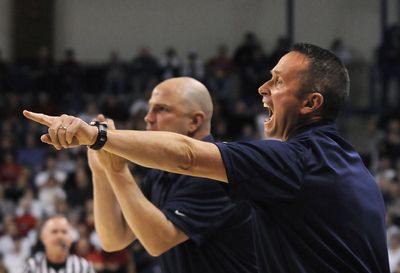 Sometimes the window of opportunity is propped open with nothing more than jackstraws, and you'd better dive through before it closes like a guillotine.
But, man, the degree of difficulty of that dive …
We have seen it time and again in college basketball – the heroic struggles of the little guys who steal a big scene in the NCAA tournament, then get pushed to the wings when the usual leads regain their voices a year or two later.
You know them all – the Valpos and Chattanoogas and Nevadas and even George Mason, which soloed a few bars in the Final Four. And while most maintained themselves as strong, competitive programs, they didn't exactly carpe the old diem and turn it into a legacy.
Except, well, you know who.
Bill Grier returned to Spokane on Saturday, sort of a one-man wiki on this particular subject. As an assistant at Gonzaga for 16 years, he played a significant role in the program's rise and had a courtside seat for its unprecedented evolution from bracket Cinderella to having a long-term lease in the Top 25.
Then he hired on as head coach at the University of San Diego, one of the many wannabes in college basketball's middle class. In an almost eerie burst of self-realization, the Toreros upset Gonzaga in the West Coast Conference tournament and stunned Connecticut in the first round of the NCAAs – and would return every player to launch the program from the moon to the stars in 2009.
Except now they seem to be burning up on re-entry.
The Toreros left town Saturday 64-47 losers to Gonzaga in a lurching grinder that did not elevate the game other than in the worthy arena of raising awareness for the cause of Coaches vs. Cancer. It was USD's third straight loss (by an average of 18 points) and along with an unforeseen development in Portland – the Pilots winning – dropped them into fourth place in the WCC and just a shade better than .500 on the season.
That's no place to be stumping for imminent greatness.
"We definitely expected to have a better preseason just to get us in position without us winning the tournament to get us an NCAA bid," said sophomore guard Matt Dorr, a Mt. Spokane graduate who has blossomed in the starting lineup. "But we've got to win it all now."
The Toreros have been both luckless and self-destructive. Brandon Johnson – not only their best player, but their heart, soul and motor, had his season torched in December by a ruptured Achilles. His surrogate, Trumaine Johnson, missed the first third of the season suspended for disciplinary reasons. De'Jon Jackson, the last-shot hero of the UConn slaying, was out for seven games with a knee injury.
Johnson's absence cannot be minimized – "he has the most personality of anyone on our team," Grier said – but it was evident Saturday that the Toreros have not grasped how to play without him. Rob Jones, brilliant as a freshman in the postseason a year ago, never looked to shoot in the first half against Gonzaga. Gyno Pomare, the school's career scoring leader, was even more invisible in the second.
"We were so dependent on looking for Brandon to get shots for everyone," Grier said, "that sometimes they look at each other and think, 'Are you going to shoot it or am I?' "
It's not as if the Toreros haven't had moments – a win at Mississippi State, second in the SEC West, being the biggest. But both pre- and post-Johnson, they have fanned on all their chances against ranked teams, and by wide margins. The buzz generated from the 2008 breakthrough – attendance is up more than 500 a game at Jenny Craig Pavilion – is becoming a muted hum.
"It's been a rough go," Grier allowed.
The goodwill Grier built up here sustains a secondary rooting section, but the Toreros' struggles should also move Gonzaga loyalists to reflect on just how remarkable it was to remain in the power orbit nearly 10 years ago – and how narrow the margin for error.
"People may not remember this," said assistant Leon Rice, who sat next to Grier and head coach Mark Few through it all. "We were at a critical juncture where you could move up or sink back with the rest – and the year after we went to the Elite Eight, we did not win the league."
Pepperdine did – the only one of the last 11 regular-season titles that hasn't been at least shared by the Bulldogs.
"But we won the conference tournament – in overtime," he continued. "We might not have got in (the NCAAs) if we don't. That was a huge weight off us all, and it really showed the toughness of those guys. We even had a little bad luck – that's when Mike Nilson tore his Achilles, so we were kind of down to the iron five, six or seven guys.
"It's hard what Billy is trying to do with what he's going through and he's doing a terrific job. But it's the same thing a whole lot of other programs are trying to do, too."
And the view is definitely better looking back through that window of opportunity.
Local journalism is essential.
Give directly to The Spokesman-Review's Northwest Passages community forums series -- which helps to offset the costs of several reporter and editor positions at the newspaper -- by using the easy options below. Gifts processed in this system are not tax deductible, but are predominately used to help meet the local financial requirements needed to receive national matching-grant funds.
Follow along with the Zags
Subscribe to our Gonzaga Basketball newsletter to stay up with the latest news.
---
Subscribe and log in to the Spokesman-Review to read and comment on this story