Sports
Canadian teen earns gold; Lysacek places 2nd
Sun., Feb. 8, 2009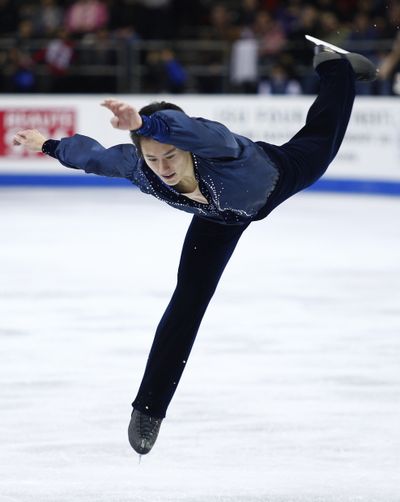 Canadian teenager Patrick Chan continues to take men's figure skating by storm, capturing a gold medal Saturday in the ISU Four Continents championships at Vancouver, British Columbia.
Skating to music by Rachmaninov, the 18-year-old Chan scored a season-best 160.29 points for his free program – despite singling a planned triple Axel – to earn a standing ovation and the gold with an overall score of 249.19 at the Pacific Coliseum.
American Evan Lysacek won the silver with 237.15, scoring 155.50 for his program that opened with a quad jump.
Japan's Takahiko Kozuka took the bronze with 221.76, scoring 145.15 in his free program.
Chan took a significant lead into the free program. In Thursday night's short program, he recorded the second-highest score under figure skating's new scoring system implemented in 2003. Only Russia's Evgeni Plushenko scored higher en route to his gold medal at the 2006 Turin Olympics.
The victory is another huge result for the two-time Canadian champion, who was thrust into the international skating spotlight when Canadian world champion Jeffrey Buttle retired in the fall. Chan has earned himself a spot as a favorite heading into next month's world championships in Los Angeles.
The Four Continents are being used as an official test event for the 2010 Vancouver Olympics.
•Canadian wins downhill: John Kucera became the first Canadian man to win the downhill at the world championships, while Bode Miller finished eighth in the fog at Val D'Isere, France.
The 24-year-old Kucera clocked 2 minutes, 7.01 seconds down the steep and icy Face de Bellevarde course.
By the time Miller went at No. 19, the American was shrouded in mist at the top half.
Miller, who races independently of the official U.S. Ski team, didn't protest to race again.
•German repeats as luge champion: 19-year-old German Felix Loch easily held off five-time world champion and two-time defending Olympic champion Armin Zoeggeler of Italy to win his second straight title at the luge world championships at Lake Placid, New York.
College basketball
No. 4 Duke survives
Gerald Henderson scored the go-ahead basket with 3:16 left in overtime, and No. 4 Duke (20-3, 7-2 ACC) rallied from a 16-point second-half deficit to beat Miami (15-8, 4-6) 78-75 at Durham, N.C.
Henderson had 18 of his 19 points after halftime for the Blue Devils, who struggled the entire way in bouncing back from a blowout loss at Clemson.
•Duquesne upsets No. 9 Xavier: Aaron Jackson made five foul shots in the final minute and finished with 21 points as the Dukes (15-7, 6-3 Atlantic 10) defeated the Musketeers (20-3, 8-1) 72-68 in Pittsburgh.
•Nebraska shocks No. 16 Texas: Ade Dagunduro made a rare 3-pointer with 50 seconds left and finished with 17 points to help the Huskers (15-7, 5-4 Big 12) overcome a 12-point second-half deficit in a 58-55 win over the Longhorns (15-7, 4-4) at Lincoln, Neb.
NBA
Nets win by 44
Devin Harris scored 14 of his 28 points from the free-throw line and the New Jersey Nets won their season-high fourth straight game with a 114-70 victory over the Denver Nuggets in East Rutherford, N.J.
Rookie Brook Lopez added 15 points and nine rebounds and Vince Carter had 12 points and eight assists in one of the most impressive performances of the season for Lawrence Frank's young team.
•Mavericks' Terry injured: Dallas Mavericks sixth man Jason Terry sustained a broken bone in his left hand in the first half and missed the rest of the game against the Chicago Bulls in Dallas.
His condition will be evaluated today.
NHL
Flyers edge Bruins
Randy Jones' shot caromed into the net off Boston defenseman Andrew Ference with 2 minutes left in overtime to lift the Philadelphia Flyers to a 4-3 win over the Bruins in Boston.
Former Bruin Glen Metropolit, Scott Hartnell and Simon Gagne also scored for the Flyers, who overcame a 3-1 deficit and won for the second time in five games.
•Perry leads Ducks past Flames: Corey Perry's goal late in the second period stood up as the winner in the Anaheim Ducks' 2-1 victory over the Calgary Flames in Calgary, Alberta.
Golf
Rollins in front
John Rollins caught up to Camilo Villegas again, and this time kept right on going until he finished off a 2-under-par 70 that gave him a three-shot lead in the Buick Invitational golf tournament at San Diego.
Rollins, who lost a share of the lead with a bogey on the final hole of the second round, made up for that quickly with two birdies in the first four holes to take the lead.
Rollins was at 12-under 204, his first outright lead going into the last round in his nine years on the tour.
•LPGA Tour founder dies: Betty Jameson, one of the 13 founding members of the LPGA Tour, died in Boynton Beach, Fla., the tour said. She was 89.
Miscellany
Pole vault record falls
Jenn Stuczynski set an American record in the women's pole vault with a height of 15 feet, 9 3/4 inches at the Boston Indoor track and field games.
•Orioles, Sherrill reach deal: Reliever George Sherrill and the Baltimore Orioles agreed to terms on a $2.75 million, one-year contract and avoided arbitration.
•Darchinyan retains flyweight belt with knockout: Undisputed super flyweight boxing champion Vic Darchinyan (32-1-1, 26 knockouts) punished Jorge Arce with powerful left hooks on his way to an 11th-round knockout in Anaheim, Calif.
Local journalism is essential.
Give directly to The Spokesman-Review's Northwest Passages community forums series -- which helps to offset the costs of several reporter and editor positions at the newspaper -- by using the easy options below. Gifts processed in this system are not tax deductible, but are predominately used to help meet the local financial requirements needed to receive national matching-grant funds.
Subscribe to the sports newsletter
Get the day's top sports headlines and breaking news delivered to your inbox by subscribing here.
---
Subscribe and log in to the Spokesman-Review to read and comment on this story