News > Idaho
Gay rights push fails
Idaho lawmakers reject measure expanding discrimination ban
Sat., Feb. 21, 2009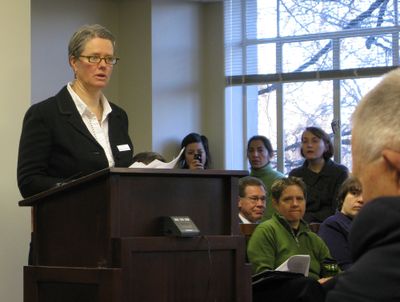 BOISE – State senators rejected a move Friday to extend the Idaho Human Rights Act's anti-discrimination provisions to cover sexual orientation, despite a heartfelt plea from the only openly gay Idaho legislator.
Sen. Nicole LeFavour, D-Boise, said she had an array of legislative co-sponsors and was disappointed in her colleagues. She told them that across Idaho, people live in fear that their employers will discover their sexual orientation and fire them for it, which is legal.
LeFavour said she's learned in discussions with other lawmakers over the years that many mistakenly believed it was already illegal to fire someone because they are gay.
A Boise State University survey last year showed that 64 percent of Idahoans believed it should be illegal to fire someone because they are or are perceived to be gay.
But the state's human rights law – which bans discrimination in employment, housing and public accommodations on the basis of race, religion and disability – doesn't include sexual orientation.
"By virtue of its omission, many employers and many individuals perceive that it's OK to discriminate," LeFavour told the Senate State Affairs Committee. "By our silence, we condone it."
She pleaded with the senators to introduce her bill, "just for the acknowledgement that this is an issue that deserves more discussion." The measure included an exemption for religious organizations.
Sen. Joe Stegner, R-Lewiston, moved to introduce the bill, and Sen. Kate Kelly, D-Boise, seconded the motion, but they were the only two to favor the move in a voice vote, with Sens. Denton Darrington, R-Declo, Monty Pearce, R-New Plymouth, Bob Geddes, R-Soda Springs, and Russ Fulcher, R-Meridian, voting no. That killed the bill.
Sen. Chuck Coiner, R-Twin Falls, a co-sponsor, recalled the recent Special Olympics in Boise, which he said celebrated a population that once was "warehoused, hidden out of sight of the public for many years. … Today we celebrate them, we call them special."
"We've come a long way," Coiner said, but when it comes to the gay, lesbian and transgender population, "We've got a lot of education to go."
The Rev. Bryan Fischer, who heads the Idaho Values Alliance, distributed a letter to the committee before the hearing opposing "granting special workplace rights based on non-normative sexual orientations."
"I'm so disappointed in my colleagues," LeFavour said. "I know better of them, and I know in their hearts they know better. That's the hardest part."
"I think what needs to happen now is that people who care, across the state, need to speak up," she said. "And there are so many people who care, and we need them."
Local journalism is essential.
Give directly to The Spokesman-Review's Northwest Passages community forums series -- which helps to offset the costs of several reporter and editor positions at the newspaper -- by using the easy options below. Gifts processed in this system are not tax deductible, but are predominately used to help meet the local financial requirements needed to receive national matching-grant funds.
Subscribe to the Coronavirus newsletter
Get the day's latest Coronavirus news delivered to your inbox by subscribing to our newsletter.
---