A&E > Food
Lazy Bones Barbecue a belly-busting good time
South Hill eatery holds up tradition of BBQ goodness, offers some twists
Wed., July 22, 2009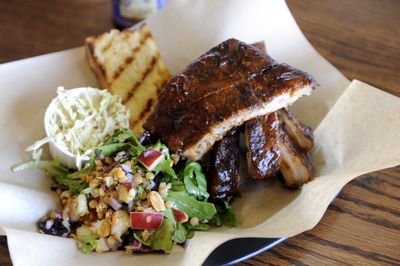 Traditional Southern-style barbecue is known for many things, but sadly a low calorie count is not among its attributes.
At Lazy Bones Barbecue, you can still indulge in finger-licking ribs or succulent smoked pork but limit the damage when choosing a side dish. Lentil apple salad or grilled veggie kebabs are options. A lightly dressed vinegar and oil slaw is a standard side to many dishes.
But make no mistake, there are plenty of ways to push up the calorie count with Lazy Bones' take on old-school eats: sweet potato fries, creamy cilantro-lime slaw, potato salad, chipotle macaroni salad, and mac and cheese.
Purists might turn up their noses, but I like the way Lazy Bones has married a modern menu with traditional flavors.
The generous barbecue chopped pork ($4.99) and smoked beef tri-tip ($7.49) sandwiches arrived on soft yet sturdy buns with plenty of Lazy Bones' house barbecue sauce.
They also offer dark and sweet or hot and spicy versions of the sauce. All three are available at the tables for those who like more.
The house barbecue sauce has a nice consistency with a light smokiness and just the right vinegar tang. The dark and sweet has a mellow flavor, with the promised sweetness and a bit more smoke.
There were compliments all around the table at each of my visits to the casual restaurant. Some said they thought the hot and spicy version needed a bit more heat to live up to its name.
The sauces offer a nice finish to the lightly smoked flavor of the meats. The baby back ribs ($9.49 per half pound, $15.99 per pound) were tender and meaty with a bit of chew. The meals are served with a side dish of choice.
We added a side and drinks to our sandwiches for an extra $3.49. During one visit, the puny cup of slaw seemed skimpy. Another day, we enjoyed a hearty scoop of potato salad. Extra sides are $2.69 and there are 14 choices.
The lentil apple salad was a nice addition to the heavy lunch fare (although the first time I ordered it the lentils were forgotten). I liked the balance that the earthy lentils and tart apples gave the mixed greens.
The potato salad was infused with flavor from the smoked potatoes. The cornbread was warm, moist, and had just the right sweetness.
The vinegar slaw was disappointing. The cabbage was crisp and fresh, but it was too lightly dressed and needed more vinegar. The grilled vegetables were fine, but smaller than expected and slightly overcooked.
Traditionalists might want to look away for a minute: Here's where I mention that a smoked tofu slab can be ordered or substituted for the meat in any of the burgers on the menu.
All of the sauces are gluten-free and vegan. Menus for those who are gluten-intolerant, vegetarian or vegan are on the restaurant's Web site.
Pit master Chris Luce smokes the meats at Lazy Bones with apple and cherry wood.
Although barbecue began as a way to transform a cheap piece of meat into a moist, tender marvel, owner John Fletcher doesn't skimp on quality. Lazy Bones starts with natural pork from Hills Farm in Pendelton, Ore., Angus beef and Washington chicken.
The baby backs, smoked pork and half a smoked chicken can be ordered as a sample platter for two ($28.99 with corn bread, potato salad and vinegar slaw). The chicken, which is smoked and then finished on the broiler, was moist with a light smokiness.
During my visits, dining companions also tried the pork tacos ($3.49), barbecue crusted prawns ($8.89) and the buffalo chicken wrap ($6.29), to mixed reviews.
The pork tacos were tasty. The prawns sounded better on the menu than they tasted. The buffalo wrap, made with the house breaded chicken tenders, had a nice heat and big chunks of cool, creamy blue cheese.
Although the parking lot and surrounding businesses were busy, we had no trouble finding a space during each visit. Diners order at the counter and get their own drinks and silverware. There's an easy, casual feel. Our meals were swiftly brought to the tables.
The eatery has brushed, corrugated metal accents and mix of seating at tables, booths and a bar. Tables spill out onto a small patio when the large garage door is lifted. Everything on the menu is available for take-out, as well.
Sweet tea and brewed iced tea are among the drink options and there is a limited beer and wine selection.
Local journalism is essential.
Give directly to The Spokesman-Review's Northwest Passages community forums series -- which helps to offset the costs of several reporter and editor positions at the newspaper -- by using the easy options below. Gifts processed in this system are not tax deductible, but are predominately used to help meet the local financial requirements needed to receive national matching-grant funds.
Subscribe to the Spokane7 email newsletter
Get the day's top entertainment headlines delivered to your inbox every morning.
---
Subscribe and log in to the Spokesman-Review to read and comment on this story