A&E > Food
Outdoor chefs can barbecue by book
Perry Lang publishes more than 100 recipes for all skill levels
Wed., June 10, 2009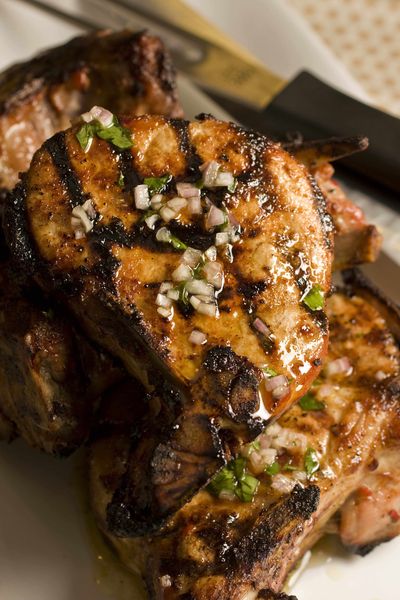 Barbecue enthusiasts get very touchy when people confuse their craft of slowly melting meat to succulence with the act of mere grilling, that is, slapping protein onto well-oiled grates.
But haute grillmeister Adam Perry Lang honors both techniques in "Serious Barbecue," a comprehensive yet approachable new book from Hyperion that promises a full summer of tasty and relaxed outdoor cooking.
The book does little to dispel the idea of outdoor cooking as a man's game, but it does offer excellent tutorials on the basics and offers more than 100 intensely flavorful recipes that can shepherd your grilling skills from novice to expert.
Perry Lang's breezy discussion of tools, grills, cooking with wood and charcoal, and picking the right piece of meat provides useful direction for beginners — and pure porn for the barbecue obsessed. The recipes themselves deliver the promised glories.
From intense, time-consuming affairs like "Get a Book" Whole Beef Brisket to spur of the moment whimsies such as Beer-and-Caraway Braised Bratwurst, Perry Lang aims to build flavor "brick by brick, layer by layer."
That means some recipes within recipes, and steps like meat injection that might intimidate. But his liberal use of seasoning blends, glazes, basting butter and sauces — sometimes all at once — yield deep, complex flavors even in the quick-cooking dishes.
Spice-crusted Thick Rib Pork Chops unfurl smoky, chili-induced heat little by little, and temper it with a touch of honey and lemon. Grilled artichokes bathed in anchovy butter make you suck the tender leaves for just one more hit of umami.
Perry Lang's grilled corn on the cob is an example of what he does best, turning an ordinary midsummer staple into a gourmet endeavor loaded with cilantro and lime. For all of these recipes, the cooking times and techniques are right on the money, letting even beginners deliver charred, yet juicy morsels.
Though he offers a guide to sources, some items like ancho chili powder can be difficult to find, so plan ahead (you may have to order online). The book is also big, hardback and heavy – but maybe that will help it survive alongside your grill. With recipes for Carmel Smoked Bacon, Worcestershire Marinated Rib Eye, Paella and even Pig Trotters, that's exactly where it should be.
Some new grill books also worth considering:
• "Cook's Country Best Grilling Recipes," a meticulous, almost scientific approach from the editors at America's Test Kitchen. It offers 100 regional recipes that run from Texas Barbecue to California Tri-tip, from Beer Can Chicken to Hawaii's Huli-Huli bird. A great book for people who have always wondered about the difference between North Carolina and South Carolina barbecue (hint: it involves mustard).
• "Dad's Awesome Grilling Book" by Bob Sloan and published by Chronicle Books is a little long on irrelevant stories, but its recipes for fast-on-the-table food like stuffed Dad Burgers and Smoked Shrimp with Jalapeno Mayo give a nice kick to what would otherwise be ordinary fare. With more than 100 recipes grouped into categories like Burgers, Dogs and Brats; Sandwiches; and Side Dishes, the book is extremely user-friendly.
Spice-Crusted Thick Rib Pork Chops
From Adam Perry Lang's "Serious Barbecue" (Hyperion, 2009). When grilling these chops, it is best to move them to a clean area of the grate when flipped during the initial charring. Depending on the grill size, they may need to be cooked in batches to ensure there is a clean portion of the grill to flip to.
For the brine:
1 tablespoon red pepper flakes
2 tablespoons boiling water
4 cups apple cider
2 cups cool water
1/4 cup kosher salt
1/4 cup firmly packed dark brown sugar
4 garlic cloves, minced
Six 1 1/2-inch-thick pork rib chops (8 to 10 ounces each)
For the seasoning blend:
2 tablespoons mild chili powder
2 tablespoons mustard powder
1 tablespoon garlic salt
1 teaspoon finely ground black pepper
1 teaspoon cayenne pepper
For the dressing:
1/2 cup extra-virgin olive oil
Juice of 1 lemon
3 tablespoons coarsely chopped flat-leaf parsley
1 tablespoon honey
1 medium shallot, peeled and finely grated
1 small garlic clove, minced
1/4 cup canola or vegetable oil
8 tablespoons (1 stick) unsalted butter, melted
1 bunch thyme sprigs, tied together in a bundle
Fleur de sel or kosher salt
Finely ground black pepper
In a large bowl, combine the red pepper flakes and boiling water. Let sit for 1 to 2 minutes to rehydrate the flakes. Add the cider, cool water, salt, brown sugar and garlic. Stir until the sugar is dissolved.
Place the chops in an extra-large zip-close plastic bag (or divide between 2 large bags). Pour the brine over the chops, squeeze out any excess air, then seal the bag and refrigerate for at least 12 hours, or up to 1 day.
When ready to cook, heat one grate of a well-oiled charcoal or gas grill to medium-high and the other to medium-low.
To make the seasoning blend, in a small bowl mix together the chili powder, mustard powder, garlic salt, black pepper and cayenne. Set aside.
To make the dressing, in a jar with a tight-fitting lid, combine the olive oil, lemon juice, parsley, honey, shallot and garlic. Shake well, then set aside.
Remove the pork chops from the brine, letting any excess brine remain in the bag. Lightly pat dry the chops with paper towels. Sprinkle the seasoning blend evenly on all sides of the chops.
Using your hands or a brush, evenly but lightly coat the chops with the canola oil.
Place the chops on the medium-high grate, and grill with the lid open until they are well marked and lightly charred, about 3 minutes. Flip, still over medium-high, to a clean part of the grate, then grill with the lid open for another 3 minutes.
Brush the chops with butter using the thyme bundle. Move to the medium-low grate and close the lid. Open the lid every few minutes, turning and moving the chops as needed.
Cook for about 9 minutes for medium, about 12 minutes for medium well, and about 15 minutes for well-done. Remove from the heat and brush with butter using the thyme bundle.
Give the dressing a quick shake and drizzle about half on a cutting board. Top with the chops and let rest for about 5 minutes.
Cut the chops to separate the meat from the bone and slice the meat on a diagonal into 1/4-inch slices, drizzling with the remaining dressing, and making sure all slices are coated. Sprinkle with fleur de sel and pepper.
Local journalism is essential.
Give directly to The Spokesman-Review's Northwest Passages community forums series -- which helps to offset the costs of several reporter and editor positions at the newspaper -- by using the easy options below. Gifts processed in this system are not tax deductible, but are predominately used to help meet the local financial requirements needed to receive national matching-grant funds.
Subscribe to the Spokane7 email newsletter
Get the day's top entertainment headlines delivered to your inbox every morning.
---