A&E > Food
A food maven's making
Ruth Reichl's new book looks at mother's influence
Wed., May 6, 2009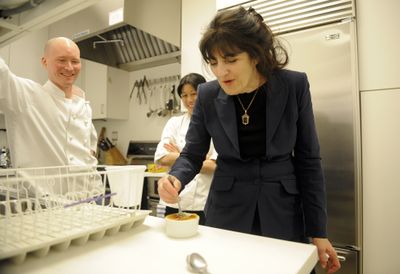 NEW YORK – Starving seems an unlikely state for Ruth Reichl, one of the leading ladies of the American food scene.
Yet on a recent Friday, the post-lunch fare was slim in the cafeteria of the Conde Nast skyscraper in Times Square – home to Gourmet magazine, which she heads. "I'm starving! Maybe they can make me something in our kitchen?" she asked.
But even in the culinary magazine's eight test kitchens, the pickings were paltry on a Friday afternoon – an avocado crème brulee and avocado marshmallows that two cooks were just finishing. Reichl dove in anyway. "Mmmmmmm!" she exclaimed after pushing a spoonful of the creme brulee into her mouth.
Reichl has been in the culinary spotlight for decades, first as a food critic for the Los Angeles Times, later for the New York Times. She became Gourmet's executive editor in 1999.
Along the way, she's written three food-centric memoirs – "Tender at the Bone;" "Garlic and Sapphires;" and "Comfort Me with Apples" – and served as host to Gourmet's public television program, "Gourmet's Diary of a Foodie."
But her latest project, another memoir, diverges from food. The topic is Reichl's mother, a woman who in her previous books came off as neurotic, frustrated and a hopeless cook hampered by "taste-blindness," says Reichl.
Much of the material in the new 112-page "Not Becoming My Mother: And Other Things She Taught Me Along the Way," is drawn from her mother's letters and diaries. Reading them was a rich, defining experience for Reichl, giving her what she calls "a second chance" to get to know her mother, who died in 1991 at age 83.
For instance, Miriam Reichl desperately wanted to be a doctor, but her family pushed her to get married. Her father told her in one letter, "you're going to have to deal with the fact that you're homely, and it's going to be hard to find a husband," says Reichl.
That's why, she says, her mother encouraged her to pursue whatever work she loved instead of rushing into marriage.
"She said that 'no matter what, I am going to make my daughter feel like that's not important so she doesn't have to go through what I went through,' " says Reichl, citing various entries in her mother's writings.
Though the new book doesn't dwell on food, tales told in some of Reichl's earlier books have postscripts – like the time Reichl's mother accidentally food-poisoned 26 dinner guests. They ended up in the hospital.
"I realize now she went into a terrible depression after this party because she was so humiliated," says Reichl.
Unlike her mother, Reichl has a talent for tasting the subtleties of food, and it has catapulted her to "an incredible position of power as a critic and editor-in-chief of one of the great food magazines," says Susan Ungaro, president of the James Beard Foundation.
Greg Drescher, who heads advanced studies for the Hyde Park, N.Y.-based Culinary Institute of America, says she has revolutionized both food writing and criticism.
Reichl changed how America eats "by creating a level playing field for the best food around the world, not just great European cooking – for calling equal attention to an Asian noodle vendor as to a three-star Michelin chef," he says.
She also expanded the fine-food horizon "by calling as much attention to the producer who created the fabulous tomato as the chef who transformed it into a great salad," says Drescher.
Reichl's expertise has transformed Gourmet from a sophisticated, high-end magazine to a savvy publication with reader-friendly advice that now includes "recession recipes."
Yet, despite efforts to appeal to consumers on a budget and a circulation approaching 1 million, rumors persist that the magazine could be shuttered by the end of the year in an economic climate that has decimated advertising revenue at magazines.
When asked how her publication is doing financially, Reichl hedges. "It's not great, but …"
The silver lining of the recession is that more consumers are going back to the kitchen to save money and home cooking is on the rise, says Reichl, who enjoys cooking for her husband and college-age son.
Online recipe searches are up and restaurant searches are down. Traffic increased by at least 10 percent on Epicurious.com, which combines recipes from Gourmet and Bon Appetit; both magazines are owned by Conde Nast.
"We're ecstatic about it," says Reichl. "We've always felt that our mission was to try and lure people back into the kitchen: Come cook, come cook, come cook!"
Local journalism is essential.
Give directly to The Spokesman-Review's Northwest Passages community forums series -- which helps to offset the costs of several reporter and editor positions at the newspaper -- by using the easy options below. Gifts processed in this system are not tax deductible, but are predominately used to help meet the local financial requirements needed to receive national matching-grant funds.
Subscribe to the Spokane7 email newsletter
Get the day's top entertainment headlines delivered to your inbox every morning.
---