A&E > Food
Micro-dairy offers minimally pasteurized milk
Wed., May 20, 2009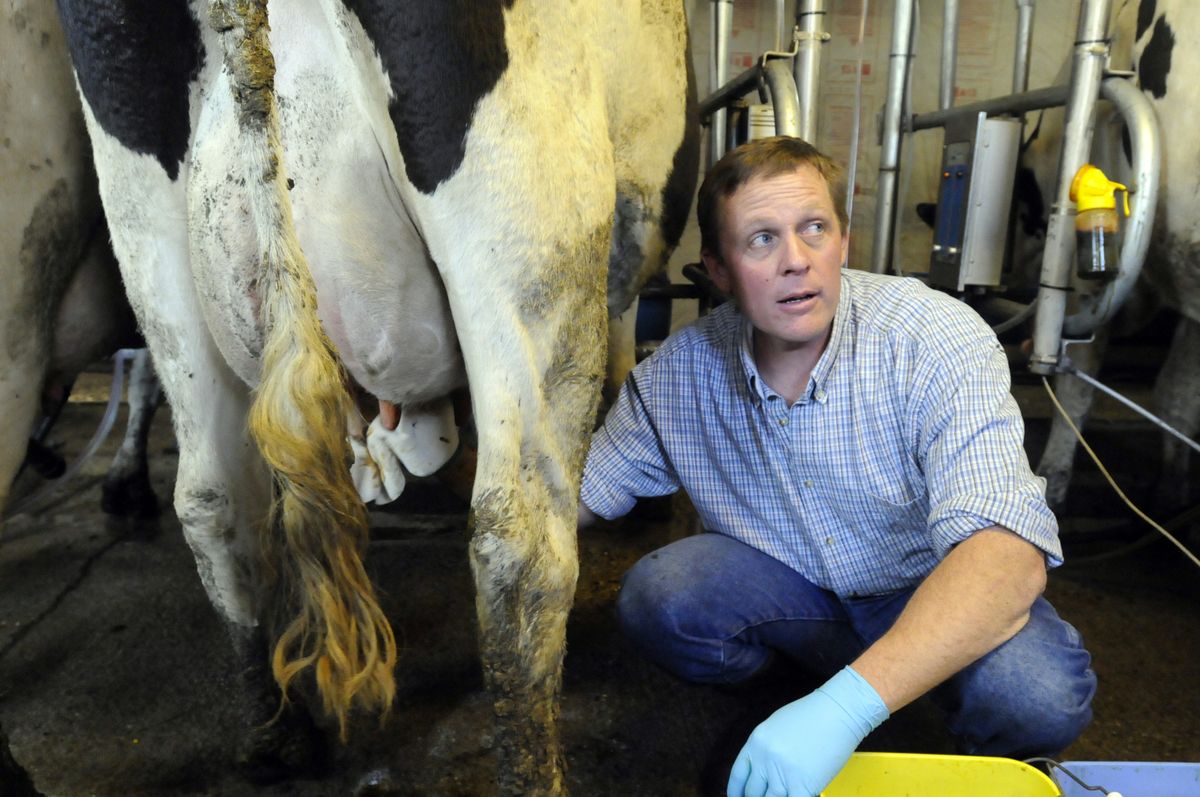 Mike Vieira, owner of a micro-dairy on the West Plains, cleans the udder and teats of a cow before milking Thursday, April 30, 2009. Vieira prides himself on cleanliness and although he has thirty cows now, he doesn't want to go above 60 so he can maintain hands-on control of his product. He sells minimally pasteurized milk to local supermarkets like Yokes and Rosauers. (Photos by JESSE TINSLEY / The Spokesman-Review)
"C'mon girls. C'mon," Mike Vieira calls out his evening invitation to the ladies in black and white at Spokane's Family Farm. "C'mon," he repeats, walking into the pasture, "C'mon. Let's go." Visitors make the "girls" hesitate slightly, but they eventually oblige and line up behind the barn door for the evening milking. It's a ritual repeated twice daily at the farm 13 miles west of Spokane where Mike and Trish Vieira bottle up to 2,000 gallons of milk each week. "This is what everyone thinks of when they think of a dairy," Mike Vieira says.
The couple began milking cows a little over a month ago, after spending the winter retrofitting the 100-year-old barn with modern milking and pasteurizing equipment and preparing for the arrival of the Holstein cows. It's a small operation, with just 30 animals in a state where the average dairy had 480 cows in 2007. Many of the state's large dairy operations have more than 2,000 animals.
Mike Vieira worked as a dairyman near Othello, selling his milk to the Darigold cooperative, before coming to the Spokane area. Although he was known for being a top-quality producer, Vieira says the milk he produced was dumped together with that of the other 850 members and bottled. He longed for closer connection to the finished product.
So, the Vieiras decided to move near one of the state's bigger cities to find a market for an old-fashioned dairy – where milk is produced and bottled on the farm and then sold nearby. The milk from Spokane's Family Farm is no more than 72 hours from the cow and has traveled less than 20 miles by the time it lands on grocery store shelves.
"I have a lot of incentive to produce quality milk," says Mike Vieira, who recently turned 38. "My name is right there on the label. It comes down to me."
Spokane's Family Farm uses low-heat pasteurization to kill the potentially harmful pathogens in the milk. It's heated to 145 degrees and held there for 30 minutes before it is quickly cooled to prepare for bottling. Most commercial milk is pasteurized at higher temperatures (HTST) to kill the bacteria as well as other enzymes in the milk and extend the shelf life. Some milk is ultra-heat pasteurized (UHT), or heated to a temperature that kills almost all of the microorganisms and can be shelf stable if it is put in hermetically sealed packaging.
Food and Drug Administration researchers say the higher temperature pasteurization doesn't significantly affect the nutritional value of milk. Others believe human bodies benefit from the natural enzymes that are left intact by low-temperature pasteurization. They also like the flavor better, and the remaining enzymes help with the fermentation of milk into cheese and yogurt.
The Vieiras like the taste of the milk and the "good bacteria" left behind. Although they like keeping the milk closer to its natural state, they don't believe in selling raw milk. "It is a liability and it's still a serious issue," says Mike Vieira, who also worked for five years in dairy sanitation as a troubleshooter for Sunnyside Dairy Supply.
Spokane's Family Farm doesn't homogenize the milk, which means the cream rises to the top of the jugs. Most commercial milk has the cream separated out, and then sprayed back into the milk in a prescribed amount (1 percent, 2 percent or about 3 percent for whole milk). The cream is forced through tubes at high pressure to break up the fat so it no longer separates from the low-fat milk.
Milk from Spokane's Family Farm averages about 3.5 percent fat. Shake the jug for creamy whole milk or, as the Vieiras suggest, store it in an iced tea dispenser with the spigot on the bottom. The milk that settles to the bottom has about 2 percent fat and the cream that rises to the top can be saved and made into butter, used for coffee or even whipped. It has about a three-week shelf life. The retail price is $4.29 per gallon. It is sold on the farm for $3.50.
Running a dairy is not easy work. Vieira wakes before 5 a.m. every day to feed the "girls" and get them ready for the 5:30 a.m. milking. Cleaning, sanitizing, bottling and other farm chores keep the couple busy until the evening milking. Most days are 18 hours long and sometimes end with the Vieiras delivering milk to stores that are running low.
"There is no pause button on these cows," Trish Vieira says. Friends and volunteer hands on the farm like to tease them about the never-changing schedule, "They like to rib me. 'What are you doing this weekend?' they'll ask," Mike Vieira says.
The farm on Coulee Hite Road was used as a dairy until 1962. The Vieiras retrofitted it with state-of-the-art equipment, but it's still what's called a "flat barn." Most dairy operations have a pit so that dairy workers are at eye level with the cows' udders.
"You don't have to bend over to milk cows anymore," he says. "I still do."
Actually, most of the time he's squatting. For the first two weeks of operation, Vieira says he was sore from his toes to his ears.
"I'm in it because I love the cows," he says. "It's all I ever wanted to do. I think I started saying I wanted to be a dairy farmer about second grade."
That was after a trip to his uncle's dairy farm in California captured his imagination. His first job out of high school was as herdsman for a dairy. He recently told a group of veterinary students that if any of them were thinking about dairying, they needed to see a psychiatrist for at least a year. And then at the end of the year if they still want a dairy they should get a second opinion.
The Vieiras have five grown daughters in their blended family. They've been married for about two years and have a son, 1 1/2-year-old Kohl. There's a playpen for him in the barn where the cows are milked, but on a recent evening he was perched atop the nightly feed ration in the wheelbarrow.
The dairy is not certified organic. The cows eat locally grown grains. Although the Vieiras wanted to reserve the right to treat a sick animal on the farm with antibiotics, they would never allow the milk to go into their tanks.
The farm is 160 acres, and they hope to eventually double the operation to 60 cows.
Mike Vieira takes pride in his contented herd, which he bought from an 80-year-old dairyman and his son. When he lets the first group of cows into the barn, they quickly assume positions in each of the milking stalls.
He quickly cleans each cow's teats using an iodine and glycerin solution and then strips a bit of milk from each one before attaching the milking apparatus. The rhythmic sound of the machinery fills the small barn. The cows eat until the milking is complete, and the units automatically detach and are drawn back up into position for the next round.
Trish Vieira brushes the mud and dried waste from the hide of the cows while she helps with milking. She helps shoo the cows outside, and then they start over with the second group.
She walks outside while the milking and cleaning is finished. Tomorrow, they'll start the whole process again.
"C'mon girls. C'mon."
Old-Fashioned Vanilla Ice Cream
From Trish Vieira, Spokane Family Farm. Vieira says when she made this with additional milk from the farm instead of cream to lower the fat, no one noticed.
3 cups sugar
1/2 cup flour
1/2 teaspoon salt
6 1/4 cups Spokane's Family Farm Milk with cream on top
5 fresh eggs, lightly beaten
5 cups whipping cream (can use whole milk for less fat)
2 tablespoons vanilla
Combine first three ingredients in saucepan. Gradually stir in the milk, cook over medium heat for approximately 15 minutes, until thickened, stirring constantly.
Gradually stir 1 cup of the hot mixture into the beaten eggs. Add to remaining hot mixture, stirring constantly. Cook for 1 minute, remove from heat, and refrigerate for 2 hours. Add whipping cream and vanilla to chilled mixture and whip with wire whisk. Freeze as directed.
For an electric home freezer, use approximately 2 cups of rock salt per batch and 1 1/2 bags of ice cubes. Vieira puts a little water into the freezer bucket (about 2 cups) to start the ice and salt melting process. Fresh fruit or chocolate cookie bits can be added to flavor the custard before freezing.
Yield: About 5 quarts
Homemade Yogurt
From Trish Vieira, Spokane's Family Farm. This yogurt can be used in place of sour cream, she says.
1 quart whole milk
5 grams yogurt starter
Heat one quart of milk to 180 degrees and then cool down to 108 to 112 degrees Fahrenheit.
Dissolve 5 grams yogurt starter (or use unflavored yogurt) in small quantity of lukewarm milk. Then pour back into the quart of milk and mix well.
Incubate for 4 to 4 1/2 hours, or until yogurt has reached the desired firmness.
Refrigerate to stop incubation.
Fresh fruit or jam can be added to sweeten the yogurt. A yogurt appliance can be used to incubate the yogurt.
Yield: 4 cups yogurt
French Breakfast Puffs
From Trish Vieira, Spokane Family Farm. She says these are "simply divine."
1/3 cup butter
1/2 cup sugar
1 egg
1 1/2 cup flour
1 1/2 teaspoon baking powder
1/2 teaspoon salt
1/2 teaspoon freshly ground nutmeg
1/2 cup whole milk
Topping
6 tablespoons melted butter
1/2 cup sugar
1 1/2 teaspoons cinnamon
Preheat oven to 350 degrees. Cream together butter and sugar. Add egg and mix just until blended.
In a separate bowl, combine flour, baking powder, salt and nutmeg. Stir in flour mixture alternately with 1/2 cup milk.
Fill muffin tins two-thirds full with batter and bake for 20 to 25 minutes.
While the puffs are baking, melt 6 tablespoons butter and mix together sugar and cinnamon.
When puffs are baked, remove from the oven and immediately dip them in melted butter and roll in cinnamon sugar mixture.
Yield: 6 to 8 servings
Hot Fudge Pudding Cake with Dark Chocolate Rum Sauce
From Trish Vieira, Spokane's Family Farm.
1 1/4 cup sugar, divided
1 cup flour
7 tablespoons cocoa, divided
2 teaspoons baking powder
1/4 teaspoon salt
1/2 cup milk
1/3 cup melted butter
1 1/2 teaspoons vanilla
1/2 cup brown sugar
1 cup hot water
1/4 cup dark rum
Preheat oven to 350 degrees.
Combine ¾ cups sugar, flour, 3 tablespoons cocoa, baking powder and salt.
Blend in milk, melted butter and vanilla. Pour into an 8-by-8-inch pan.
In a small bowl, combine ½ cup sugar, brown sugar and 4 tablespoons cocoa.
Sprinkle over cake batter.
Pour hot water and dark rum over the top. Bake 35 minutes. Serve with ice cream or whipped cream.
Yield: 1 (8-by-8-inch) cake
Local journalism is essential.
Give directly to The Spokesman-Review's Northwest Passages community forums series -- which helps to offset the costs of several reporter and editor positions at the newspaper -- by using the easy options below. Gifts processed in this system are not tax deductible, but are predominately used to help meet the local financial requirements needed to receive national matching-grant funds.
Subscribe to the Spokane7 email newsletter
Get the day's top entertainment headlines delivered to your inbox every morning.
---