Sports > Outdoors
Wolf plan to get public hearings
Guidelines vague on timing for wolf hunts in Washington
Sun., Oct. 18, 2009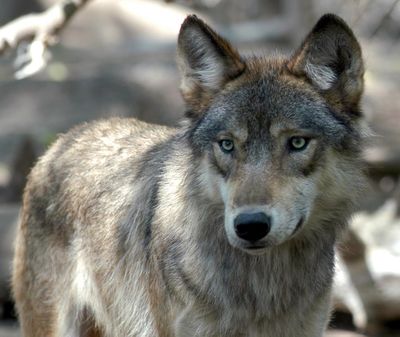 A draft management and conservation plan released recently for gray wolves in Washington presents a blueprint for ushering the predators through their gradual revival to eventual delisting from state endangered species protection.
The main point of contention in the plan centers around how many breeding pairs the state would tolerate before lethal measures would be allowed to control the species' expansion.
The Washington Department of Fish and Wildlife is opening a three-month public comment period on the proposed plan with a dozen meetings around the state, including one in Spokane on Oct. 27.
A final environmental impact statement on wolf recovery and management will be prepared after the public comment period ends Jan. 8. The state's Fish and Wildlife Commission is expected to decide next year whether to adopt the plan.
A 17-member citizen advisory panel provided suggestions to fish and wildlife staff in drafting the proposed, nearly 350-page plan, which would guide the management of a wolf population in the state while outlining non-lethal and lethal ways to address wolf-livestock predation and compensate livestock growers for losses.
A wide range of comments are likely to emerge at the upcoming meetings, including calls to protect wolves from any sort of population control.
"I'm very upset and concerned about the recommendations I see in the plan," said Eric Johnson, a Newport hunter, after he spent a morning reading the document.
"The plan, as I read it, is all about taking care of the wolves. It does not focus on taking care of deer and elk and the people who hunt them. When the wolves expand to the point that they're compromising the ungulate populations, the plan is to reduce the hunting seasons."
Tommy Petrie of Newport, also a hunter, is among the wolf advisory committee members who filed a minority report that disagrees with the rest of the group on when the state can remove wolves from the state endangered species list and start managing and possibly hunting them.
"I think the numbers wolves must reach before they can be managed are high compared with other Rocky Mountain states that have more suitable habitat and lower population densities than Washington," he said.
"The faster we can get to management status, the better off the wolves are going to be no matter where you stand."
Johnson, interviewed separately, echoed that sentiment. "We don't have much time to lose here in Washington. Go to the Idaho Fish and Game (Department) Web site, look at the wolf recovery timeline and see how fast they multiplied there and started raising hell with the elk populations."
Under the preferred alternative, wolves could be relocated, or "translocated," from some regions of the state to another to reduce numbers in the one area and help hasten overall wolf recovery and eventual delisting from endangered protections, said Madonna Luers, WDFW spokeswoman in Spokane.
The preferred alternative is among four presented in a draft environmental impact statement for the state's wolf conservation and management plan.
Wolves that are already making a living in Washington wandered in naturally from Canada, Montana and Idaho, Luers said. No wolves have been re-introduced to Washington and there are no federal or state plans to do so, officials have said.
The state's first breeding pack in at least 70 years was confirmed in western Okanogan County in July 2008, and a second was confirmed this summer in Pend Oreille County.
Biologists also are investigating reports of possible wolf sightings in the Blue Mountains, Luers said.
"We've yet to confirm a breeding pair there, which constitutes a pack," Luers said. "It's probably only a matter of time."
Gray wolves were delisted from federal endangered species protection in the eastern one-third of Washington this year. However, they remain listed as a state endangered throughout Washington.
Under the proposed alternative plan, wolves could be delisted from state endangered species protection if a minimum 15 breeding pairs are confirmed over a period of three years. At least two pair each would need to be in the Eastern Washington and Northern Cascades wolf recovery regions under the proposal.
Wolf experts nationwide reviewed the recovery numbers, with some saying 15 breeding pair of wolves were needed to maintain a self-sustaining population statewide, while others thought it was too high, Luers said.
But 15 is 10 breeding pairs too many for Jack Field, executive vice president of the Washington Cattlemen's Association and a member of the wolf citizen advisory committee.
Field originally joined the dissenting minority on the citizens committee to suggested that the number be set at eight. However, now he believes it should be less because of the potential effect on livestock and deer and elk.
"There is no way in the world we have the habitat in Washington to support 15 breeding pairs," Field said. "The challenge we face is how to effectively manage a carnivore like this, and I think wolves have shown elsewhere they are pretty resilient.
"At the end of the day, I fear the hunting community will take the short end of this," he said.
In the draft plan, fish and wildlife staff wrote that it was difficult to predict what the effects of wolves would be on deer and elk, "but observations from neighboring states suggest that as wolf numbers increase in Washington, there are likely to be localized impacts on ungulate abundance or habitat use.
"Improved habitat management, flexibility in harvest strategies, and greater prevention of illegal hunting are recommended as measures for sustaining healthy ungulate populations that will support wolves and maintain harvest opportunities," the report said.
Managing wolves could cost the state an estimated $326,000 in the first year (2010) and up to $665,000 annually by 2012, according to preliminary estimates in the report.
The figure includes the proposed hiring of at least two wolf specialists.
Meetings about the wolf plan, which start Oct. 20 in Clarkston and end Nov. 10 in Wenatchee, will include presentations about the draft proposal and public comment.
Luers said fish and wildlife expects "lots of comments on this."
Kevin McMullen of the Tri-Cities Herald and Outdoors editor Rich Landers contributed to this story.
Local journalism is essential.
Give directly to The Spokesman-Review's Northwest Passages community forums series -- which helps to offset the costs of several reporter and editor positions at the newspaper -- by using the easy options below. Gifts processed in this system are not tax deductible, but are predominately used to help meet the local financial requirements needed to receive national matching-grant funds.
Subscribe to the sports newsletter
Get the day's top sports headlines and breaking news delivered to your inbox by subscribing here.
---
Subscribe and log in to the Spokesman-Review to read and comment on this story