News > Nation/World
New York mayor sworn in for his third term in office
Bloomberg promises 'to listen and to lead'
Sat., Jan. 2, 2010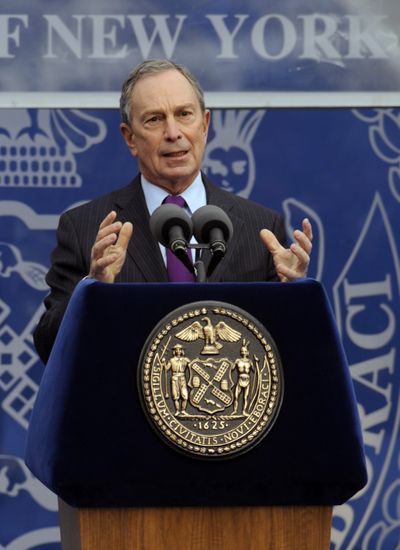 NEW YORK – Mayor Michael Bloomberg sought to strike a humble tone Friday as he began his third term by promising "to listen and to lead" and to take a fresh look at the challenges facing the city.
The 67-year-old billionaire acknowledged the unusual circumstances that landed him on the steps of City Hall to take the oath of office for another four years. A city term-limit law had barred officeholders from seeking a third, consecutive term, but he orchestrated a last-minute law change that let him run again in 2009.
"This term is a special opportunity, one that comes with extraordinary responsibilities," Bloomberg said. "I realize, too, that the building behind me is yours, and the job in front of me is to listen and to lead."
The former CEO first took office as a Republican in 2002 and was re-elected by a landslide in 2005. Now an independent, his most recent re-election was more difficult as he faced voter resentment for the way he went about changing term-limits law. His margin of victory over his Democratic challenger was far narrower than predicted – he won by slightly less than five percentage points.
Bloomberg heads into a third term with a little less political capital and a changed City Hall landscape. Twelve of the City Council's 51 members are new and two citywide officials who took office Friday, Comptroller John Liu and Public Advocate Bill de Blasio, have warned they are not afraid to stand up to the mayor.
About 2,000 invited guests, given mugs of hot cider to stay warm during the outdoor program, watched Bloomberg, Liu and de Blasio take the oath of office.
In his 14-minute speech, the mayor was mindful that third terms can be problematic as elected officials "run out of energy and ideas."
"But we have proved the conventional wisdom wrong time and again," he said, "and I promise you, we will do it one more time."
Local journalism is essential.
Give directly to The Spokesman-Review's Northwest Passages community forums series -- which helps to offset the costs of several reporter and editor positions at the newspaper -- by using the easy options below. Gifts processed in this system are not tax deductible, but are predominately used to help meet the local financial requirements needed to receive national matching-grant funds.
Subscribe to the Coronavirus newsletter
Get the day's latest Coronavirus news delivered to your inbox by subscribing to our newsletter.
---