Sports > Spokane Indians
Brawl breaks out
Canadians top Indians after benches clear
Tue., July 12, 2011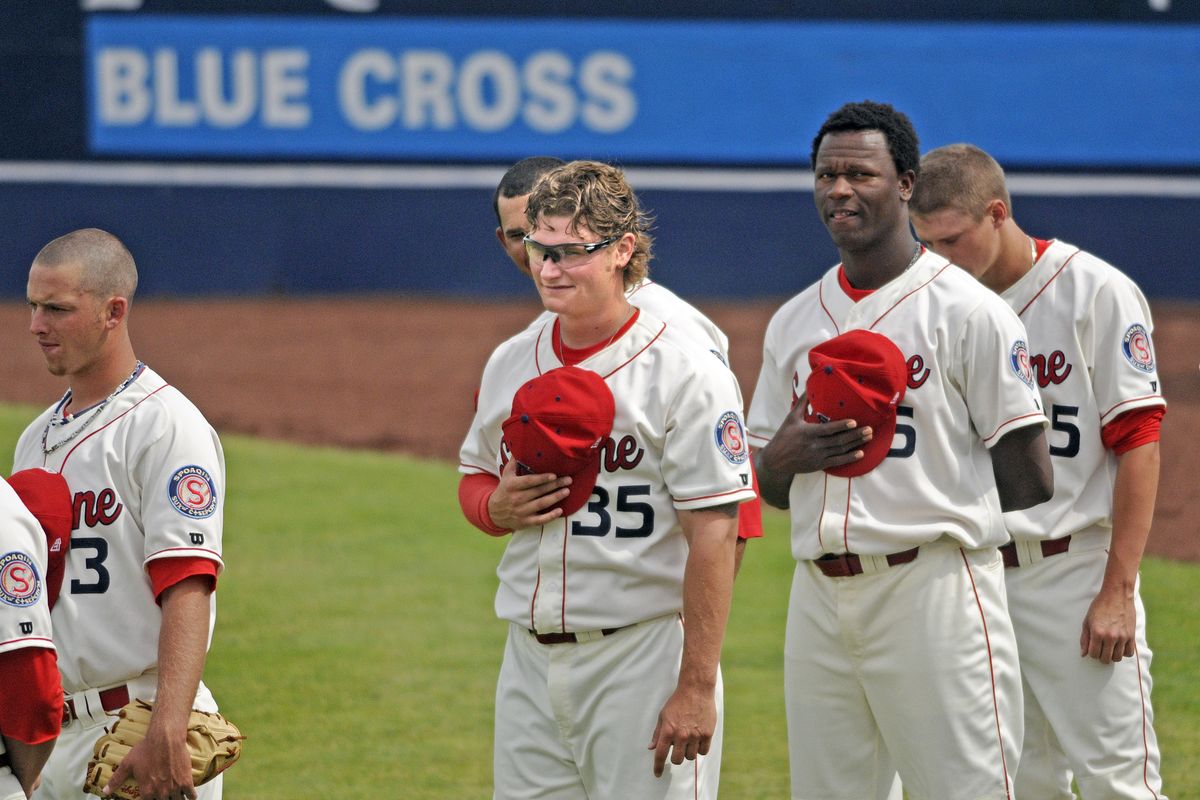 Spokane Indians reliever Matt West (35) stands for the national anthem with the rest of the bullpen before the game against Vancouver at Avista Stadium in Spokane, Wash., Monday, July 11, 2011. (Christopher Anderson / Spokesman-Review)
The Spokane Indians looked like a team that had simply had enough of the Vancouver Canadians during Monday afternoon's Businesspersons Special at Avista Stadium.
Both during and after the ugly brawl that erupted in the bottom of the third inning of the Canadians' 9-6 Northwest League victory, clearing both teams' benches and bullpens and resulting in the ejection of four players, two from each team.
The brawl, which was initiated by Spokane's Rougned Odor after he was forced out at second base, was as viscous and one-sided as any in recent memory, with Odor and a couple of his teammates throwing – and landing – most of the numerous punches that were thrown.
Odor popped up from his slide after the force play and cut directly in front of Vancouver shortstop Shane Opitz, who appeared to be throwing the ball back to the pitcher. Opitz's glove hit Odor in the face, and the first-year free agent of the Texas Rangers responded by turning around and shoving Opitz, right before throwing the punch that started it all,
The brawl came during the finale of a contentious five-game series that saw batters from both teams routinely drilled with pitches and included a benches-clearing near-brawl during the Indians' 12-8 win on Sunday night. That incident occurred after Vancouver catcher Pierce Rankin seemed to get himself involved in an argument between home plate umpire Ed Leopold and Spokane outfielder Guillermo Pimentel, who was protesting a called third strike.
Rankin was hit in the arm by Spokane pitcher Will Lamb when he made his next plate appearance later in that game. And on Monday, he was one of two Vancouver players who appeared to be sucker-punched by Indians' relief pitcher Matt West, who came out of the bullpen to join the fray and ended up getting tossed, along with Odor, Opitz and Canadians second baseman Jon Berti.
The Indians did not allow players to talk to the media after the game, but Rankin did.
"I didn't think they acted very professionally," he said of Spokane's players following Monday's brawl, "but we know they've got a lot of young kids who are here for the first time and, maybe, didn't know how to handle the situation. But we try to win our battles on the field and let that extra-curricular stuff take care of itself.
"What goes around comes around, so … "
Spokane is scheduled to travel to Vancouver for another five-game series Aug. 2-6, and whether Rankin's comments were pertaining to that rematch remains to be seen.
Indians manager Tim Hulett, who was ejected in the ninth inning for arguing balls and strikes, hopes they weren't.
"Hopefully, we can get back to baseball when we go over there," he said. "You're never happy about stuff like (the brawl). Baseball is a great game, but there are times when guys get carried away and get out of hand."
Hulett added that he wasn't sure what effect the brawl had on his team. But after things settled down, Spokane seemed satisfied to simply wave goodbye to the Canadians as they left town and get on with its next series against the Everett Aquasox that starts in Everett tonight.
The Indians responded to the fight they incited by scoring just one run over the final six inning of the game, while Vancouver, behind the two home runs of third baseman Balbino Fuenmayor, came back to score four runs in the fourth and take control of the game.
"There's a big adrenaline rush when those kinds of things happen," Hulett said, "and I think it takes a lot out of guys. I don't know if that had anything to do with it or not, but we didn't play well afterward, so …"
Vancouver, on the other hand, used the adrenaline to its advantage, despite taking its lumps during the brawl.
"We won the game, so that's what we're happy with," Rankin said. "Our coach told us after it happened that the way to get back at them was to beat them between the lines, and that's what happened."
When asked about the punch he took from West, Rankin added, "Honestly, I went out there just trying to get guys off one of our guys who was under a pile, and I didn't see the punch coming.
"If that's the way he handles business, so be it."
According to Indians Senior Vice President Otto Klein, the league office will analyze video of the brawl and take any other actions it deems necessary. Suspensions, he indicated, could be forthcoming.
Local journalism is essential.
Give directly to The Spokesman-Review's Northwest Passages community forums series -- which helps to offset the costs of several reporter and editor positions at the newspaper -- by using the easy options below. Gifts processed in this system are not tax deductible, but are predominately used to help meet the local financial requirements needed to receive national matching-grant funds.
Subscribe to the sports newsletter
Get the day's top sports headlines and breaking news delivered to your inbox by subscribing here.
---