Sports
Coeur d'Alene girls win region, advance to state
Wed., Feb. 8, 2012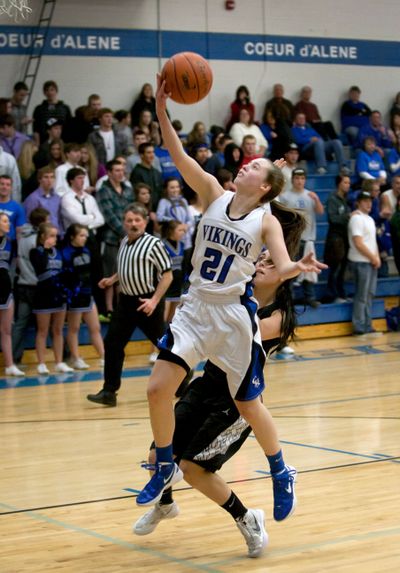 It was quick and lethal.
The Coeur d'Alene and Post Falls girls basketball teams were tied at 14 early in the second quarter. A 12-0 run by the No. 1-ranked Vikings put them ahead 26-14 at halftime.
And it was more of the same in the second half as Coeur d'Alene captured the 5A Region I championship, smothering the Trojans with defense, 50-22, Tuesday at Elmer Jordan Court.
Coeur d'Alene (18-2 overall) advances to state, Feb. 16-17 at the Idaho Center in Nampa. It's the eighth straight year the Vikings have qualified. They've played in the state championship game the last six years, winning three.
Post Falls (12-9) travels to Lewiston (18-4) on Friday to decide a second state berth. Lewiston topped Lake City 40-35 in a loser-out game Tuesday.
Coeur d'Alene 50, Post Falls 22: The Vikings have relied on defense all year, and that was a key again against the Trojans.
Another key and a detriment to Post Falls was when junior post Dani Failor went to the bench in the second quarter with two fouls.
She sat out the final 6:23 of the first half.
The Vikings took advantage. The Trojans turned the ball over six times the rest of the quarter.
A driving basket by Erin Legel with 6 seconds left before halftime gave CdA a 26-14 lead.
"We wanted to focus on Dani because the last time we played them she scored 21," Legel said. "By focusing on Dani we couldn't let the guards score either so we all had to play really hard on defense."
Post Falls coach Marc Allert watched the momentum switch CdA's way in a hurry.
"(Failor) went out and things went south from there," Allert said. "They came out and pressured us and we didn't handle it very well. We lost our composure a little bit and never really regained it."
Failor, who had 26 points in a regional-opening win over Lewiston on Friday, scored four Tuesday, including just one field goal.
CdA's first-half ending run extended to 15-0 early in the third quarter. Failor then scored her lone basket at the 6:07 mark, and the Vikings promptly went on another surge, finishing the period by outscoring the Trojans 17-2.
"We finally just got going," CdA guard Caleyn Orlandi said. "We started kind of slow. Everybody does their part, and when everybody does their part everything flows."
Orlandi made the lone 3-pointer she shot in the first half and CdA coach Dale Poffenroth challenged her to shoot a few more in the second half. She did, hitting 3 of 4 in the third. She finished with a game-high 14 points, nine rebounds and two assists.
"If they play hard, we'll get a few points some place," Poffenroth said. "That's the key."
Poffenroth, who usually goes deep into his bench, shortened it up in the first half.
"We had to get the momentum going and there was no momentum," Poffenroth said. "You have to get it with the kids who are in continuity."
Lewiston 40, Lake City 35: The visiting Timberwolves scratched out a brief lead in the fourth quarter, but the short-handed Bengals prevailed.
Lewiston played its fourth straight game without leading scorer Chelsea Waters, a senior forward who has signed with Gonzaga University. She's had an undisclosed illness for more than a week.
Karlee Wilson led Lewiston with 14 points and Tisha Phillips added 10.
Hailey Jackson led LC (10-12) with 16 points and Jasmyn Smith had 10.
Local journalism is essential.
Give directly to The Spokesman-Review's Northwest Passages community forums series -- which helps to offset the costs of several reporter and editor positions at the newspaper -- by using the easy options below. Gifts processed in this system are not tax deductible, but are predominately used to help meet the local financial requirements needed to receive national matching-grant funds.
Subscribe to the sports newsletter
Get the day's top sports headlines and breaking news delivered to your inbox by subscribing here.
---