News > Idaho
Beacon earns award for green method of clothes laundering
Thu., Feb. 16, 2012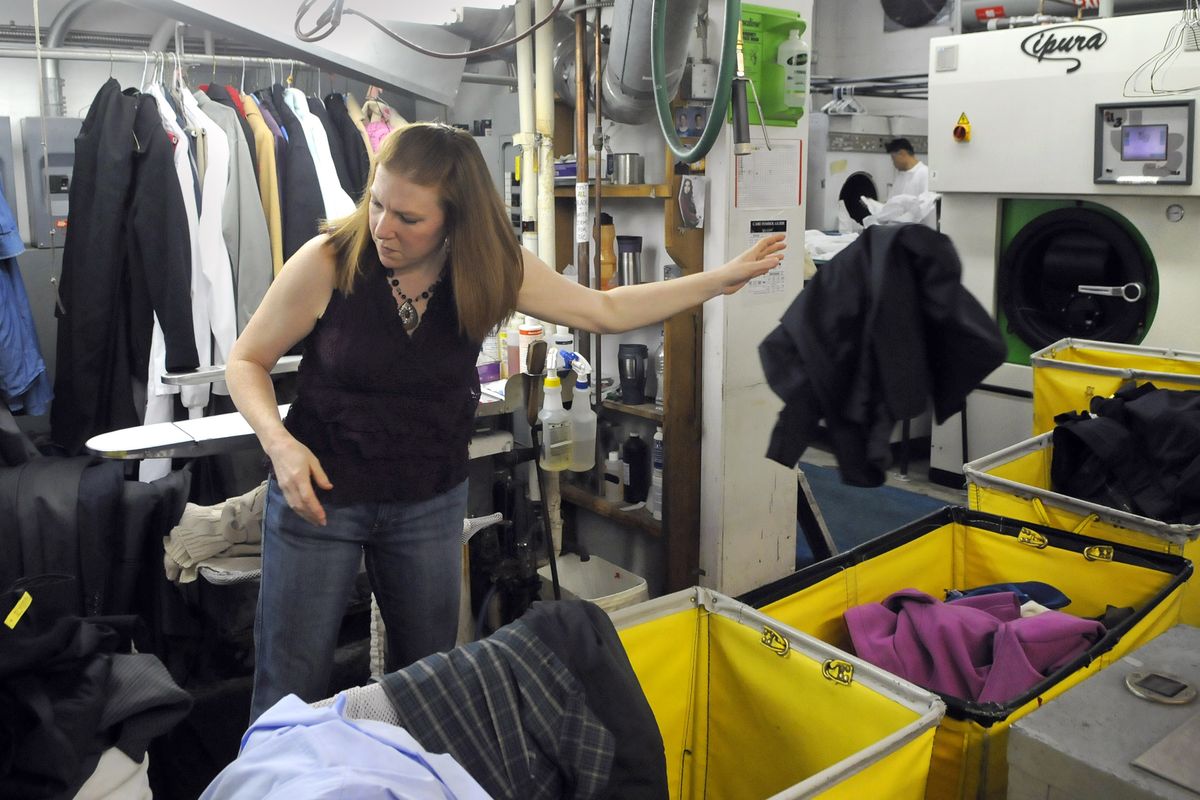 Valerie Busch, production manager at Beacon Cleaners, sorts dark-colored laundry into bins on Monday. The clothes would then be loaded into enviromentally friendly dry cleaning machines. (Dan Pelle)
At Beacon Cleaners & Laundry, the fresh scent of clean clothes is free of the chemical odor of solvents.
The suits, wedding gowns, comforters and other "dry clean only" items are run through a closed-circuit system.
Their Ipura Hybrid Class machines don't release volatile organic compounds like their predecessors did. And they're better for the company's bottom line, too.
The new machines clean faster, cutting 20 minutes off each load's processing time. They also use a fraction of the dry-cleaning solution required by the equipment the laundry used to employ.
Beacon Cleaners' owners, Hi Bum and Yonae Kim, installed the new machines in 2010. The purchase was part of a longstanding commitment to environmentally friendly dry cleaning, which earned Beacon Cleaners the 2012 Clean Air Award from the Spokane Regional Clean Air Agency.
Hi Bum Kim said he didn't want to breathe in hazardous fumes. He didn't want his employees exposed, either.
"I'm needing to be working my lifetime here," explained Kim, who purchased Beacon Cleaners in 1986. "I'm also concerned for my people, the employees."
With the switch to the new machines, Beacon Cleaners became the first laundry in Spokane County that isn't regulated for hazardous air emissions, because the solvents are contained. It's quite an accomplishment, said Margee Chambers, who works in Spokane Regional Clean Air Agency's compliance assistance program.
"He's gone above and beyond to make sure that his business has a reduced impact on the environment," Chambers said of Kim.
The agency monitors dry cleaners that emit hazardous air pollutants, checking that equipment is operating correctly and leaks aren't present. Most laundries are small businesses, and they're often located in residential neighborhoods.
The majority of the air pollution comes from the evaporation of dry cleaning solvents. Perchloroethylene, a suspected carcinogen, is the most common solvent, used in 10 dry cleaning operations in Spokane County, according to the agency. Petroleum-based solvents are also used.
Kim's commitment to greener business practices started in 1998, when Beacon Cleaners moved to a new location. His permit didn't allow him to move the old machines, so he decided to upgrade.
Kim could have replaced the machines with similar models that retail for $40,000 to $60,000 each. Instead, Beacon Cleaners invested about $100,000 each in lower-emission models.
"I didn't want to go backward," Kim said of his decision to purchase the higher-cost units.
When he was ready to upgrade again, Kim tapped the expertise at the Spokane Regional Clean Air Agency. An engineer there researched the next generation of dry cleaning equipment, which led Kim to purchase the Ipura Hybrid Class machines. The agency's input saved him the cost of hiring an outside consultant, he said.
Beacon Cleaners has expanded over the years, buying out competitors. When that happened, Kim retired older machines, further reducing air emissions.
Beacon Cleaners now has eight locations, including drop-off facilities. All of the dry-cleaning is done at Beacon Cleaners' main location in northwest Spokane, using the non-emitting Ipura machines.
The shop's a busy place. The company processes 400 to 800 dress shirts daily. The majority of the garments dropped off for cleaning are available for same-day pickup.
Beacon Cleaners is proof that environmentally friendly business practices pay off, Chambers said.
Local journalism is essential.
Give directly to The Spokesman-Review's Northwest Passages community forums series -- which helps to offset the costs of several reporter and editor positions at the newspaper -- by using the easy options below. Gifts processed in this system are not tax deductible, but are predominately used to help meet the local financial requirements needed to receive national matching-grant funds.
Subscribe now to get breaking news alerts in your email inbox
Get breaking news delivered to your inbox as it happens.
---