Field reports: Illegal perch plant grim for Curlew trout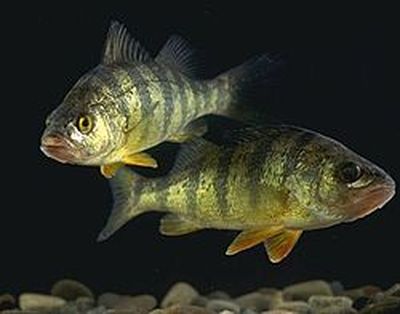 FISHING –The illegal introduction of perch into Curlew Lake has left state fish managers concerned about the future of a top trout fishery in Ferry County.
Bill Baker, Washington Fish and Wildlife fisheries biologist said he caught a 6-inch perch in a fish sampling net this week.
"We've done a lot of intensive surveys in the past and this is the first time we've found perch," he said. "That indicates that somebody's taken it upon himself to put some in there."
About 200,000 coastal rainbow trout are released in Curlew Lake each year, either from the volunteer-operated net pens or in fry releases, Baker said.
"The trout fishery has been quite successful," he said. So has the introduction of sterile tiger muskies to provide a trophy fishery that thrills anglers while providing a predator that curbs the number of pikeminnows.
Curlew Lake holds large numbers of largemouth bass, some smallmouth bass as well as native minnows and suckers.
"I can't predict the impact except that in general, when yellow perch are introduced to trout waters in Washington, it's usually bad news for trout.
"Perch compete directly with trout for food, and there's only so much of it out there."
Baker said he's asked resort owners on Curlew Lake to encourage anglers to kill any perch they catch, regardless of the size.
"About all we can do is monitor. The lake is too big for management methods to get rid of the perch.
"Unfortunately, this is another example of an illegal introduction of fish species that in the long term will probably be a detriment to the existing fishery. It's a very selfish act."
State racks up funds with antler auction
POACHING – An online auction of confiscated big-game antlers that concluded last week netted Washington $21,300 earmarked for anti-poaching enforcement.
The Department of Fish and Wildlife sold 1,725 pounds of moose, elk and deer antlers that had been seized from poachers.
The money will be used for forensic work and to pay rewards to people who report poaching violations, officials said.
Glacier Park road may open this week
PARKS – Logan Pass at the top of Glacier National Park's Going-to-the-Sun Road likely will be cleared of snow and open for vehicle traffic sometime this week, officials say. Last year the road didn't open until July 13.
Big Rock parking delayed by weather
TRAILS – Recent wet weather has delayed construction of a parking area to the Big Rock Conservation area off Stevens Creek Road.
Spokane County Parks and Recreation Park Planner Paul Knowles said the ground is so soggy, work probably won't start until around July 2.
Outdoors this week
WEDNESDAY – Celebrate Summer Solstice safely with the family on city streets cleared of motor vehicles in the Spokane Summer Parkways celebration in the Comstock-Manito neighborhoods.
Info: summerparkways.com.
THURSDAY – Spokane's John Roskelley, perhaps America's premier mountaineer in the 1980s, will present a slide show and share climbing insights from his latest book in a presentation, 7 p.m., at the Mountain Gear retail store, 2002 N. Division.
---