Sports
Eastern men guarding against overconfidence
Fri., March 2, 2012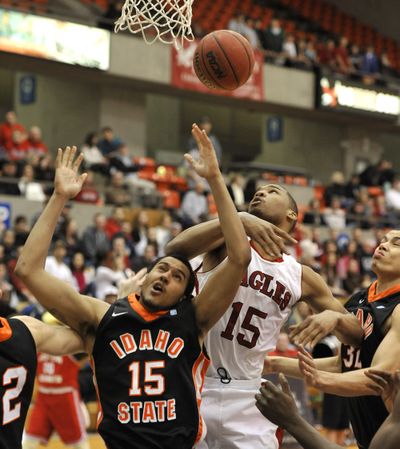 Eastern Washington has beaten Idaho State twice in the last week, which in terms of Saturday's Big Sky Conference quarterfinal game means exactly …. nothing. If this were a normal best-of-three series, it would be over, but the winner of Saturday's 2 p.m. game at Reese Court advances to the Big Sky semifinals Tuesday in Missoula. The loser is finished. "They've got a fresh start, and so do we," said Eastern forward Cliff Ederaine before the Eagles' practice Friday afternoon. "We just can't relax." Three days ago, in the final-regular season finale at Reese Court, the Eagles dominated the Bengals, especially in intensity, in a 77-64 game that wasn't even that close. "But we've got to stay hungry and humble," says senior guard Clif Colimon, who on Thursday was named to the all-conference first team. Both Colimon and head coach Jim Hayford are mindful that the Bengals – losers of four straight – can easily break out of their slump. The Bengals are 9-20 but own a signature win over Weber State, and leading scorer Chase Grabau has twice topped 30 points. "He can have another game like that," says Hayford, whose team is coming off what he calls its most complete game of the season. It may go beyond that, says Colimon, noting that neither Grabau nor teammate Kenny McGowen made the all-conference first team. "I know what they're thinking. They're upset about that, and Kenny's going to come out hard." Eastern (14-16) owns two straight wins partly because the Eagles are breaking some season-long habits. For one, the Eagles led at halftime Tuesday in a home conference game for only the second time all season. For another, they stayed out of foul trouble, commiting just 20 personals fouls compared with 24 for ISU. Certainly the Eagles won't lack for confidence, but Hayford has that one covered. "I need to talk about it," he says. "We need to talk about how at different times we show a casualness similar to overconfidence, so I hope we've learned our lesson on that." The Eagles have prevailed in the first two meetings despite limited minutes from forward Collin Chiverton, who has played a total of just 23 minutes in the last three games. "I'm going through a little bit of pain," says Chiverton, who led the Eagles in scoring until last week. "We've got to play everything by the moment," says Hayford of Chiverton's injury. Idaho State's last win at Eastern Washington was a 65-63 victory on March 1, 2003.
Local journalism is essential.
Give directly to The Spokesman-Review's Northwest Passages community forums series -- which helps to offset the costs of several reporter and editor positions at the newspaper -- by using the easy options below. Gifts processed in this system are not tax deductible, but are predominately used to help meet the local financial requirements needed to receive national matching-grant funds.
Subscribe to the sports newsletter
Get the day's top sports headlines and breaking news delivered to your inbox by subscribing here.
---
Subscribe and log in to the Spokesman-Review to read and comment on this story