Sports
Cougars show improvement in running game
Sun., Sept. 1, 2013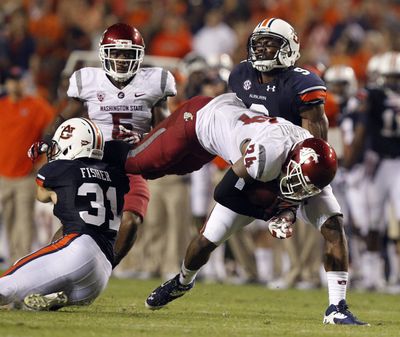 AUBURN, Ala. – Washington State under coach Mike Leach will never engage in a smashmouth, grind-it-out game with anybody, let alone a team like Auburn that prides itself on how it rushes the football.
While Auburn's 279 yards rushing on Saturday night was the key to its 31-24 victory over WSU, it was the Cougars whose output in that category was probably more surprising – and pleasantly so, at least for them.
The Cougars rushed the ball 23 times for 120 yards, averaging 5.2 yards per carry while reaching a total that amounted to more than one-third of their combined effort in 2012.
It wasn't any one back carrying the load, either. Teondray Caldwell led the team with 53 yards. Marcus Mason added 43, and Jeremiah Laufasa kicked in 10 yards on five carries – two of them touchdowns.
Even quarterback Connor Halliday, who spent much of last season as a sack victim, scrambled here and there to chip in 14 yards. The Cougars were able to run the ball in critical situations, such as Laufasa's two goal-line scoring forays and a late fourth-and-5 converted via a draw to Caldwell.
"We've improved, and that was a byproduct of that," Leach said.
"They were doing some shifting and stuff like that," said senior center Elliott Bosch, "so we made an adjustment early and we were able to block it up correctly later on."
WSU didn't substitute any offensive linemen, playing the same group of Bosch, tackles Rico Forbes and Gunnar Eklund, and guards Joe Dahl and John Fullington that has comprised the first-team unit since camp began on Aug. 2.
They fared considerably better in pass protection, allowing only two sacks – one an intentional grounding penalty against Halliday – and generally giving the junior quarterback more time to throw. WSU allowed 57 sacks in 12 games a year ago.
"That was a big goal for us, to get that (sack) number down," Bosch said. "When they weren't blitzing and they were only sending four, we should be able to give him all day."
Washington out
There appeared to be one injury of note for WSU. Senior cornerback Nolan Washington left the game early in the second quarter and was replaced by senior Anthony Carpenter. Washington was seen sitting on a training table behind the line of WSU players on the sideline.
Carpenter exited later, replaced by true freshman Daquawn Brown.
Halliday was asked to assess the run-heavy, hurry-up offense of Auburn and first-year coach Gus Malzahn.
He was highly complimentary. But not of quarterback Nick Marshall, who threw for just 99 yards and completed only 10 of his 19 attempts.
"They ran the ball real, real, real well," Halliday said. "If they could find a quarterback, they'd be a top-five team in the nation. They just don't have a guy who can throw it. That running game was something very, very impressive."
No more questions
Senior safety Deone Bucannon delivered the hit of the day on Auburn running back Corey Grant, planting him with what appeared to be a clean blow on a rush inside the 10-yard line in the third quarter. But Bucannon was flagged for unsportsmanlike conduct.
When asked about the penalty, Bucannon began to respond: "I don't really know. I thought it was a legal hit. I didn't really see it, but like I said, I think they saw some extracurricular, and that's on me."
He was then interrupted by Leach, who instructed Bucannon not to answer another question from the reporter who inquired about the penalty. Of the play in question, Leach said only: "You saw the game. You'll have to evaluate that. There's other instances that you can check out and make your own opinion."
Local journalism is essential.
Give directly to The Spokesman-Review's Northwest Passages community forums series -- which helps to offset the costs of several reporter and editor positions at the newspaper -- by using the easy options below. Gifts processed in this system are not tax deductible, but are predominately used to help meet the local financial requirements needed to receive national matching-grant funds.
Subscribe to the sports newsletter
Get the day's top sports headlines and breaking news delivered to your inbox by subscribing here.
---