Sports
In Brief: Blue Devils squeeze win from Orange
Sun., Feb. 23, 2014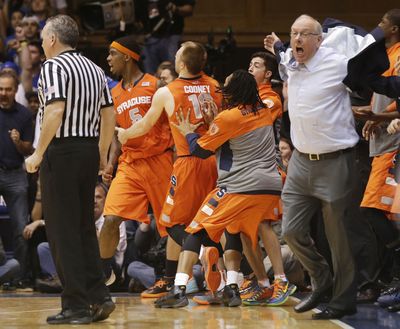 Men's basketball: The matchup between two of college basketball's best teams ended with Hall of Fame coach Jim Boeheim ejected after he charged onto the court to argue a block/charge call.
Rodney Hood scored 13 points and drew the game-changing charging call that helped No. 5 Duke (22-6, 11-4 Atlantic Coast Conference) beat top-ranked Syracuse 66-60 on Saturday night in Durham, N.C.
Syracuse (25-2, 12-2) had the ball down 60-58 when C.J. Fair drove for a tying layup.
But official Tony Greene whistled Fair for charging – and Boeheim shot onto the court to argue. Greene slapped him with two technicals and ejected him.
Quinn Cook iced it by hitting three free throws with 10.4 seconds left to make it 63-58.
• Lobos upend Aztecs: Cameron Bairstow scored 26 points, including 10 during a second-half run that led New Mexico (21-5, 12-2 Mountain West) to a 58-44 victory over No. 6 San Diego State (23-3, 12-2) in Albuquerque, N.M.
• Louisville slips past Cincinnati: Russ Smith's 18-foot jumper with 2.2 seconds left gave No. 11 Louisville (23-4, 12-2 American Athletic Conference) a 58-57 road win over No. 7 Cincinnati (24-4, 13-2).
• Badgers handle Hawkeyes: Frank Kaminsky had 21 points and a crucial late steal as No. 16 Wisconsin (22-5, 9-5 Big Ten) edged out a 79-74 win over No. 15 Iowa (19-7, 8-5) in Iowa City, Iowa.
• Kentucky edges LSU in OT: With LSU leading 76-75, Julius Randle grabbed a loose ball following a Tigers' miss and scored in the lane with 3.9 seconds remaining in overtime to give No. 18 Kentucky (21-6, 11-3 SEC) a 77-76 win over LSU (16-10, 7-7) in Lexington, Ky.
• Memphis survives Temple: Austin Nichols had 17 points, 12 rebounds and seven blocks as No. 22 Memphis beat visiting Temple 82-79 in overtime.
Auriemma's 1,000th game another win
Women's basketball: Bria Hartley and Stefanie Dolson scored 24 points apiece and No. 1 Connecticut (28-0, 15-0 AAC) beat Houston 92-41, bringin coach Geno Auriemma's record to 867-133 in 1,000 career game with the Huskies.
Els makes Match Play Championship semis
Golf: Ernie Els reached the semifinals of the Match Play Championship for the first time in 13 years. The four-time major champion defeated 20-year-old Jordan Spiethon the 16th hole in Marana, Ariz.
Graeme McDowell had a lead for the first time all week – and he wound up losing on the 18th hole to Victor Dubuisson.
Els next plays the Frenchman.
Jason Day took out Louis Oosthuizen and next plays Rickie Fowler, who won the last two holes for a 1-up win over Jim Furyk.
Venus claims 45th career WTA title
Tennis: Venus Williams won her 45th career WTA title in an impressive 6-3, 6-0 victory over Alize Cornet of France in the Dubai (United Arab Emirates) Championships final.
The 44th-ranked Williams, playing courtesy of a wild card, will move up to No. 29 in Monday's updated rankings.
Hawks rally to beat Knicks, end skid
NBA: Mike Scott scored a career-high 30 points, Jeff Teague added 28 and the Atlanta Hawks ended an eight- game losing streak with a 107-98 home win over New York.
Carmelo Anthony finished with 35 points for the Knicks.
• Wizards dunk pesky Pelicans: Nene made the go-ahead dunk with 0.9 seconds left and matched a season high with 30 points as the Wizards beat the New Orleans Pelicans 94-93 in Washington.
• James to don protective mask: LeBron James plans to get fitted for a mask to protect his nose, which was broken in a win at Oklahoma City Thursday. His availability today against Chicago will be a game-time decision.
Former Cougar wins 3,000 at U.S. Indoors
Miscellany: Former Washington State Cougar Bernard Lagat showed he is not ready to hand over his crown as the country's premier middle distance runner, winning the 3,000 meters at the USA Indoor Track & Field Championships in Albuquerque, N.M.
The 39-year-old Lagat sprinted to the finish by himself to claim his fourth title in the event in the last five years. He did not run the 3,000 last year.
• Orioles, Cruz agree to deal: Free agent Nelson Cruz and the Baltimore Orioles have reached agreement on a one-year deal, giving the slugger a fresh start after his 50-game drug suspension last season.
A person familiar with the agreement told The Associated Press that Cruz will earn about $8.5 million, and can make more in performance bonuses.
• Dodgers add Cuban shortstop: The Los Angeles Dodgers have signed Cuban shortstop Erisbel Arruebarrena to a five-year contract worth a reported $25 million, including a $7.5 million signing bonus.
The 23-year-old infielder defected from Cuba last fall, establishing residency in Haiti. He still has to get a work visa.
• Detroit's Zetterberg likely done for year: Detroit Red Wings general manager Ken Holland says he does not expect Henrik Zetterberg to play again during the regular season because of his back ailment.
Zetterberg, who leads the Red Wings with 16 goals and 32 assists in 45 games, had back surgery Friday in New York to remove a fragmented disk.
Local journalism is essential.
Give directly to The Spokesman-Review's Northwest Passages community forums series -- which helps to offset the costs of several reporter and editor positions at the newspaper -- by using the easy options below. Gifts processed in this system are not tax deductible, but are predominately used to help meet the local financial requirements needed to receive national matching-grant funds.
Subscribe to the sports newsletter
Get the day's top sports headlines and breaking news delivered to your inbox by subscribing here.
---