News > Obituaries
Obituary: Critchlow, Joanne Marie (Kelleher)
Age 85
Sun., Feb. 23, 2014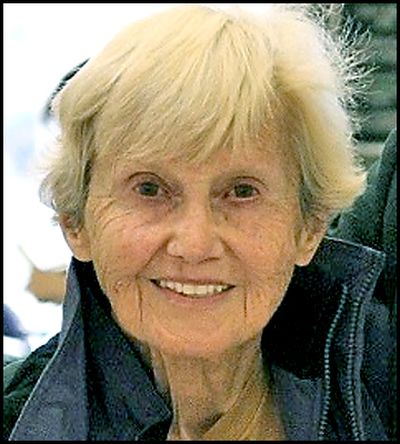 CRITCHLOW, Joanne Marie (Kelleher) (Age 85) Born September 17, 1928 in San Francisco, CA., to Dr. John and Helene Kelleher and recently passed from this world on January 30, 2014, in Spokane, WA.
Mrs. Critchlow attended Lowell High School in San Francisco, CA., a school well known for its academic excellence and prominent Alumni.
While there she excelled in academics and also played on the basketball team.
Joanne then attended the University of California at Berkeley and graduated in 1950 with a B.S.
degree in Bacteriology.
While at Berkeley, Joanne was elected to the Phi Beta Kappa academic society and awarded the coveted "key."
After graduation, she worked at the University of California at Davis where she met and married Sgt.
Warren A. Critchlow, a returned World War II veteran attending college there on the G.I.
Bill.
Joanne and Warren had three children (in order) Edward, Mary and Robert.
Joanne worked for the State of California as a Medical Technologist for over 30 years before retiring to Spokane, WA., in 1994.
Mrs. Critchlow's strong work ethic, nimble mind and academic interests always kept her busy during her retirement years.
She met and made many good friends here in Spokane through her various activities and social events.
She is survived by her two sons, Robert Critchlow of Spokane, WA.
and Edward (and Kathleen) Critchlow of Alameda, CA.
Joanne was predeceased by her daughter Mary Critchlow.
Pursuant to Joanne's request, there will be no memorial services.
She will be missed but never forgotten by those who knew and loved her.
Go in peace Joanne.
Local journalism is essential.
Give directly to The Spokesman-Review's Northwest Passages community forums series -- which helps to offset the costs of several reporter and editor positions at the newspaper -- by using the easy options below. Gifts processed in this system are not tax deductible, but are predominately used to help meet the local financial requirements needed to receive national matching-grant funds.
Subscribe to the Coronavirus newsletter
Get the day's latest Coronavirus news delivered to your inbox by subscribing to our newsletter.
---