News > Idaho
Former Idaho Gov. John Evans dies at 89
Tue., July 8, 2014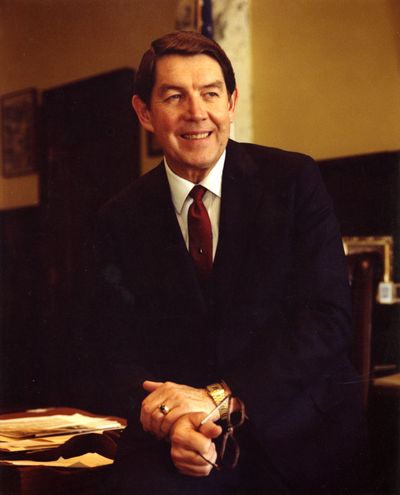 BOISE - Former Idaho Gov. John Evans, a Democrat who served from 1977 to 1987 and was a highly successful governor in tough times, died Tuesday at age 89. His hallmark was openness - anyone who wanted to get in to see the governor could - and he pioneered the "Capital for a Day" program that current GOP Gov. Butch Otter has used so successfully to enhance both his outreach and his campaigns. Evans was "a good governor" who was "lost to history to a degree," said Boise State University emeritus professor Jim Weatherby. "He served as governor for 10 years through some tumultuous times, but serving in between the administrations of Gov. (Cecil) Andrus, I think unfortunately he's been overlooked and I think that's a mistake." During the consecutive administrations of Andrus, Evans and Andrus again, Idaho's governor's office was in Democratic hands for 24 years; no Democrat has been elected Idaho governor since. Evans also was the first, and thus far only, member of the Mormon church to be elected governor of Idaho. Evans presided during a major recession, a bad drought, and more; he succeeded in persuading the Legislature to pass three significant tax increases, a temporary sales tax hike in 1983, a permanent one in 1984, and a temporary one in 1986 to keep the state solvent through the downturn of the early '80s. Weatherby said Evans was known for his "open-door policy." And his "Capital for a Day" program took the governor and state officials to various remote towns across the state, giving folks there a chance to get their concerns heard at the highest levels of state government. "It certainly helped his campaign as well, as it has helped Otter," Weatherby said. Otter's held more than 70 of the sessions around Idaho. Evans' administration also was notable for its clashes with the largely GOP-controlled Legislature. "They had many battles over his tenure, and he was the one who bought the big red 'VETO' stamp," Weatherby said. That giant stamp has been wielded with great ceremony by an array of Idaho governors since. Evans was praised Tuesday by Idaho politicians from both parties as a civil, gentle, and dedicated leader. "I admired John's willingness to compete in the marketplace of ideas and his ability to keep himself and his office above the day-to-day political fray," said Otter, who served under Evans as lieutenant governor. Andrus called him "a strong and capable governor" and "above all, a genuinely fine man." Evans held public office for more than 35 years, serving as a state senator, mayor of Malad, lieutenant governor and governor. He was a World War II veteran, serving as an infantryman in the U.S. Army, and a graduate of Stanford University. As a Democratic state senator in the 1950s, he served as Senate majority leader when the Democrats controlled the Senate; later, in the late 1960s and early '70s, he served as Senate minority leader when the Republicans held sway. He won his first full term as governor with a resounding 59 percent to 40 percent margin, and four years later, in 1982, narrowly defeated then-Lt. Gov. Phil Batt to win re-election. The grandson of the founder of his family's bank, D.L. Evans Bank, Evans served as the bank's president and attended board meetings up until his death. He died peacefully early Tuesday morning in Boise, surrounded by family.
Local journalism is essential.
Give directly to The Spokesman-Review's Northwest Passages community forums series -- which helps to offset the costs of several reporter and editor positions at the newspaper -- by using the easy options below. Gifts processed in this system are not tax deductible, but are predominately used to help meet the local financial requirements needed to receive national matching-grant funds.
Subscribe now to get breaking news alerts in your email inbox
Get breaking news delivered to your inbox as it happens.
---