News > Idaho
Idaho Gov. Butch Otter holding off challengers
Wed., May 21, 2014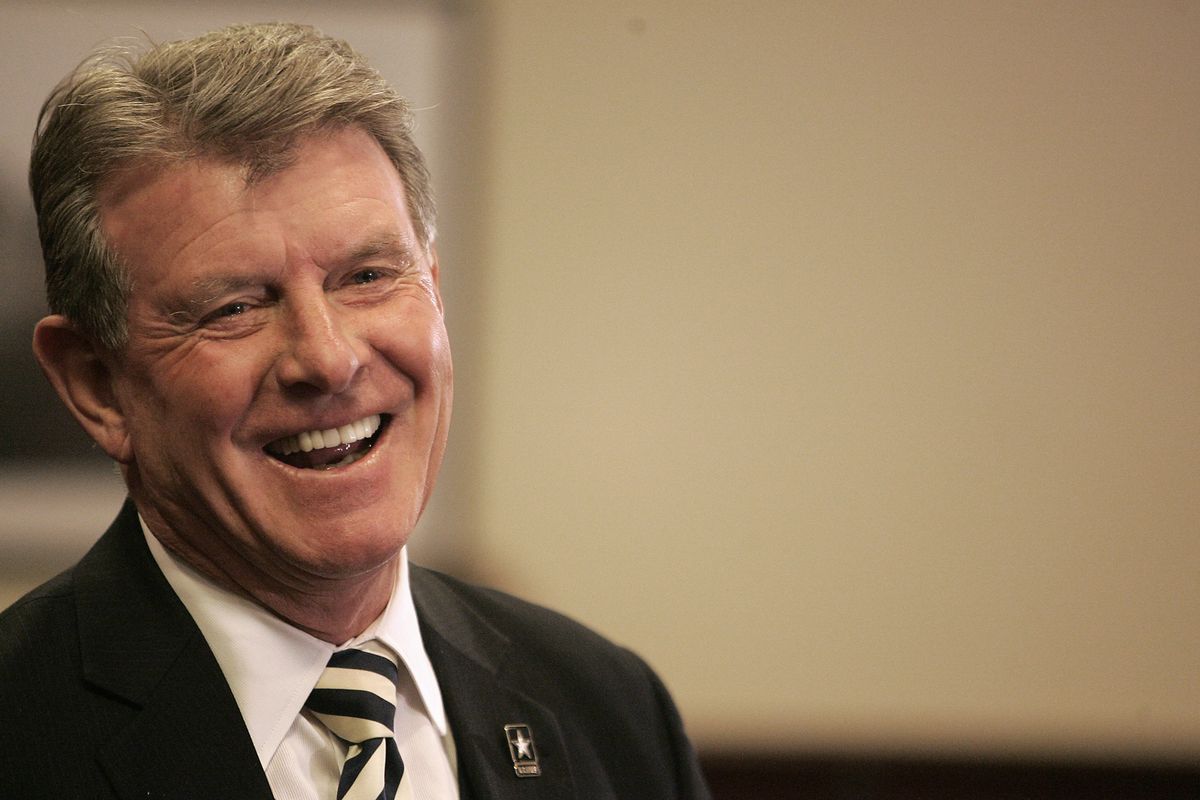 Otter
BOISE – In a primary election that highlighted a big rift in Idaho's Republican Party, voters on Tuesday appeared to be backing two-term Gov. Butch Otter over a stiff challenge from tea party Republicans disillusioned with his leadership.
Otter ran a low-key campaign as he was challenged by Senate Majority Caucus Chairman Russ Fulcher, R-Meridian, acting the part of the favored incumbent and agreeing to only one face-to-face debate. Otter's insistence on also including two long-shot candidates in that face-off attracted national attention to their antics and prompted Fulcher to declare it a "mockery."
Fulcher's pitch to repeal Idaho's state health insurance exchange, dump core standards for school achievement and try to take over federal lands resonated with a wing of the party, but couldn't dislodge one of the state's most-elected officials ever. If Otter's lead holds, he'll face Democrat A.J. Balukoff in November in his bid for a third term; Balukoff is a millionaire businessman and the longtime chairman of the Boise School Board.
Otter, 72, has served two terms as governor, three in Congress, and 14 years as lieutenant governor.
Fulcher, 52, is a commercial real estate agent, former high-tech executive and five-term state senator. He led a slate of candidates challenging sitting GOP officials in Idaho from the right; at press time, most were falling short. Check www.spokesman.com for final results, including in local races in Kootenai County and legislative races in North Idaho.
Turnout appeared low for the primary election, though not as low as two years ago – when fewer than one in four registered voters cast ballots. Idaho's primary election turnout has been dropping for decades, even as its general-election turnout has remained strong.
The problem with that, noted Boise State University professor emeritus Jim Weatherby, is that Idaho is essentially a one-party state due to the Republican Party's dominance – the GOP now holds every statewide office, the whole congressional delegation and 80 percent of the seats in the Legislature.
"People in Idaho seem to think that (the November general election) is the real election, and in many races it isn't," Weatherby said.
Here are the highlights from Idaho's primary election night:
Governor
Otter led in early returns, with 54 percent to Fulcher's 41 percent at press time. Perennial candidates Harley Brown and Walter Bayes fell short.
The winner will face Democrat A.J. Balukoff in November, who easily held off a primary challenge Tuesday from Terry Kerr of Idaho Falls.
Congress
The action was in Idaho's 2nd Congressional District, where longtime GOP Congressman Mike Simpson faced a primary challenge from tea party candidate Bryan Smith; but Simpson rolled to a big win, with 62 percent of the vote at press time. In November, he'll face former Democratic Congressman Richard Stallings, who was unopposed in the primary.
In North Idaho's 1st District, second-term GOP Rep. Raul Labrador easily held off four little-known challengers in the primary. Democratic challenger Shirley Ringo, a longtime Democratic state representative from Moscow, easily won her race to take on Labrador in November.
Senate
U.S. Sen. Jim Risch and Democratic challenger Nels Mitchell faced only token opposition in the primary election and won easily; they'll face off in November.
Secretary of State
In one of Idaho's hottest open races, four candidates vied on the Republican ticket for secretary of state, as longtime incumbent Ben Ysursa retires. At press time, former House Speaker Lawerence Denney held the edge; he was trailed by chief deputy Ada County Clerk Phil McGrane, former state Sen. Evan Frasure and former state Sen. Mitch Toryanski. The winner will face Democratic Rep. Holli Woodings of Boise in November; she was unopposed on Tuesday.
Attorney General
Idaho Attorney General Lawrence Wasden, already the state's longest-serving attorney general, easily held off a challenge from Boise attorney C.T. "Chris" Troupis in his bid for a fourth term. Troupis, who aligned with the slate headed by Fulcher, had about 39 percent of the vote.
Idaho Supreme Court
Idaho Supreme Court Justice Joel Horton was challenged by Boise attorney Breck Seiniger; the primary election is the final contest in this nonpartisan race. At press time, Horton was winning easily with 68 percent to Seiniger's 32 percent.
Superintendent of Public Instruction
The wide-open race for state superintendent of schools, with the retirement of controversial two-term Superintendent Tom Luna, drew four Republicans in the primary and one Democrat, Jana Jones. In the GOP primary, Mountain Home educator Sherri Ybarra took the early lead, followed closely by American Falls middle school principal Randy Jensen, then Melba School District Superintendent Andy Grover. Tea party-backed Cottonwood teacher John Eynon trailed at press time, but the race was too close to call.
Lieutenant Governor
Lt. Gov. Brad Little easily held off a challenge from the right. Idaho County Commissioner Jim Chmelik sought to oust him and use the post to promote a state takeover of federal public lands, but Little won about 70 percent at press time, and faces Democrat Bert Marley and Constitution Party candidate David Hartigan in November.
State Controller
Idaho state Controller Brandon Woolf was narrowly holding off a challenge at press time from businessman Todd Hatfield, a log home company owner who also ran for the position unsuccessfully four years ago; the race was too close to call. The controller's duties are largely administrative, including overseeing the state payroll system and supervising 90 employees, but also includes a seat on the state Land Board.
State Treasurer
While GOP state Treasurer Ron Crane was unopposed in the primary, two Democrats battled for the chance to take him on in November. At press time, Twin Falls CPA Deborah Silver had a big lead at 82 percent to Boise freelance writer W. Lane Startin's 18 percent.
Idaho Legislature
Most North Idaho races hadn't yet been decided at press time; check www.spokesman.com for complete results.
Local journalism is essential.
Give directly to The Spokesman-Review's Northwest Passages community forums series -- which helps to offset the costs of several reporter and editor positions at the newspaper -- by using the easy options below. Gifts processed in this system are not tax deductible, but are predominately used to help meet the local financial requirements needed to receive national matching-grant funds.
Subscribe now to get breaking news alerts in your email inbox
Get breaking news delivered to your inbox as it happens.
---