Sports
Chase gets intense
Gordon, Keselowski part of post-race brawl at Texas
Mon., Nov. 3, 2014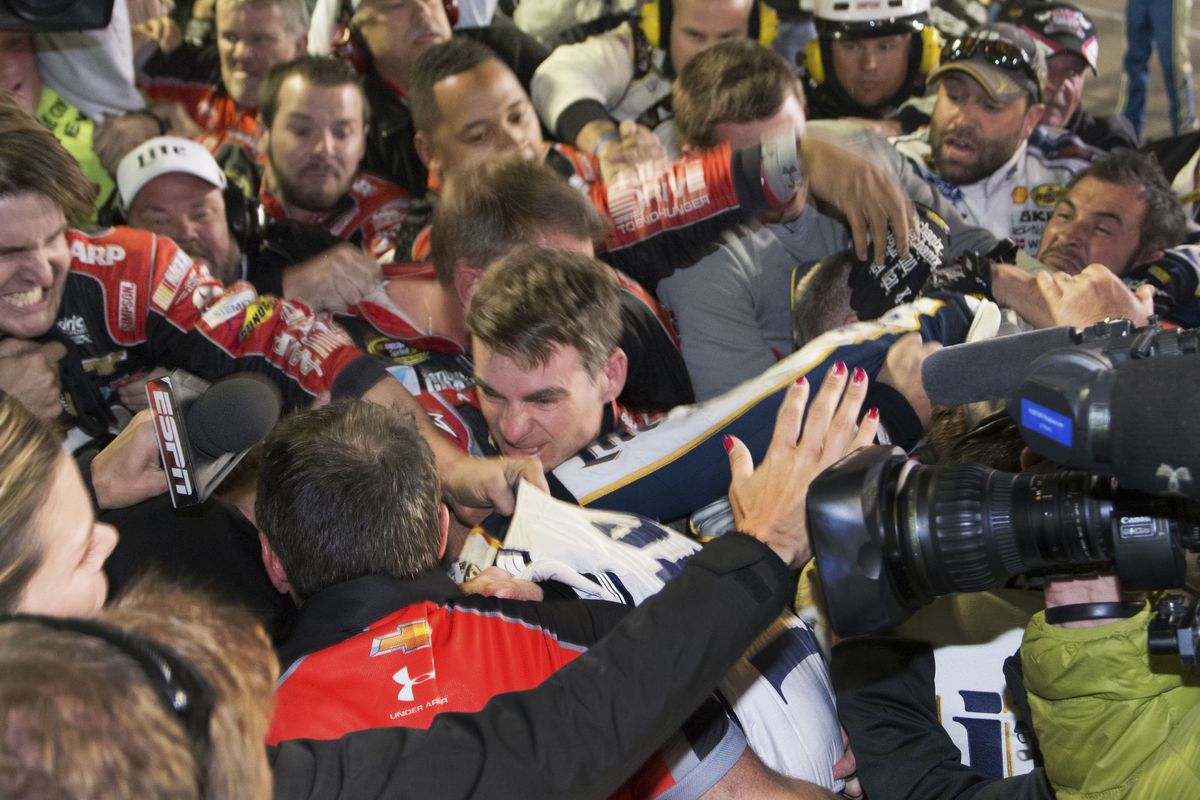 Jeff Gordon is in the middle of a brawl after the NASCAR Sprint Cup Series race in Fort Worth, Texas. (Associated Press)
Brad Keselowski's face was puffy, and he took a couple quick drinks of water to wash the blood from his mouth. So close to a big playoff win, Jeff Gordon was left with a cut on his lip.
The Chase for the Sprint Cup championship took another intense turn Sunday night in Fort Worth, Texas, when past champions Gordon and Keselowski were a part of a brawl after Jimmie Johnson won his third consecutive Texas fall race.
Johnson emerged from a frantic finish, the second attempt at an overtime two-lap sprint to the finish after his teammate Gordon spun out from the front following contact with Keselowski.
While Johnson celebrated his fourth victory at Texas and 70th Sprint Cup win overall, fireworks exploded in the sky – and on pit road.
An irate Gordon stopped his car right by Keselowski and confronted him. There were plenty of punches thrown, with NASCAR officials in the middle of crew members and others around Keselowski's No. 2 car.
"I couldn't even tell you what happened," said Keselowski, who confirmed he was hit by someone. "Just a melee of people."
It seemed the only contact among drivers was when Kevin Harvick shoved Keselowski in the back to push him into the fracas, and Gordon briefly appeared to grab hold of Keselowski's firesuit.
All the punches thrown appeared to come from crew members – including a member of Gordon teammate Kasey Kahne's team who appeared to land several shots on Keselowski from behind.
Gordon was leading on a restart on lap 335, one more than the race's scheduled length, when he took the outside lane. When Gordon drifted up a bit, Keselowski pushed through the gap, and made contact that left Gordon's car with a cut tire.
"We were just racing for the win. I didn't wreck him, and just raced him hard. He left a hole. Everything you watch in racing, you leave a hole, you're supposed to go for it," Keselowski said.
Gordon said he was on older tires when "out of nowhere I got slammed by the 2." He then used an expletive in referring to Keselowski, who finished third.
"The way he races, I don't know how he ever won a championship. This is why everyone is fighting with him," Gordon said. "To me, it's just a bunch of crap. The kid is just doing stuff way over his head."
Gordon spun out, lost a lap in the pits and finished 29th.
Johnson won by a half-second over Chase contender Harvick, who then pushed Keselowski into the fray.
"If you're going to race like that, you're going to have to man up at some point," Harvick said afterward. "I just turned him around and told him to go fight his own fight."
Joey Logano finished 12th at Texas, but is listed first in points while having the same number as Hamlin and two more than Ryan Newman. Gordon is fourth, a point ahead of Kenseth and Carl Edwards, followed by Keselowski and Harvick – though there is only an 18-point gap between first and eighth place.
Formula One
Lewis Hamilton got the better of Mercedes teammate Nico Rosberg once again, winning the U.S. Grand Prix in Austin, Texas, to edge closer to his second Formula One world championship.
Hamilton leads Rosberg by 24 points with two races left in Brazil and Abu Dhabi. The final race will be worth double points under a rule change this season.
Red Bull's Daniel Ricciardo was third for his eighth podium finish on the season.
NHRA
Erica Enders-Stevens won the NHRA Toyota Nationals in Las Vegas to reclaim the Pro Stock points lead with one race remaining.
She has a 17-point lead over Jason Line.
Del Worsham topped the Funny Car field, Spencer Massey won in Top Fuel, and Andrew Hines in Pro Stock Motorcycle.
Local journalism is essential.
Give directly to The Spokesman-Review's Northwest Passages community forums series -- which helps to offset the costs of several reporter and editor positions at the newspaper -- by using the easy options below. Gifts processed in this system are not tax deductible, but are predominately used to help meet the local financial requirements needed to receive national matching-grant funds.
Subscribe to the sports newsletter
Get the day's top sports headlines and breaking news delivered to your inbox by subscribing here.
---