News > Obituaries
Obituary: Visintainer, Leonard Joseph "Vince"
Age 88
Sun., April 12, 2015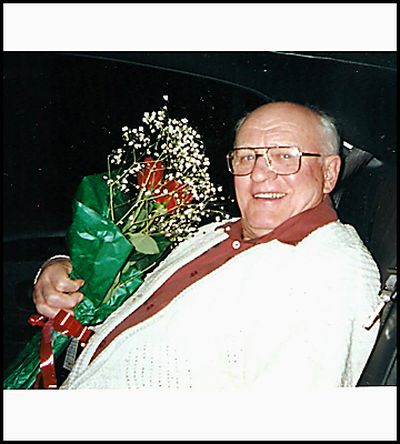 VISINTAINER, Leonard Joseph "Vince" (Age 88) Beloved husband, father, grandfather, great-grand-father and brother, Leonard "Vince" Joseph Visintainer, 88 years young, passed away unexpectedly on April 7, 2015 at Kootenai Health of Coeur d' Alene, Idaho.
He was born July 9, 1926 in Chicago, Illinois; Leonard was the son of Adolph and Caroline (Inama) Visintainer.
At the age of three, Leonard and his family moved to the Silver Valley.
He attended and graduated from the St. Alphonsus Catholic School.
At the age of 18, he enlisted at the U.S. Navy, stationed in Pensacola, Florida and was honorably discharged.
Vince then attended the Gonzaga University, having to return home to help with his father's construction business.
Vince married Marie Malutta on August 14, 1954 at the St. Alphonsus Catholic Church of Wallace, Idaho.
Vince joined the Carpenters Local Union #220 and had worked at the Galena Mine underground for eighteen years.
He loved and enjoyed woodworking and had built many beautiful things for his beloved family and friends.
Vince loved and enjoyed his family and was an avid hunter, fisherman and sports enthusiast.
Vince is survived by his beloved wife Marie Visintainer of the family home of Silverton, Idaho; three daughters Linda (Dave) Parrella of Kennewick, Washington, Judy (Rusty) Sheppard of Wallace, Idaho and Terri Visintainer of Silverton, Idaho; his grandsons Shane (Maria) Sheppard of Coeur d' Alene, Idaho, Chadd (Jenelle) Visintainer of Smelterville, Idaho, Brett (Andrea) Visintainer of Clovas, California, Gregg (Loralee) Visintainer of Carlsbad, California, Nick (Patty) Parrella of Moses Lake, Washington and Anthony (Tiffani) Parrella of Kennewick, Washington; his granddaughter Crystal (Rick) Luna of Kingston, Idaho; his great-grandchildren Valynn and Gunnar Visintainer, Ryder Visintainer, Beau Visintainer, Sophia Parrella, Gavin Luna, Riply Luna, Kolby Luna, Ayla Sheppard, Mya Sheppard and Stella Sheppard; one sister Rosemary (Donnie) Rinaldi of Kingston, Idaho; one brother Joe (Joan) Visintainer of Florence, Arizona; he is also survived by numerous nieces and nephews.
Vince was preceded in death by his parents Adolph and Caroline Visintainer and his oldest child Steve Visintainer.
A Funeral Mass will be held on Thursday, April 16, 2015, at 11:00 A.M. at the St. Alphonsus Catholic Church of Wallace with Father Marcos Sanchez serving as celebrant.
Interment will be held at the Osburn Cemetery of Osburn, Idaho.
A reception and a gathering of family and friends will be held at the Wallace Elks following services.
A Visitation/Viewing will be held on Wednesday, April 15th from 6:00 P.M. - 7:00 P.M. at the Kellogg Funeral Chapel of Kellogg; everyone is welcome.
The family suggests that memorials may be made to the Wallace Elks, 419 Cedar Street, Wallace, Idaho 83873, or to the Silver Wood Good Samaritan, P.O.
Box 358, Silverton, Idaho 83867, or to the charity of the donor's choice.
One may sign Vince's online guest book at www.shoshonefuneralservice.com SHOSHONE FUNERAL SERVICES KELLOGG, IDAHO is entrusted with funeral arrangements.
Local journalism is essential.
Give directly to The Spokesman-Review's Northwest Passages community forums series -- which helps to offset the costs of several reporter and editor positions at the newspaper -- by using the easy options below. Gifts processed in this system are not tax deductible, but are predominately used to help meet the local financial requirements needed to receive national matching-grant funds.
Subscribe now to get breaking news alerts in your email inbox
Get breaking news delivered to your inbox as it happens.
---