Sports
Americans beat Honduras 4-0 in Gold Cup warm-up
Sat., July 4, 2015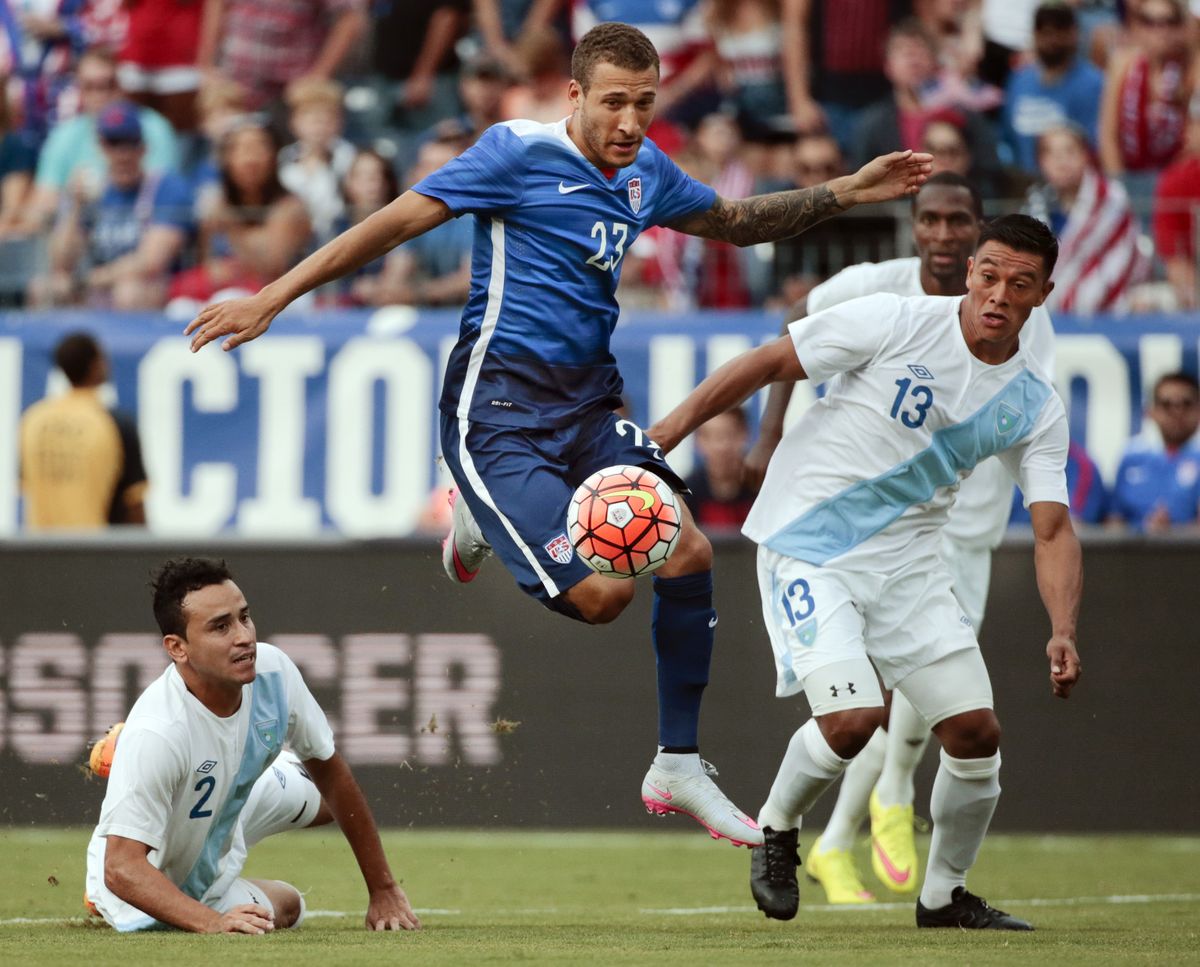 U.S. midfielder Fabian Johnson moves the ball between Guatemala defenders Carlos Castrillo (13) and Ruben Morales, left. (Associated Press)
NASHVILLE, Tenn. – Clint Dempsey wants to look ahead to helping the U.S. defend its CONCACAF Gold Cup title and not back to his confrontation with a referee that caused American coach Jurgen Klinsmann to replace the fiery forward as captain for the tournament.
Dempsey converted a penalty kick in his return from a suspension, Timmy Chandler scored his first international goal and the United States routed Guatemala 4-0 Friday night despite some sloppy play in an exhibition ahead of the Gold Cup.
Dempsey was suspended for three games by Major League Soccer for the confrontation on June 16 in Seattle's fourth-round loss to Portland in the U.S. Open Cup. Dempsey grabbed a notebook from the official and tore it after a teammate was given a red card. He also was suspended from the Open Cup for at least two years.
"That's something I put behind me," said Dempsey, who posted an apology on Twitter after the incident. "I talked with my teammates. I talked with coaches and just focused on moving forward, focusing on the Gold Cup, making sure we win it and put ourselves in position … for the Confederations Cup."
The U.S. opens the defense of its Gold Cup title on Tuesday against Honduras.
If the Americans win the tournament, the championship of North and Central America and the Caribbean, they would qualify for the 2017 Confederations Cup.
Klinsmann announced this week that Michael Bradley was replacing Dempsey as the U.S. captain for the Gold Cup "to take the heat off Clint."
"It's cool," Dempsey said. "Michael's a great leader. He deserves to be captain. For me, I'm excited to be part of the team, trying to push to win the Gold Cup, be a part of the Confederations Cup. I got to experience being captain in the World Cup. For me, that was something special and I'll always kind of remember, but it's never been a big thing for me to be captain."
Wearing special stars and stripes numbers on backs of the players' blue jersey on the Fourth of July weekend, the Americans improved to 15-0-6 in their last 21 matches against Guatemala, their longest unbeaten streak against any nation.
"Obviously 4-nil sounds really nice," Klinsmann said. "Performance? Not so nice. I'm not happy with that performance.
"I'm kind of disappointed with a couple of things – moving off the ball, speed of play, urgency. Things we talked about before were not executed the way we wanted them to be executed."
Local journalism is essential.
Give directly to The Spokesman-Review's Northwest Passages community forums series -- which helps to offset the costs of several reporter and editor positions at the newspaper -- by using the easy options below. Gifts processed in this system are not tax deductible, but are predominately used to help meet the local financial requirements needed to receive national matching-grant funds.
Subscribe to the sports newsletter
Get the day's top sports headlines and breaking news delivered to your inbox by subscribing here.
---