News > Pacific NW
As fears of West Side 'megaquake' danger grow, state's emergency planners unshaken
Sun., July 26, 2015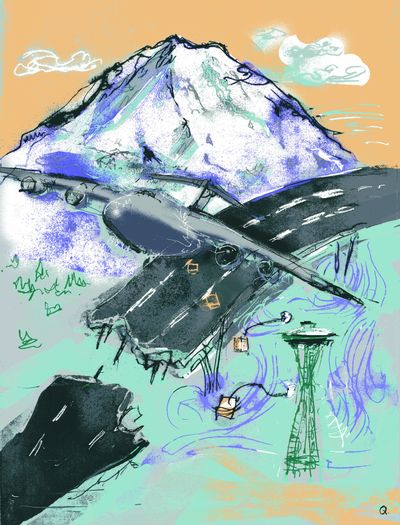 When "The Big One" hits in Western Washington, we're likely to feel it in the Inland Northwest, but it might seem like nothing more than the shaking from a large truck rumbling past.
And rumbling past. And rumbling past.
Particularly on upper floors of multistory buildings, water in a glass might vibrate. Planters hanging from hooks might swing. Dishes in a cabinet might rattle.
On the other side of the state, from Canada to the Columbia River and beyond, bridges will be falling. Some buildings will sway and others collapse. Gas lines will rupture and downed power lines will spark fires. Electricity and water will be off. Phone service out. Cell towers down.
Sirens in coastal towns will sound to warn of the coming tsunami that will soon wash over the communities and carry what's left of them out to sea. People who are able will scramble for high ground, but some won't make it. The Olympic Peninsula could become a series of island pockets of survivors in a sea of muddy devastation.
If the Cascadia Subduction Zone ruptures in a megaquake of magnitude 9.0 or larger – geologists tend to say when it ruptures, rather than if – the Pacific Northwest could be the site of the worst natural disaster in U.S. history. One scenario for an upcoming international disaster preparedness exercise suggests more than 1,000 could die in the quake and another 13,500 in the tsunami the quake generates. Thousands more would be injured, tens of thousands without power or drinkable water for weeks.
A recent article in The New Yorker magazine that describes a possible quake is getting plenty of attention on social media and prompting a run on emergency supplies in Seattle. But if it has anyone thinking of relocating to another part of the country, you might not want to book the moving van just yet. The region is not "overdue" for a megaquake, geologists at the Earthquake Science Center in Seattle said. It almost certainly won't be as devastating as portrayed in the article, which suggests everything west of Interstate 5 "will be toast."
A tsunami will not wipe out Seattle and Tacoma, and buildings constructed since 1995 have strong quake-resistant features. It will be bad, but it won't catch the Northwest unawares, said Art Frankel, a geologist for the U.S. Geological Survey.
"There's been lots of preparation done," he said.
Part of that preparation makes Fairchild Air Force Base and Grant County airport near Moses Lake the centers for marshaling rescue and recovery efforts in the first hours and days after the quake. Military personnel, first responders and equipment will come there from around the country because they likely won't be able to get immediately to, or around, Puget Sound and Pacific Coast cities.
Last massive CSZ quake in 1700
Off the coast of the Pacific Northwest, two geological formations known as tectonic plates are colliding far below the seabed. In this Cascadia Subduction Zone, or CSZ, the Juan de Fuca Plate is moving east and down, under the North American Plate that is moving west, an intersection area some 700 miles long from Vancouver Island to Cape Mendocino in Northern California. Or at least the plates are trying to move in those directions. About 20 miles below the surface, the two plates get stuck and build up pressure. Eventually they would become unstuck and the edge of the North American Plate would lurch upward as the Juan de Fuca Plate shoves under.
When that happens, the coastline will flex and large sections will drop as much as 6 feet, releasing energy that generates an earthquake and a large ocean wave, or tsunami.
When a section of the CSZ ruptures, it can create a magnitude 8.0 to 8.5 quake. When the entire zone ruptures, it can create a quake at magnitude 9.0 or higher. The scale is logarithmic, so a 9.0 quake represents a tenfold increase in amplitude and releases about 31 times more energy than an 8.0 quake. The 2011 Japanese quake was measured at 9.0.
Such a quake happened Jan. 26, 1700. Native American tribes told early white settlers of a time when coastal bays emptied and then flooded and wiped out villages. Geologists were able to trace it to 1699 or 1700 based on the rings in dead trees of so-called Ghost Forests in coastal lowlands, then tied it to a tsunami that Japanese records say hit the islands on Jan. 28, 1700.
The Japanese called that the Orphan Tsunami because unlike most such devastating waves they experience, they felt no earthquake before it hit. They didn't know the wave had traveled across the Pacific from a quake in the CSZ. To generate a tsunami of that power, the quake had to be 9.0, said Brian Atwater, a geologist at the Seattle earthquake center who pieced together details of the quake from the tree rings in the forests and the Japanese accounts.
Geologists estimate a quake on a section of the CSZ occurs on an average of once every 300 years; a quake the full length of the zone occurs on an average of once every 500 years. But they aren't predictable. Spans between the full-length quakes have been as little as 210 years or as long as 900 years.
Although a 9.0 quake could occur any time, the region is only 315 years into a 500-year cycle, Frankel said. There's a 10 percent to 14 percent chance of it happening in the next 50 years. "There's no consensus we're overdue for a magnitude 8.0 quake," he added.
Micro-islands of Western Washington
The seismic waves from a massive Cascadia quake won't stop at the Cascade Mountains, but the intensity will decrease with distance. Frankel said geologists don't expect a significant effect on one- or two-story homes in Spokane, although there may be some concerns about taller buildings – above five stories – and dams along the Columbia River from prolonged shaking.
The initial quake may trigger quakes in other fault lines in Western Washington, but that's not certain. One of those fault lines that runs through south Whidbey Island may be connected to a fault line near the Tri-Cities. A large quake can be followed by aftershocks far from its origin. A general rule of thumb for such a large quake is aftershocks can occur at a distance of 1.5 times the length of the initial zone, said Joan Gomberg, a USGS geologist who studies aftershocks. A full CSZ quake along its 700-mile length could be followed by aftershocks 1,000 miles away. But that doesn't mean it will.
There's no clear geologic record of seismic events in Eastern Washington that can be traced to a Cascadia quake, said Atwater, who has studied the effect of the Ice Age floods from Lake Missoula on the region.
In general, Eastern Washington is expected to survive well enough to be the mustering point for relief efforts that will mobilize around the country. Because power is expected to go out throughout Western Washington, the joint operations center for rescue and recovery efforts by the state's Emergency Management Division will be set up as quickly as possible with the Air National Guard's 141st Air Refueling Wing at Fairchild, and military personnel and equipment will start to flow in there.
As quickly as possible, the Guard will launch helicopters – with four-person teams equipped with satellite communications and three to five days of food – to scout Western Washington airports to find places where small cargo planes can land with needed equipment and supplies. Some of the most seriously injured will be evacuated by air to hospitals in Eastern Washington, because about half of Western Washington hospitals are expected to be completely or largely unable to function.
But mass evacuations of uninjured people from the quake areas aren't expected, said Lt. Col. Clay Braun, who heads the Guard's Joint Planning Team for preparing for the disaster. Ground travel will be limited for weeks because roads and bridges will be damaged, rail lines destroyed and mountain passes could be closed by landslides.
"Western Washington becomes a geographic isolation zone," Braun said. "There will be hundreds of micro-islands, areas where you can't get around by wheeled transport."
Information in the early days may rely on amateur radio operators in the disaster zone linking up with counterparts in the Spokane area, said Gerry Bozarth, disaster recovery specialist for Spokane County Emergency Management.
Until the Emergency Management facilities at Camp Murray in Pierce County can be brought back online, the commander for all military units providing aid will operate out of Fairchild. FEMA may operate out of Fairchild, also, or the Grant County airport, which also has long runways.
The runways at Sea-Tac Airport or the airfield at Joint Base Lewis McChord may survive, which would allow large transport planes to bring supplies into the region. But bridges and on-ramps on parts of Interstate 5 might be down, so distributing those supplies could be difficult. Smaller planes will deliver equipment, food and water, along with military personnel, to an airfield at Shelton, Washington, which would likely be the headquarters for rescue efforts along the Pacific Coast. The Guard expects to use Stryker vehicles to reach damaged areas.
In the weeks and months after the quake, some people in the quake zone with friends or family in Spokane may "self evacuate" there, and disaster planners are expecting some influx, Bozarth said. For months or perhaps years after the quake, Spokane and other Eastern Washington cities will be major conduits for supplies and building materials for the West Side, he said.
Not quite toast
Last week's New Yorker article by Kathryn Schulz quotes a Federal Emergency Management Agency official as saying "everything west of Interstate 5 will be toast" in a full-length CSZ quake. Geologists from the USGS Earthquake Science Center office at the University of Washington dismissed that description as either overly dramatic or just flat-out wrong, as is any suggestion the region isn't preparing for the possible disaster. The agency has written a rebuttal it is asking the magazine to publish.
Seattle and other Puget Sound cities will be shaken and sustain heavy damage from the quake. But the tsunami expected to pound Pacific Coast cities from the tip of the Olympic Peninsula down along the Oregon Coast to Northern California won't devastate most of the Puget Sound, because it won't make it over the coastal mountains that are between the ocean and I-5. Part of the wave could come through the Strait of Juan de Fuca to an area south of Bellingham, but tsunamis don't turn corners, so a big wave won't come south.
The sound may surge a couple of feet in Seattle, Frankel said.
But no one denies that a 9.0 quake on the CSZ will be a natural disaster of an unprecedented level and recovery could take years. Although the potential for a massive Cascadia quake wasn't known until the late 1980s, planning since then has been extensive. In 2013, FEMA produced a study at the Homeland Infrastructure Threat & Risk Analysis Center projecting the effects of the quake.
In recent years, local, state and federal officials have been training for a coordinated response to such a disaster and continue to refine their plans. Earlier this summer, the Washington National Guard had a statewide exercise to test different quake scenarios. It was an internal rehearsal for next June, when Washington, Oregon, Idaho and British Columbia agencies will participate in a larger exercise with active-duty military, FEMA and local emergency management offices in Cascadia Rising, a weeklong exercise based on a CSZ quake.
Military units will provide "boots on the ground" as well as set up a temporary pier somewhere along the Pacific Coast to test the delivery of supplies from ships after a tsunami would wipe out port facilities.
"It's continuing to grow," Braun, the Washington National Guard's point man for Cascadia Rising, said of interest in the exercise. "The concern is growing with the right people."
"There is really no way to plan fully, so we plan the best we can," Bozarth said.
Local journalism is essential.
Give directly to The Spokesman-Review's Northwest Passages community forums series -- which helps to offset the costs of several reporter and editor positions at the newspaper -- by using the easy options below. Gifts processed in this system are not tax deductible, but are predominately used to help meet the local financial requirements needed to receive national matching-grant funds.
Subscribe to the Coronavirus newsletter
Get the day's latest Coronavirus news delivered to your inbox by subscribing to our newsletter.
---